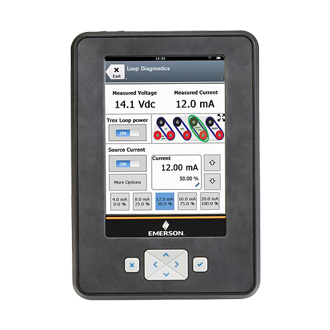 BASIC INFO
Emerson AMS Trex Device Communicator
Emerson AMS Trex communicator with a 5.7 inch touchscreen that deliver a modern user experience which makes field work productivity, and, more importantly, the safe packages and improved reliability allow you to do more types of tasks safely and easily without other specialized tools.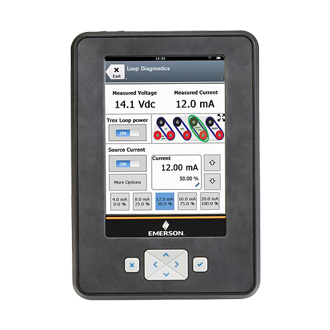 Overview:
Emerson Trex can be described as an innovation in the area of handheld devices. Certainly, you have the same capability of setting up HART and FOUNDATION Fieldbus devices, but now you can power the device with a single cable conveniently and check the field network diagnostics with this portable one-handed operation tool.

Improve reliability with the AMS Trex Device Communicator. Increase productivity in the field with your Trex unit by doing more types of tasks. Easily solve complex device issues without the need for other specialized tools. The Trex communicator is designed to withstand the harsh conditions in and around manufacturing facilities and is safely-rated, so it can go anywhere you can go. Rely on Trex to deliver results and keep your field assets reliable.

Learn more information, please download PDF files.
Features:
•Commission and validate devices faster
•Automatically synchronize field changes with AMS Device Manager
•Quickly fix issues in the field with advanced device diagnostics
•Configure and test valves inline
•Improve efficiency with a modern, intuitive user interface
•Intrinsically safe; usable anywhere you need to go
There can be little doubt that Emerson AMS Trex Device Communicator expands the long line of Emerson
field communicator
while adding new capabilities to achieve consumer's expectation.
More information about Emerson AMS TREX:
1. What is the default level of support for Trex units?
A support option must be included with every unit sale. Standard Support is the default option, which provides a limited warranty to cover the Trex unit against defects in materials and workmanship under normal use and care. Support also includes access to the Global Service Center (GSC) phone support, firmware updates and automated Device Driver (DD) updates.

2. Does the customer have the option to sign up for multi-year Standard Support?
Customers have the option to buy three-year standard support, which will provide customers access to GSC phone support, firmware updates and automated DD updates. Note that addition standard support does not extend hardware warranty.

3. How can the Trex unit be protected against accidental damage?
Customers may purchase either one-year or three-year Premium Support that will include accidental damage support.

4. What is the coverage of the accidental damage?
The following items are covered:
•Liquid spilled on or in unit
•Drops, falls, and other collisions
•Damage caused by electrical surge
•Damaged or broken LCD due to a drop or fall
•Blown fuse in ammeter
The following items are NOT covered:
•Intentional damage (such as hammer marks)
•Normal wear
•Cosmetic damage
•Theft
Details of accidental damage must be provided with trouble call.
1. How many times can one unit be fixed under "accidental damage" per year?
Only one incident in a given 12-month period is allowed per unit under Premium Support.

2. Can a customer upgrade Trex support from Standard to Premium?
Yes, if a customer signed up for Standard Support, they will have the option to upgrade to Premium Support upon inspection by a primary service center.

3. Can a customer renew Premium Support on a Trex unit?
Yes, if a customer signed up for Premium Support, they have the option to renew it for additional years.

Standard Support can be purchased at any time.
Premium Support can be initially be purchased with new units only.
Both Standard Support and Premium Support can be renewed after support expires.

We offer all models of AMS TREX from Emerson, here are some for your reference.
TREXCHPNAWS1
TREXCHPNAWS3
TREXCHPNAWP1
TREXCHPNAWP3
TREXCHPNA9S1
TREXCHPNA9S3
TREXCHPNA9P1
TREXCHPNA9P3
TREXCHPKLWS1
TREXCHPKLWS3
TREXCHPKLWP1
TREXCHPKLWP3
TREXCHPKL9S1
TREXCHPKL9S3
TREXCHPKL9P1
TREXCHPKL9P3
TREXCFPNAWS1
TREXCFPNAWS3
TREXCFPNAWP1
TREXCFPNAWP3
TREXCFPNA9S1
TREXCFPNA9S3
TREXCFPNA9P1
TREXCFPNA9P3
TREXCFPKLWS1
TREXCFPKLWS3
TREXCFPKLWP1
TREXCFPKLWP3
TREXCFPKL9S1
TREXCFPKL9S3
TREXCFPKL9P1
TREXCFPKL9P3
TREXLHPNAWS1
TREXLHPNAWS3
TREXLHPNAWP1
TREXLHPNAWP3
TREXLHPNA9S1
TREXLHPNA9S3
TREXLHPNA9P1
TREXLHPNA9P3
TREXLHPKLWS1
TREXLHPKLWS3
TREXLHPKLWP1
TREXLHPKLWP3
TREXLHPKL9S1
TREXLHPKL9S3
TREXLHPKL9P1
TREXLHPKL9P3
TREXLFPNAWS1
TREXLFPNAWS3
TREXLFPNAWP1
TREXLFPNAWP3
TREXLFPNA9S1
TREXLFPNA9S3
TREXLFPNA9P1
TREXLFPNA9P3
TREXLFPKLWS1
TREXLFPKLWS3
TREXLFPKLWP1
TREXLFPKLWP3
TREXLFPKL9S1
TREXLFPKL9S3
TREXLFPKL9P1
TREXLFPKL9P3
We are specialized in intelligent instruments, including : control system, transmitters, flow meters,sensors, recorders, analyzers, control valves, controllers, PLC's, etc.
We mainly supply YOKOGAWA,WEIDMULLER, ABB, MOELLER, SCHNEIDER ElECTIC, FUJI, OMRON,HONEYWELL,SIEMENS,FLUKE,PEPPERL+FUCHS,HIMA,Endress+ Hauser etc.
Why choose us?
1. 100% original product, 100% quality assurance.

2. Varied payment methods.
We adopt T/T, western union and paypal. If you can not trust us , you can choose to pay it via Aliexpress! 100% make your money safe!
3.SHIPPING:
•We can shipping all over the world.via DHL,UPS,Fedex,TNT and EMS etc., the packaging is very safe and strong. if you have any special needs,please notify me.
Contact:

HONGKONG XIEYUAN TECH CO., LIMITED
Email:becky@whxyauto.com Web:www.hkxytech.com
Mobile:+86-15972186287(Whatsapp & Wechat)