Why is 475HP1EKLUGMTS so popular?
This article will show you the full 475HP1EKLUGMTS configuration details and specifications. Also you can see the Emerson 475 Family Page for an ordering guide and all configurations.
Specifications:
Model Product Description

475 Field communicator
Code Communication Protocol
H HART
F HART and FOUNDATION fieldbus

Code Battery Type

P Rechargeable Li-ion Power Module

Code Power Supply/Charger

1 Power Supply & Charger Li-ion/NiMH (US/UK/EU connection types included)
9 Not Included

Code Language

E English
C Chinese
D German
J Japanese
R Russian
F French
P Portuguese

Code Product Certifications

KL ATEX, FM, CSA and IECEx Intrinsically Safe (includes FISCO as applicable)
NA No Approval

Code Easy Upgrade

U Easy Upgrade (3 year) Option
9 Not Included

Code Included Options

GM Graphics (Included at No Charge)
Device Configuration Management (Included at No Charge)

Code Bluetooth
T Bluetooth Communication
9 No Bluetooth Communication

Code Options
A Spare Rechargeable Li-ion Power Module
S Protective Rubber Boot with Stand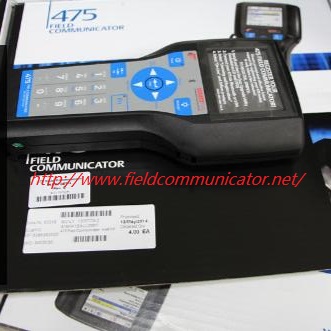 475HP1EKL9GMTS
475HP1EKL9GMTA
475HP1EKL9GMTAS
475HP1EKLUGMT
475HP1EKLUGMTS
475HP1EKLUGMTA
475HP1EKLUGMTAS
475FP9ENAUGMT
475FP9ENAUGMTS
475FP9ENAUGMTA
475FP9ENAUGMTAS
475FP9EKLUGMT
475FP9EKLUGMTS
475FP9EKLUGMTA
475FP9EKLUGMTAS
475FP1ENAUGMT
475FP1ENAUGMTS
475FP1ENAUGMTA
475FP1ENAUGMTAS
475FP1EKLUGMT
475FP1EKLUGMTS
475FP1EKLUGMTA
475FP1EKLUGMTAS
475FP9EKLUGM9
475FP9EKLUGM9S
475FP9EKLUGM9A
475FP9EKLUGM9AS
475FP1ENAUGM9
475FP1ENAUGM9S
475FP1ENAUGM9A
475FP1ENAUGM9AS
475FP1EKLUGM9
475FP1EKLUGM9S
475FP1EKLUGM9A
475FP1EKLUGM9AS
475FP9ENAUGM9
475FP9ENAUGM9S
475FP9ENAUGM9A
475FP9ENAUGM9AS
475HP9ENA9GM9
475HP9ENA9GM9S
475HP9ENA9GM9A
475HP9ENA9GM9AS
475HP1EKLUGM9
475HP1EKLUGM9S
475HP1EKLUGM9A
475HP1EKLUGM9AS
475HP9ENAUGM9
475HP9ENAUGM9S
475HP9ENAUGM9A
475HP9ENAUGM9AS
475HP9EKL9GM9
Interested in buying a Emerson 475 Field Process Communicator 475HP1EKLUGMT? You can buy it from Amazon or eBay of different sellers, well, you can als buy the Emerson 475HP1EKLUGMTS-VIP3 Field Communicator w/HART & FOUNDATIONfieldbus Kit On Sale at HONGKONG XIEYUAN TECH CO., LIMITED.
HONGKONG XIEYUAN TECH CO., LIMITED is a comprehensive corporation with its independent rights of export and import. We established a long-term and stable business cooperation relationship with the world famous manufacturers at home and abroad. We endeavor to provide our customers with high quality, 100% original products at competitive prices. We purchase advanced industrial products from Asia, Europe and the United States and export to the Middle East, Asia and other area.
Order Today!
Contact to get quotation asap:
Contact:

HONGKONG XIEYUAN TECH CO., LIMITED
Email:becky@hkxytech.com Web:www.hkxytech.com
Mobile:+86-15972186287(Whatsapp & Wechat)