BASIC INFO
Yokogawa PK200-A33 Converter PK200 Current-To-Pneumatic Converter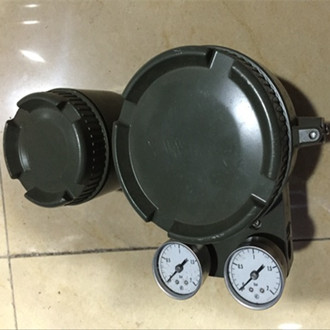 Yokogawa PK200-A33 Converter PK200 Current-To-Pneumatic Converter

The PK200 current-to-pneumatic (I/P) converter offers a low-cost method to convert a milliamp input (4-20 or 10-50mA analog signals) to a proportional pneumatic (air pressure) output. The unit is designed for a broad range of process control applications, including those that feature pneumatic actuating equipment. The PK200 features built-in stainless steel input/output gauges. The reliable PK200 performs electronic feedback control while maintaining accuracy of ±0.5 percent of span and linearity of ±0.2 percent of span. Built with energy savings in mind, the PK200 consumes only 4 normal liters/minute (4 NL/min) air while providing output air capacity of 110 NL/min. PK200 complements Yokogawa's existing line of Quality Solutions for its North American customers: pressure and temperature transmitters, flowmeters, on-line analyzers, recorders, digital loop controllers and an entire family of distributed control systems.
The Model PK200 Current-to-Pneumatic Converter is used mostly to actuate diaphragm operated valves, air cylinder operated valves, power cylinders or other terminal elements. Beside these, it is used as a simple signal converter in hybrid instrumentation comprising electronic and pneumatic instruments.
Quick Details of Yokogawa PK200-A33 Converter PK200 Current-To-Pneumatic Converter
Type: Current to Pneumatic converter
Place of Origin: Japan
Model Number: PK200
Brand Name: Yokogawa
Item: PK200
Input Signal 1: 4 to 20 mA
Input Signal 2: 10 to 50 mA changeable
Converter Application: Control valves
Converter Accuracy: ±0.5%
Air Consumption: 0.24 Nm3/hr
Standard output: 20 to 100 kPa
Doubled Output: 40 to 200 kPa
Ingress Protecton: IP54
Approvals: ATEX, FM, CSA
FEATURES of Yokogawa PK200-A33 Converter PK200 Current-To-Pneumatic Converter

- Highly accurate signal conversion with minimum effects from process environments
Stainless steel bracket, epoxy coating, and other optional specifications allow the PK200 to be used in a variety of applications.
- Highly reliable, accurate electronic feedback
- Energy-saving design for improved economy
Max. air consumption: 4 Nl/min when air supply pressure is 140 kPa
Max. output air capacity: 110 Nl/min when air supply pressure is 140 kPa
- Excellent operability by access to only one side of the product
PK200 Main technical Specifications of Yokogawa PK200-A33 Converter PK200 Current-To-Pneumatic Converter
| | |
| --- | --- |
| Linearity | ±0.2% of span |
| Hysteresis | 0.2% of span |
| Repeatability | 0.1% of span |
| Input Signal | 4 to 20mA DC /10 to 50mA DC |
| Air Supply Pressure | 140kPa (Standard Output), 240kPa (Doubled output) |
| Air Consumption | Max. 4 Nl/min. or 0.24 Nm3 /hr at 140 kPa (20 psi) air supply pressure. |
| Output Air Capacity | Max. 110 Nl/min. or 6.6 Nm3 /hr at 140 kPa (20 psi) air supply pressure. |
| Output Signal | 20 to 100kPa (Standard Output), 40 to 200kPa (Doubled output) |
| Operating Temperature Limits | -40 to 80 deg C (-40 to 176 deg F) (General use) |
| Supply Air, Output Signal, Output Gauge Connections | Rc1/4 or 1/4 NPT female |
| Electrical Connection | G1/2, G3/4, 1/2 NPT or 3/4 NPT female |
| Mounting | Surface or 2-inch pipe |
| Approximate Weight | 2.8 kgs |
Yokogawa PK200-A33 Converter PK200 Current-To-Pneumatic Converter


Yokogawa PK200-A33 Converter PK200 Current-To-Pneumatic Converter



Ordering Models of Yokogawa PK200-A33 Converter PK200 Current-To-Pneumatic Converter
PK200-A11 PK200-A21 PK200-A31 PK200-A41 PK200-A51
PK200-A12 PK200-A22 PK200-A32 PK200-A42 PK200-A52
PK200-A13 PK200-A23 PK200-A33 PK200-A43 PK200-A53
PK200-A14 PK200-A24 PK200-A34 PK200-A44 PK200-A54
Yokogawa PK200-A33 Converter PK200 Current-To-Pneumatic Converter

PK200-A61 PK200-A71 PK200-A81 PK200-A91
PK200-A62 PK200-A72 PK200-A82 PK200-A92
PK200-A63 PK200-A73 PK200-A83 PK200-A93
PK200-A64 PK200-A74 PK200-A84 PK200-A94
Yokogawa PK200-A33 Converter PK200 Current-To-Pneumatic Converter
PK200-C11 PK200-C21 PK200-C31 PK200-C41 PK200-C51
PK200-C12 PK200-C22 PK200-C32 PK200-C42 PK200-C52
PK200-C13 PK200-C23 PK200-C33 PK200-C43 PK200-C53
PK200-C14 PK200-C24 PK200-C34 PK200-C44 PK200-C54
Yokogawa PK200-A33 Converter PK200 Current-To-Pneumatic Converter
PK200-C61 PK200-C71 PK200-C81 PK200-C91
PK200-C62 PK200-C72 PK200-C82 PK200-C92
PK200-C63 PK200-C73 PK200-C83 PK200-C93
PK200-C64 PK200-C74 PK200-C84 PK200-C94
We are specialized in intelligent instruments, including : control system, transmitters, flow meters,sensors, recorders, analyzers, control valves, controllers, PLC's, etc.

We mainly supply YOKOGAWA,WEIDMULLER, ABB, MOELLER, SCHNEIDER ElECTIC,FUJI,OMRON,HONEYWELL,SIEMENS,FLUKE,PEPPERL+FUCHS,HIMA,Endress+ Hauser etc.

Why choose us?

1. 100% original product, 100% quality assurance.
If you find a fake. Please contact us without hesitation! We afford the shipment cost! We send you a new product asking zero cent!

2. Varied payment methods.
We adopt T/T, western union and paypal. If you can not trust us , you can choose to pay it via Aliexpress! 100% make your money safe!

3. SHIPPING:
We can shipping all over the world.via DHL,UPS,Fedex,TNT and EMS etc., the packaging is very safe and strong. if you have any special needs,please notify me.
It will take 3 to 7days to reach in your hands.

Packaging:
Imported with original packaging or standard export packing.Customize design is acceptable.

Contact:

HONGKONG XIEYUAN TECH CO., LIMITED
Email:becky@hkxytech.com Web:www.hkxytech.com
Mobile:+86-15972186287(Whatsapp & Wechat)