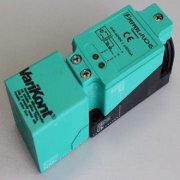 BASIC INFO
Pepperl Fuchs NBB20-U1-Z2 Inductive Sensor


Features of Pepperl Fuchs NBB20-U1-Z2 Inductive Sensor

• Sensor head bidirectional and rotatable
• 20 mm flush
• 2-wire DC
• 2 LEDs indicator for 360° visibility


Sensor is a device that detects events or changes in quantities and provides a corresponding output, generally as an electrical or optical signal.
We could provide sensors of famous brands, they're made in Germany or Japan.
They're new and original, warranty time: 1 Year.
General specifications of Pepperl Fuchs NBB20-U1-Z2 Inductive Sensor
Switching function
Normally open/closed (NO/NC)
Output type
Two-wire
Rated operating distance
20 mm
Installation
flush
Output polarity
DC
Assured operating distance
0 ... 16.2 mm
Actual operating distance
18 ... 22 mm typ. 20 mm
Reduction factor rAl
0.3
Reduction factor rCu
0.3
Reduction factor r304
0.7
Nominal ratings of Pepperl Fuchs NBB20-U1-Z2 Inductive Sensor
Operating voltage
5 ... 60 V DC
Switching frequency
0 ... 250 Hz
Hysteresis
typ. 5 %
Reverse polarity protection
reverse polarity tolerant
Short-circuit protection
yes
Voltage drop
≤ 5 V
Voltage drop at IL
Voltage drop IL = 100 mA, switching element on
... 5 V
Operating current
2 ... 200 mA
Off-state current
0 ... 0.5 mA
Switching state indicator
2 LED, yellow
Functional safety related parameters of Pepperl Fuchs NBB20-U1-Z2 Inductive Sensor
MTTFd
1162 a
Mission Time (TM)
20 a
Diagnostic Coverage (DC)
0 %
Approvals and certificates of Pepperl Fuchs NBB20-U1-Z2 Inductive Sensor
EAC conformity
TR CU 020/2011
UL approval
cULus Listed, General Purpose
CSA approval
cCSAus Listed, General Purpose
CCC approval
Certified by China Compulsory Certification (CCC)
Pepperl Fuchs NBB20-U1-Z2 Inductive Sensor
Fiber Optic Sensors
Laser Sensors
Perform high-performance, high-speed detection
Achieve long-range presence detection using
To be used in a variety of environment conditions
a visible, focused laser beamspot
Model
FS, ML series
Model
LR-Z, LV, IL, EX, LS Series
Ultrasonic Sensors
Positioning Sensors
Characterized by reliability and versatility
Determine that target objects are within specified
Can be used to solve even the most complex tasks.
Polarity reversal and short-circuit protected
Amplifier Built-in
LED status indication
Model
LUC4T,UB100 Series
Model
EV,GT,AG,IL,PT Series
Photoelectric Sensors
Proximity Sensors/Swithchs
It's aimed at all automation solutions where
Smooth or threaded stainless housings with LED
noncontact object detection can be utilized
Connection styles include M8, M12 or terminal
Model
LR-Z, PZ, ML, BB, GLK, CZ, EX, RX series
Model
CBB,40F,E2E,BEN,PRL,NI,BI,NB,PM,SN,PS Series
Ordering Models:
| | |
| --- | --- |
| NBB1.5-8GM40-Z1 | NJ0.8-4.5-N |
| NBB1.5-8GM50-A0-V1 | NJ0.8-5GM-N |
| NBB1.5-8GM50-A2-V1 | NJ1.5-6.5-N |
| NBB1.5-8GM50-E0 | NJ1.5-8GM40-E2 |
| NBB1.5-8GM50-E2 | NJ1.5-8GM40-E2-V1 |
| NBB1.5-8GM50-Z1-V3 | NJ1.5-8GM40-E-V1 |
| NBB1.5-8GM50-Z3-V3 | NJ1.5-8GM40-WO |
| NBB1.5-8GM60-A0 | NJ1.5-8GM40-WS |
| NBB1.5-8GM60-A2 | NJ1.5-8GM-N |
| NBB2-6.5M25-E2-V3 | NJ1.5-8GM-N-V1 |
| NBB2-6.5M25-E3-V3 | NJ1.5-18GM-N-D |
| NBB2-6.5M30-E0 | NJ1.5-18GM-N-D-V1 |
| NBB2-6.5M30-E2 | NJ2-6.5-40-E2 |
| NBB2-8GM25-E0-V3 | NJ2-6.5-50-E |
| NBB2-8GM25-E1-V3 | NJ2-11-N |
| NBB2-8GM25-E2-V3 | NJ2-11-N-G |
| NBB2-8GM25-E3-V3 | NJ2-11-SN |
| NBB2-8GM30-A2-V1 | NJ2-11-SN-G |
| NBB2-8GM30-E0 | NJ2-12GK40-E |
| NBB2-8GM30-E0-V1 | NJ2-12GK40-E2 |
| NBB2-8GM30-E2 | NJ2-12GK40-E3 |
| NBB2-8GM30-E2-V1 | NJ2-12GM40-E |
| NBB2-8GM40-E0-V1 | NJ2-12GM40-E1 |
| NBB2-8GM40-E2-V1 | NJ2-12GM40-E2 |
| NBB2-8GM40-E2-V3 | NJ2-12GM40-E2-V1 |
| NBB2-8GM50-E0 | NJ2-12GM40-E3 |
| NBB2-8GM50-E2 | NJ2-12GM40-E3-V1 |
| NBB2-12GK50-E0 | NJ2-12GM40-E-V1 |
| NBB2-12GK50-E2 | NJ2-12GM50-WO |
| NBB2-12GM40-E0 | NJ2-12GM50-WO-V13 |
| NBB2-12GM40-E0-V1 | NJ2-12GM50-WS-V13 |
| NBB2-12GM40-E1 | NJ2-12GK-N |
| NBB2-12GM40-E2 | NJ2-12GK-SN |
| NBB2-12GM40-E2-V1 | NJ2-12GM-N |
| NBB2-12GM40-E3 | NJ2-12GM-N-V1 |
| NBB2-12GM40-Z0 | NJ3-18GK-S1N |
| NBB2-12GM40-Z0-V1 | NJ4-12GK40-E |
| NBB2-12GM40-Z3-V1 | NJ4-12GK40-E1 |
| NBB2-12GM50-E0 | NJ4-12GK40-E2 |
| NBB2-12GM50-E0-C-V1 | NJ4-12GK40-E3 |
| NBB2-12GM50-E0-V1 | NJ4-12GM40-E |
| NBB2-12GM50-E2 | NJ4-12GM40-E1 |
| NBB2-12GM50-E2-C-V1 | NJ4-12GM40-E2 |
| NBB2-12GM50-E2-V1 | NJ4-12GM40-E2-V1 |
| NBB2-12GM60-A0 | NJ4-12GM40-E3 |
| NBB2-12GM60-A0-V1 | NJ4-12GM40-E3-V1 |
| NBB2-12GM60-A2 | NJ4-12GM40-E-V1 |
| NBB2-12GM60-A2-V1 | NJ4-12GM50-WO |
| NBB4-12GM30-E2 | NJ4-12GM50-WO-V13 |
| NBB4-12GM30-E2-V1 | NJ4-12GM50-WS |
| NBB4-12GM30-E2-V3 | NJ4-12GM50-WS-V12 |
| NBB4-12GM30-E3 | NJ4-12GM50-WS-V13 |
| NBB4-12GM30-E3-V1 | NJ4-12GK-N |
| NBB4-12GM30-E3-V3 | NJ4-12GK-SN |
| NBB4-12GM50-A0 | NJ4-12GM-N |
| NBB4-12GM50-A0-V1 | NJ4-12GM-N-V1 |
| NBB4-12GM50-A2 | NJ4-30GM-N-200 |
| NBB4-12GM50-A2-V1 | NJ5-11-N |
| NBB4-12GM50-E0 | NJ5-11-N-G |
| NBB4-12GM50-E0-V1 | NJ5-18GM50-A2 |
| NBB4-12GM50-E2 | NJ5-18GM50-A2-V1 |
| NBB4-12GM50-E2-V1 | NJ5-18GM50-E |
| NBB4-12GM50-E3 | NJ5-18GM50-E1 |
| NBB4-12GM50-E3-V1 | NJ5-18GM50-E2 |
| NBB5-18GM20-E2 | NJ5-18GM50-E2-V1 |
| NBB5-18GM20-E2-V1 | NJ5-18GM50-E3 |
| NBB5-18GM40-E2 | NJ5-18GM50-E-V1 |
| NBB5-18GM40-Z0 | NJ5-18GK-N |
| NBB5-18GM40-Z0-V1 | NJ5-18GK-N-150 |
| NBB5-18GM40-Z3-V1 | NJ5-18GK-SN |
| NBB5-18GM50-E0 | NJ5-18GM-N |
| NBB5-18GM50-E0-V1 | NJ5-18GM-N-V1 |
| NBB5-18GM50-E2 | NJ5-30GK-S1N |
| NBB5-18GM50-E2-C-V1 | NJ6-22-N |
| NBB5-18GM50-E2-V1 | NJ6-22-N-G |
| NBB5-18GM60-A0 | NJ6-22-SN |
| NBB5-18GM60-A0-V1 | NJ6-22-SN-G |
| NBB5-18GM60-A2 | NJ8-18GM50-A2 |
| NBB5-18GM60-A2-V1 | NJ8-18GM50-A2-V1 |
| NBB5-18GM60-WO | NJ8-18GM50-E0 |
| NBB5-18GM60-WS | NJ8-18GM50-E2 |
| NBB8-18GM30-E2 | NJ8-18GM50-E2-V1 |
We are specialized in intelligent instruments, including : control system, transmitters, flow meters,sensors, recorders, analyzers, control valves, controllers, PLC's, etc.

We mainly supply YOKOGAWA,WEIDMULLER, ABB, MOELLER, SCHNEIDER ElECTIC,FUJI,OMRON,HONEYWELL,SIEMENS,FLUKE,PEPPERL+FUCHS,HIMA,Endress+ Hauser etc.

Why choose us?

1. 100% original product, 100% quality assurance.
If you find a fake. Please contact us without hesitation! We afford the shipment cost! We send you a new product asking zero cent!

2. Varied payment methods.
We adopt T/T, western union and paypal. If you can not trust us , you can choose to pay it via Aliexpress! 100% make your money safe!

3. SHIPPING:
We can shipping all over the world.via DHL,UPS,Fedex,TNT and EMS etc., the packaging is very safe and strong. if you have any special needs,please notify me.
It will take 3 to 7days to reach in your hands.

Packaging:
Imported with original packaging or standard export packing.Customize design is acceptable.

Contact:

HONGKONG XIEYUAN TECH CO., LIMITED
Email:becky@hkxytech.com Web:www.hkxytech.com
Mobile:+86-15972186287(Whatsapp & Wechat)