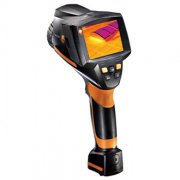 BASIC INFO
Testo 875-2i Thermal Imaging Camera Testo 875-2i Thermography kit with SuperResolution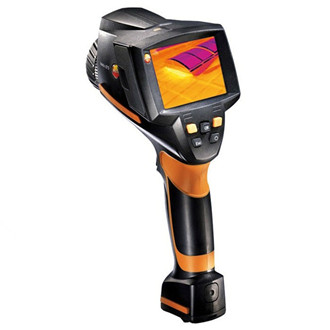 Features and advantages of Testo 875-2i Thermal Imaging Camera Testo 875-2i Thermography kit with SuperResolution
• The Testo 875i is ideal for a plethora of tasks including: detecting leaks, localising cold bridges, visualising overheating connections, and electrical surveying.

• Now with Free SuperResolution technology, the images are 320 x 240 pixels and this actually improves the image quality by an entire class, so the resolution of the thermal images is four times higher.

• 160x120 pixel resolution to provide quality Thermal Images

• Thermal sensitivity of NETD < 50 mK to show even the smallest temperature differences.

• An extended measuring range of -30 to +350°C.

• Wide Field of View of 32° with a standard lens.

•
Manual Fine Focus with a minimum focus distance of just 10cm.
Testo 875-2i Thermal Imaging Camera Testo 875-2i Thermography kit with SuperResolution
• Infrared resolution 160 X 120 pixels/ 320 X 240 pixels*
• 9° x 7° telelens for the precise tracking of objects included in set
• Extensive range of accessories included: rugged case, additional battery, quick charger, SD card, shoulder strap, lens cloth and much, much more
• All the accessories you need just an arm's length away
Get your testo 875-2i professional thermal imaging camera and telelens set now and the accessories you need are only an arm's length away!
Product Description of Testo 875-2i Thermal Imaging Camera Testo 875-2i Thermography kit with SuperResolution
Get your practical testo 875-2i thermography set including a 9° x 7° telelens and a wide range of accessories now to make sure that you always have your professional equipment with you when and where you need it!
The testo 875-2i thermal imaging camera is a trusty partner for a wide range of thermography applications. It can be used in industry to carry out non-destructive checks on different materials and components in order to expose any weak points which could otherwise cause major problems or breakdowns, or constitute a fire hazard. The testo 875-2i can also be used in building thermography to locate leaks in the roof or walls and windows. This helps your customers to save energy and save on fuel bills and also helps them to decide what type of renovation work they may need to carry out.

Technical Features of Testo 875-2i Thermal Imaging Camera Testo 875-2i Thermography kit with SuperResolution
testo 875-2i thermal imaging camera:

• Resolution and image quality: detector size 160 x 120 pixels = 19 200 temperature measuring points, SuperResolution technology enhances image quality to 320 x 240 pixels
• Thermal sensitivity: < 50 mK
• Built-in digital camera with power LEDs: real time recording parallel to each thermal image – built-in power LEDs guarantee optimal illumination in dark areas
• Automatic hot and cold spot tracking
• Solar mode: enter and save sunlight value for each thermal image
• Special measuring mode to determine where the risk of mold is especially high by entering the surrounding temperature and relative humidity, which you have previously measured using your testo 625 thermohygrometer for example. The testo 875-2i measures the surface temperature, calculates the moisture value and presents the results as a moisture image on the display
• Optional: moisture measurements with additional wireless moisture sensors possible
• Optional: Measuring range can be extended for high temperatures up to 550°C
• Interchangeable lens
• Voice annotations via headset
• Intuitive, easy operation

9° x 7° telelens:
• Telelens part of testo 875-2i set (in addition to standard lens)
• Allows you to measure distant objects
Delivery Scope of Testo 875-2i Thermal Imaging Camera Testo 875-2i Thermography kit with SuperResolution
The set comprises a testo 875-2i thermal imaging camera with integrated SuperResolution, a 9° x 7° telelens and the following accessories:
- Robust case
- Pro software for analyzing images on your PC
- Soft case
- Shoulder strap for your thermal camera
- SD memory card
- USB cable for data transfer to PC
- Lens cloth
- Power adaptor
- Li-Ion battery
- Adaptor for tripod mount
- Headset for voice annotations
- Lens protective glass
- Additional battery
- Quick charger
Specification of
Testo 875-2i Thermal Imaging Camera Testo 875-2i Thermography kit with SuperResolution
| | |
| --- | --- |
| Infrared image output | |
| Technical data | |
| Infrared resolution | 160 x 120 pixels |
| Spectral range | 7.5 µm; 14 µm |
| Focus | manual |
| Image refresh rate | 9 Hz |
| SuperResolution (IFOV) | 2.1 mrad (Standard lens) |
| SuperResolution (Pixel) | 320 x 240 pixels |
| Geometric resolution (IFOV) | 3.3 mrad (Standard lens) |
| Minimum focus distance | 0.1 m (Standard lens) |
| Field of view | 32° x 23° |
| Thermal sensitivity | less than 50 mK at +30 °C |
| Image size | 640*480 pixels |
| Minimum focus distance | 0.4m |
| Display type | 3.5" LCD with 320 x 240 pixels |
| Display option | IR image only |
| Number of colours | 10 |
| Colours | 10 (iron, rainbow, rainbow HC, cold-hot, blue-red, grey, inverted grey, sepia, Testo, iron HT) |
| Video output | USB 2.0 |
| Measurement | |
| Technical data | |
| Measuring range | -30 to +100°C; 0 to +350 °C (switchable), 350 to 550 °C |
| Accuracy | ±2 °C, ±2 % of m.v. |
| Reflected temperature | manual |
| Measuring function | |
| Technical data | |
| Surface moisture distribution | Not included |
| Humidity measurement | Not included |
| Solar mode | Included |
| Analysis function | Centre point measurement, hot/cold spot recognition |
| Imager equipment | |
| Technical data | |
| Digital camera | Not included |
| Video streaming | Included |
| Standard lens | 32° x 23° |
| Power-LED | Not included |
| Imager storage | |
| Technical data | |
| File format image | .bmt; export option in .bmp; .jpg; .png; .csv; .xls |
| Storage device | SD card 2GB (approx. 2.000 images) |
| Power supply | |
| Technical data | |
| Battery type | Fast-charging, Li-ion battery can be changed on-site |
| Operating time | 4 h |
| Charging options | In instrument / charger (optional) |
| Mains operation | yes |
| Ambient Condition | |
| Technical data | |
| Storage temperature | -30 °C; 60 °C / -30 °C; 60 °C |
| Operating temperature | -15 °C; 40 °C / -15 °C; 40 °C |
| Air humidity | 20 to 80 %RH non-condensing / 20 to 80 %RH non-condensing |
| Housing protection class | IP54 / IP54 |
| Vibration | 2G / 2G |
| Physical specification | |
| Technical data | |
| Weight | 900 g / 900 g |
| Dimensions | 152 x 108 x 262 mm / 152 x 108 x 262 mm |
| Tripod mounting | M6 / M6 |
| Housing | ABS / ABS |
| PC software | |
| Technical data | |
| System requirements | Windows XP (Service Pack 3); Windows Vista; Windows 7 (Service Pack 1); Windows 8; Interface: USB 2.0 / Windows XP (Service Pack 3); Windows Vista; Windows 7 (Service Pack 1); Windows 8; Interface: USB 2.0 |
Testo 875-2i Thermal Imaging Camera Testo 875-2i Thermography kit with SuperResolution
Product

T875-1

T875-1i

T875-2i

T875i-2 Set

(see below)

T876

T876 Set

(see below)

Image refresh rate

9 Hz

33 Hz

33 Hz

33 Hz

9 Hz

9 Hz

Detector 160x120 interpolated to 320x240 pixels on display

S

S

S

S

S

S

Thermal sensitivity

0.08, (80mK)

0.05, (50mK)

0.05, (50mK)

0.05, (50mK)

0.08, (80mK)

0.08, (80mK)

Temperature range

-30°C to +280°C

-30°C to +350°C

-30°C to +350°C

-30°C to +350°C

-30°C to +280°C

-30°C to +280°C

High quality wide angle lens 32°

S

S

S

S

S

S

Focus

Min focus distance 10cm

M

M

M

M

M&M

M&M

2 GB SD data storage

S

S

S

S

S

S

Capacity to change lenses

N

N

S

S

S

S

USB cable, tripod mounting plate

S

S

S

S

N/A

N/A

Li-ion battery & mains unit adaptor

S

S

S

S

S

S

Testo IR software

S

S

S

S

S

S

Automatic Hot/Cold spot recognition

S

S

S

S

S

S

Display of surface moisture distribution (manual input)

NO

NO

S

S

S

S

Lens protection glass

O

O

O

S

O

O

Integrated digital camera

NO

S

S

S

S

S

Telephoto lens

NO

NO

O

S

O

S

Additional battery

O

O

O

S

O

S

Fast charger

O

O

O

S

O

S

Sun shield/soft case

S

S

S

S

N/A

N/A

Voice recording

NO

NO

S

S

S

S

Part Number

0560 8751

0563 0875 V1

0563 0875 V2

0563 0875 V3

0560 8761

0560 8762
S: Standard, M: Manual, M&M: Manual & Motorised, O: Optional, N/A: Not available



We are specialized in intelligent instruments, including : control system, transmitters, flow meters,sensors, recorders, analyzers, control valves, controllers, PLC's, etc.

We mainly supply Yokogawa ,Honeywell,Siemens,ABB,FLUKE,Endress+Hauser,Schneider Electric,Moeller,FUJI,Omron,Pepperl+Fuchs,Hima,Yaskawa, Norgren, Hach, Weidmuller ,Phoenix,MTL,Testo etc.

Why choose us?

1. 100% original product, 100% quality assurance.
If you find a fake. Please contact us without hesitation! We afford the shipment cost! We send you a new product asking zero cent!

2. Varied payment methods.
We adopt T/T, western union and paypal. If you can not trust us , you can choose to pay it via Aliexpress! 100% make your money safe!

3.SHIPPING:
We can shipping all over the world.via DHL,UPS,Fedex,TNT and EMS etc., the packaging is very safe and strong. if you have any special needs,please notify me.
It will take 3 to 7days to reach in your hands.

Packaging:
Imported with original packaging or standard export packing.Customize design is acceptable.

Contact:

HONGKONG XIEYUAN TECH CO., LIMITED
Email:becky@hkxytech.com Web:www.hkxytech.com
Mobile:+86-15972186287(Whatsapp & Wechat)