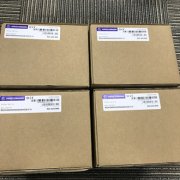 BASIC INFO
Hirschmann RS20-0800M2M2SDAE Ethernet Switch RS20 Rail Switch





Description of Hirschmann RS20-0800M2M2SDAE Ethernet Switch RS20 Rail Switch
Hirschmann RS20-0800M2M2SDAE Industrial Ethernet Switch, 6 x 10/100Base-TX, RJ45 and 2 x 100Base-FX Multimode Fiber, SC, 9.6 - 60 VDC Powered, 0 to 60 deg C, Class 1 Div. II Rated, Enhanced Management
Port type and quantity
• 2 x 100BASE-FX, MM-SC
• 6 x 10/100 BASE TX, RJ45
Overview of Hirschmann RS20-0800M2M2SDAE Ethernet Switch RS20 Rail Switch

This Series allows users to choose either a compact or modular switch, as well as specify port density, back bone type, speed, temperature ratings, conformal coating, and various industry standards. Both compact and modular platforms offer redundant power inputs and fault relay (triggerable by loss of power and/or port-link). Only the managed version offers media/ring redundancy, multicast filtering/IGMP snooping, VLAN, port mirroring, network diagnostics and port control.
A compact platform that permits up to 24-ports in a mere 4.5 inches of a DIN rail. All ports are 100 Mbps max.
Hirschmann RS20-0800M2M2SDAE Industrial Ethernet Switch, 6 x 10/100Base-TX, RJ45 and 2 x 100Base-FX Multimode Fiber, SC, 9.6 - 60 VDC Powered, 0 to 60 deg C, Class 1 Div. II Rated, Enhanced Management
Specification
of
Hirschmann RS20-0800M2M2SDAE Ethernet Switch RS20 Rail Switch
| | | |
| --- | --- | --- |
| Accessory Type | : | Ethernet Switch |
| For Use With | : | RS20, RS22 |
| Mounting Type | : | DIN Rail |
| Number of Ports | : | 8 |
| Port, Type | : | (6) x RJ45, (2) x SC |
| Primary Type | : | Ethernet Switch |
| Protocol Type | : | 10/100 Mbit/s Ethernet |
| Series | : | RS20 Series |
| Special Features | : | Store & Forward Switching |
| Supply Voltage | : | 12/24 V, 24 VAC, 48 VDC |
| Type | : | Compact Switch |
Product Features of Hirschmann RS20-0800M2M2SDAE Ethernet Switch RS20 Rail Switch
Fast and simple selection of features using the web configurator and drop-down lists
Versions with 4 to 25 Fast Ethernet ports
Convenient configuration and diagnostics thanks to comprehensive management functions (serial interface, web interface, SNMP V1/V2, HiVision File Transfer, SW, HTTP/TFTP, LLDP-MED)
High network availability owing to fast redundancy protocols (HIPER Ring, MRP, MSTP, RSTP-IEEE802.1D-2004, MRP and RSTP in parallel, Link Aggregation
High data security thanks to numerous security mechanisms (IP and MAC Port Security, SNMP V3, SSHv2, Authentication (IEEE802.1x), 802.1x Multi Client Authentication, Guest VLAN and Unauthenticated VLAN, Port based Radius VLAN Assignment, Login Banner)
Applications of Hirschmann RS20-0800M2M2SDAE Ethernet Switch RS20 Rail Switch
In the automation area, the demands made on data communication via Ethernet differ widely from application to application. They range from simple installations to complex, high-performance networks with comprehensive management functions and extremely high failure tolerance. The OpenRail RS20 is the perfect switch for so many different application scenarios and is ideal for machine and plant engineering where Ethernet is becoming the communications protocol.
In addition, the OpenRail RS20 family has the required certifications for power transmission and distribution, oil and gas and transportation applications.


Ordering Models of Hirschmann RS20-0800M2M2SDAE Ethernet Switch RS20 Rail Switch

RS20-0400T1T1SDAE
RS20-0400T1T1SDAP
RS20-0400M2T1SDAE
RS20-0400M2T1SDAP
RS20-0400M2M2SDAE
RS20-0400M2M2SDAP
RS20-0800T1T1SDAE
RS20-0800T1T1SDAP
RS20-0800M2M2SDAE
RS20-0800M2M2SDAP
RS20-0800M2M2SDHE
RS20-0800M4M4SDAE
RS20-0800M4M4SDAP
RS20-0800M4M4SDHP
RS20-1600M2T1SDAE
RS20-1600M2T1SDAP
RS20-1600M2M2SDAE
RS20-1600M2M2SDAP
RS20-1600T1T1SDAE
RS20-1600T1T1SDAP
RS20-2400M2M2SDAE
RS20-2400M2M2SDAP
RS20-2400T1T1SDAE
RS20-2400T1T1SDAP
OCTOPUS 16M-2FX
OCTOPUS 24M-2FX


RS20-0400T1T1SDAE
RS20-0400T1T1SDAP
RS20-0400M2T1SDAE
RS20-0400M2T1SDAP
RS20-0400M2M2SDAE
RS20-0400M2M2SDAP
RS20-0800T1T1SDAE
RS20-0800T1T1SDAP
RS20-0800M2M2SDAE
RS20-0800M2M2SDAP



RS20-1600M2T1SDAP
RS20-1600M2M2SDAE
RS20-1600M2M2SDAP
RS20-1600T1T1SDAE
RS20-1600T1T1SDAP
RS20-2400M2M2SDAE
RS20-2400M2M2SDAP
RS20-2400T1T1SDAE
RS20-2400T1T1SDAP
OCTOPUS 16M-2FX
OCTOPUS 24M-2FX




We are specialized in intelligent instruments, including : control system, transmitters, flow meters,sensors, recorders, analyzers, control valves, controllers, PLC's, etc.

We mainly supply YOKOGAWA,WEIDMULLER, ABB, MOELLER, SCHNEIDER ElECTIC,FUJI,OMRON,HONEYWELL,SIEMENS,FLUKE,PEPPERL+FUCHS,HIMA,Endress+ Hauser etc.

Why choose us?

1. 100% original product, 100% quality assurance.
If you find a fake. Please contact us without hesitation! We afford the shipment cost! We send you a new product asking zero cent!

2. Varied payment methods.
We adopt T/T, western union and paypal. If you can not trust us , you can choose to pay it via Aliexpress! 100% make your money safe!

3. SHIPPING:
We can shipping all over the world.via DHL,UPS,Fedex,TNT and EMS etc., the packaging is very safe and strong. if you have any special needs,please notify me.
It will take 3 to 7days to reach in your hands.

Packaging:
Imported with original packaging or standard export packing.Customize design is acceptable.

Contact:

HONGKONG XIEYUAN TECH CO., LIMITED
Email:becky@hkxytech.com Web:www.hkxytech.com
Mobile:+86-15972186287(Whatsapp & Wechat)