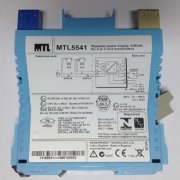 BASIC INFO
MTL Barrier MTL5541 MTL5541A MTL5541AS MTL5541S MTL5544 Repeater Power Supply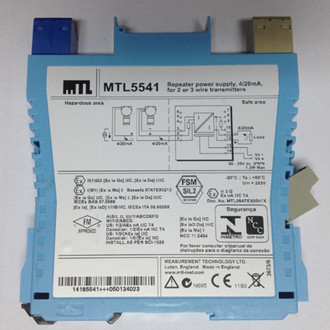 Analogue Input modules of MTL Barrier MTL5541 MTL5541A MTL5541AS MTL5541S MTL5544 Repeater Power Supply

The analogue input (AI) modules support 2-wire or 3-wire 4/20mA or HART transmitters located in
a hazardous area; repeating the current in other circuits to drive safe-area loads.

MTL Barrier MTL5541 MTL5541A MTL5541AS MTL5541S MTL5544 Repeater Power Supply

MTL5541/MTL5541s - Repeater Power supply

• Single channel, for 4/20mA HART® for 2- or 3-wire transmitters

• The MTL5541 provides a fully-floating dc supply for energising a conventional 2- or 3-wire 4/20mA transmitter which is located in a hazardous area, and repeats the current in another floating circuit to drive a safe-area load. For HART 2-wire transmitters, the unit allows bi-directional communications signals superimposed on the 4/20mA loop current. Alternatively, the MTL5541S acts as a current sink for a safe-area connection rather than driving a current into the load.
• Seperately powered current sources, such as 4-wire transmitters, can be connected but will not support HART communication.
MTL Barrier MTL5541 MTL5541A MTL5541AS MTL5541S MTL5544 Repeater Power Supply
These contrasting attributes stem from the progression of MTL's expertise in the design and manufacture of isolators for intrinsic safety and the application of innovative technology to achieve the required separation and segregation of the circuits.
The MTL5500 (DIN-rail mounting) and MTL4500 (backplane mounting) isolators share a common design, differing only in the mechanical mounting and connection methods.

•Compact modular design with DIN rail mounting
•High packing density
•Single and multi-channel I/O modules
•3-port isolation with low power dissipation
MTL Barrier MTL5541 MTL5541A MTL5541AS MTL5541S MTL5544 Repeater Power Supply
Part Number
MTL5501-SR, MTL5510, MTL5510B, MTL5511, MTL5513, MTL5514, MTL5514D, MTL5516C, MTL5517, MTL5521, MTL5522, MTL5523, MTL5523V, MTL5523VL, MTL5524, MTL5525, MTL5526, MTL5531, MTL5532, MTL5533, MTL5541, MTL5541A, MTL5541AS, MTL5541S, MTL5544, MTL5544A, MTL5544AS, MTL5544D, MTL5544S, MTL5546, MTL5546Y, MTL5549, MTL5549Y, MTL5561, MTL5575, MTL5576-RTD, MTL5576-THC, MTL5581, MTL5582
---
MTL4500 Series Barriers

Part Number
MTL4501-SR, MTL4504, MTL4510, MTL4510B, MTL4511, MTL4513, MTL4514 (B)(D), MTL4516, MTL4516C, MTL4517, MTL4521, MTL4521L, MTL4523, MTL4523L, MTL4523R, MTL4523V, MTL4523VL, MTL4524, MTL4524S, MTL4525, MTL4526, MTL4531, MTL4532, MTL4533, MTL4541, MTL4541A, MTL4541AS, MTL4541B, MTL4541P, MTL4541S, MTL4541T, MTL4544, MTL4544A, MTL4544AS, MTL4544B, MTL4544D, MTL4544S, MTL4546, MTL4546C, MTL4546S, MTL4546Y, MTL4549, MTL4549C, MTL4549Y, MTL4561, MTL4575, MTL4576-RTD, MTL4576-THC, MTL4581
---
MTL4600 Series Barriers
Part Number
MTL4604, MTL4610, MTL4611, MTL4614, MTL4614D, MTL4616, MTL4617, MTL4621, MTL4623, MTL4623L, MTL4623R, MTL4624, MTL4624S, MTL4626, MTL4632, MTL4641, MTL4641A, MTL4641AS, MTL4641S, MTL4644, MTL4644A, MTL4644AS, MTL4644D, MTL4644S, MTL4646, MTL4646Y, MTL4649, MTL4649Y, MTL4675, MTL4676-RTD, MTL4676-THC
---
MTL7700 Series Barriers
Part Number
MTL7706+
MTL7707+
MTL7707p+
MTL7710+
MTL7715+
MTL7715p+
MTL7722+
MTL7728+/–/ac
MTL7728p+
MTL7729p+
MTL7741
MTL7742
MTL7743
MTL7744
MTL7745
MTL7755ac
MTL7756ac
MTL7758+/–
MTL7760ac
MTL7761ac
MTL7761pac
MTL7764+
MTL7764ac
MTL7765ac
MTL7766ac
MTL7766pac
MTL7767+
MTL7778ac
MTL7779+
MTL7787+
MTL7787p+
MTL7788+
MTL7788R+
MTL7789+
MTL7796+
MTL7796–
MTL7798


We are specialized in intelligent instruments, including : control system, transmitters, flow meters,sensors, recorders, analyzers, control valves, controllers, PLC's, etc.

We mainly supply Yokogawa ,Honeywell,Siemens,ABB,FLUKE,Endress+Hauser,Schneider Electric,Moeller,FUJI,Omron,Pepperl+Fuchs,Hima,Yaskawa, Norgren, Hach, Weidmuller ,Phoenix,MTL,Testo etc.

Why choose us?

1. 100% original product, 100% quality assurance.
If you find a fake. Please contact us without hesitation! We afford the shipment cost! We send you a new product asking zero cent!

2. Varied payment methods.
We adopt T/T, western union and paypal. If you can not trust us , you can choose to pay it via Aliexpress! 100% make your money safe!

3.SHIPPING:
We can shipping all over the world.via DHL,UPS,Fedex,TNT and EMS etc., the packaging is very safe and strong. if you have any special needs,please notify me.
It will take 3 to 7days to reach in your hands.

Packaging:
Imported with original packaging or standard export packing.Customize design is acceptable.

Contact:

HONGKONG XIEYUAN TECH CO., LIMITED
Email:becky@hkxytech.com Web:www.hkxytech.com
Mobile:+86-15972186287(Whatsapp & Wechat)