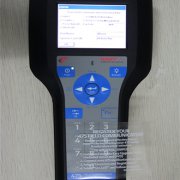 BASIC INFO
Emerson 475HP1EKL9GMTS Handheld 475 Hart Field Communicator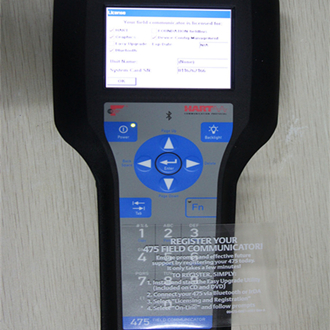 Simplify your work in the field with the the intrinsically safe, rugged 475 Field Communicator.This built-for-purpose handheld communicator delivers universal support for HART and Foundation Fieldbus devices, a full-color graphical user interface, and a long-lasting Lithium-Ion power module. It is designed to withstand the knocks and shocks from normal use in the
Features
• Universal – HART and FOUNDATION fieldbus devices
• User upgradeable
• Intrinsically safe
• Rugged and reliable
• Interfaces with AMS Suite: Intelligent Device Manager
• Graphical interface
• 80 MHz Hitachi SH3 microprocessor
• Bluetooth communication: 32.8 ft. (10m) max communication distance
• 32 MB memory Internal Flash / RAM
• Battery: rechargeable Lithium-Ion power module
20 hours; continuous use
40 hours; typical use
80 hours; standby mode
• 25 button key pad
• 1/4 VGA (240 by 320 pixels) color, 3.5" transflective, touchscreen display


The Emerson Process Management 475 Field Communicator establishes the new standard for handheld communicators. With a full-color user interface, powerful diagnostic capabilities, and fast start up and operating times, the 475 will power your experience and simplify your work in the field.
The 475 Field Communicator supports all HART, FOUNDATION fieldbus, and Wireless HART devices and allows you to upgrade your HART 475 Field Communicator onsite using the Internet.
Uses for the 475 HART Field Communicator include:
• Configure field devices or perform diagnostics for effective troubleshooting in the field.
• Create a quality segment
• Detect power supply problems
• Run valve diagnostics
• Locate incorrect terminations and faulty devices without dragging a laptop into the plant.
The 475 is fully compatible with AMS Suite: Intelligent Device Manager. AMS Device Manager allows you to configure, calibrate, document, and troubleshoot HART, FOUNDATION fieldbus, and Wireless HART devices. Easily transfer device configurations between AMS Device Manager and the 475 via Bluetooth to ensure you are always looking at the most updated device information.
New HART and FOUNDATION fieldbus devices, as well as updates to existing devices, are continually introduced by device vendors. With Easy Upgrade, you can keep your Emerson Process Management HART 475 Field Communicator updated with the most current Device Descriptions (DDs) for all the devices in your plant. Update at your site, get only what you need, and do it when it is convenient for you.

Emerson 475HP1EKL9GMTS Handheld 475 Hart Field Communicator
If you're in the field service business and you already know the importance of having reliable, it is easy to use equipment. When it comes to hart communicator Emerson has established the well deserved reputation for quality with models like the 375 field communicator and that tradition continues in their most recent model the Emerson 475 Field Communicator.
When holding the 475 in hand you may feel the quality and the full color graphical interface makes it easy to use with clear graphics and adjustable brightness for working in varied lighting conditions.
The speed of the 475 is a noticeable improvement over similar devices and the boot time is nearly instantaneous. A long lasting lithium ion power module ensures that you can count on your Emerson 475 for days not hours and with universal support for hart, wirelesshart and foundation fieldbus devices its ready for the task at hand.
With the addition of Bluetooth for speedy information transfer and accessory kits for the field and the workshop, it's no wonder this hart 475 unit is so popular all over the world.
Emerson 475HP1EKL9GMTS Handheld 475 Hart Field Communicator
The 475 Field Communicator is powered by a Li-Ion battery that has a green, 6-pin connector. The power supply/charger also has a green connector to match the appropriate connector on the battery. See Figure 2-1 for the location of the connector.
Prior to using the 475 Field Communicator without the power supply/charger connected, fully charge the battery. Guidelines and precautions Understand and follow the guidelines and precautions below before using the battery or power supply/charger.
• When transporting a Li-Ion battery, follow all applicable regulations.
• Protect the battery and power supply/charger from moisture, and respect operating and storage temperature limits. See Appendix A "Reference data" for more information.
• Do not cover the battery or power supply/charger, subject it to prolonged periods of direct sunlight, or place it upon or next to heat-sensitive materials.
• Charge the battery with only the Field Communicator power supply/charger. The power supply/charger should not be used with other products. Failure to comply may permanently damage your 475 Field Communicator and will void the IS approval and the warranty.
• Do not open or modify the battery or power supply/charger. There are no user-serviceable components or safety elements inside.
Our product provides instructions on basic features and functions of the 475 Field Communicator. It also provides information on assembly, components, starting, entering standby, shutting down, settings, applications, and maintaining the 475 Field Communicator. We supply the 475 field communicator for years with competitive price .The functionality described in this section is based on system software version 3.8.
We mainly supply Yokogawa, Siemens, Endress Hauser instruments. Our 475 Field Communicator supports HART and FOUNDATION fieldbus devices, letting you configure, maintain, or troubleshoot devices. When you use the 475 Field Communicator to communicate with devices, follow all standards and procedures applicable to the location. Failure to comply may result in equipment damage and/or personal injury. Please be sure to understand and comply with the sections in this manual. The 475 Field Communicator includes a color LCD touch screen, a Li-Ion battery (Power Module), a SH3 processor, memory components, System Card, and integral communication and measurement circuitry. The hart Field Communicator also supports multiple languages.
Emerson 475 hart communicator manual
Emerson 475 hart communicator price
Emerson 475 field communicator easy upgrade utility
Emerson 475 hart communicator calibration
Emerson 475 hart field communicator
475 hart communicator
475 hart communicator price
handheld 475 hart field communicator
Model Code for Ordering:
475HP1EKL9GM9
475HP1EKL9GM9A
475HP1EKL9GM9AS
475HP1EKL9GM9S
475HP1EKL9GMT
475HP1EKL9GMTA
475HP1EKL9GMTAS
475HP1EKL9GMTS
475HP1EKLUGM9
475HP1EKLUGM9A
475HP1EKLUGM9AS
475HP1EKLUGM9S
475HP1EKLUGMT
475HP1EKLUGMTA
475HP1EKLUGMTAS
475HP1EKLUGMTS
475HP1ENA9GM9
475HP1ENA9GM9A
475HP1ENA9GM9AS
475HP1ENA9GM9S
475HP1ENA9GMT
475HP1ENA9GMTA
475HP1ENA9GMTAS
475HP1ENA9GMTS
475HP1ENAUGM9
475HP1ENAUGM9A
475HP1ENAUGM9AS
475HP1ENAUGM9S
475HP1ENAUGMT
475HP1ENAUGMTA
475HP1ENAUGMTAS
475HP1ENAUGMTS
475HP9EKL9GM9
475HP9EKL9GM9A
475HP9EKL9GM9AS
475HP9EKL9GM9S
475HP9EKL9GMT
475HP9EKL9GMTA
475HP9EKL9GMTAS
475HP9EKL9GMTS
475HP9EKLUGM9
475HP9EKLUGM9A
475HP9EKLUGM9AS
475HP9EKLUGM9S
475HP9EKLUGMT
475HP9EKLUGMTA
475HP9EKLUGMTAS
475HP9EKLUGMTS
475HP9ENA9GM9
475HP9ENA9GM9A
475HP9ENA9GM9AS
475HP9ENA9GM9S
475HP9ENA9GMT
475HP9ENA9GMTA
475HP9ENA9GMTAS
475HP9ENA9GMTS
475HP9ENAUGM9
475HP9ENAUGM9A
475HP9ENAUGM9AS
475HP9ENAUGM9S
475HP9ENAUGMT
475HP9ENAUGMTA
475HP9ENAUGMTAS
475HP9ENAUGMTS
We are specialized in intelligent instruments, including : control system, transmitters, flow meters,sensors, recorders, analyzers, control valves, controllers, PLC's, etc.
We mainly supply Yokogawa ,Emerson, Rosemount,Honeywell,Siemens,ABB,FLUKE,Endress+Hauser,Schneider Electric,Moeller,FUJI,Omron, Pepperl+Fuchs,Hima,Yaskawa, Norgren, Hach, Weidmuller,Phoenix,MTL,Testo,Rockwell etc.
Why do you choose us?
1. 100% original yokogawa product, 100% quality assurance.
If you find a fake yokogawa. Please contact us without hesitation! We afford the shipment cost! We send you a new product asking zero cent.
2. Varied payment methods.
We adopt L/C, D/A, D/P, T/T, and other methods. If you can not trust us , you can choose to pay it via Aliexpress! 100% make your money safe!
Packaging: Imported with original packaging or standard export packing.Customize design is acceptable.
Shipping: By Express(EMS,DHL,UPS,TNT, FEDEX, ARAMEX), By Air, By Sea.
Contact:
HONGKONG XIEYUAN TECH CO., LIMITED
Email:becky@whxyauto.com Web:www.hkxytech.com
Mobile:+86-15972186287(Whatsapp & Wechat)