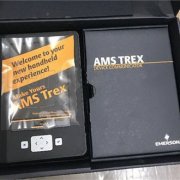 BASIC INFO
Emerson TREXLFPKLWS3S AMS Trex Device HART Communicator Wireless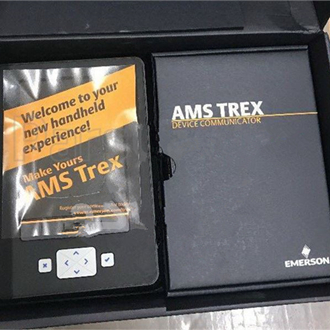 Improve reliability with the AMS Trex Device Communicator. Increase productivity in the field with your Trex unit by doing more types of tasks. Easily solve complex device issues without the need for other specialized tools. The Trex communicator is designed to withstand the harsh conditions in and around manufacturing facilities and is safely-rated, so it can go anywhere you can go. Rely on Trex to deliver results and keep your field assets reliable.


Specifications of Emerson TREXLFPKLWS3S AMS Trex Device HART Communicator Wireless


Processor, Memory, and Operating System
Microprocessor
800 MHz ARM Cortex A8 / NXP
Memory Internal Flash
2 GB NAND and 32 GB extended flash
Operating System
Windows Embedded Compact 2013
RAM
512 MB DDR3 SDRAM
Physical
Weight
Approximately 2.9 lbs (1330 grams)
Display
5.7 inch (14.5 cm) color VGA resistive touchscreen
640 x 480 pixel
Keypad
X button – similar to a Back key
4 arrow buttons to navigate menus
Checkmark- similar to an Enter key
AC Adapter
Battery
Rechargeable Lithium- Ion Power Module
Operating Time
8+ hours of typical use
Charge Time
3 to 4 hours
LEDs
6 LEDs. Five LEDs for indicating the progress of charging. One LED to indicate the AC adapter is charging the power module.
Battery Charger Options
Input voltage 90-264 VAC, 47-63 Hz
Cables included with U.S., Europe, and U.K. plugs
Features of Emerson TREXLFPKLWS3S AMS Trex Device HART Communicator Wireless
• Eliminate the need for specialized tools with power the loop functionality
• Quickly resolve field devices issues with advanced diagnostics
• Configure and test valves inline
• Improve efficiency with a modern, intuitive user interface
• Intrinsically safe to go anywhere you go
• Automatically synchronize field data with AMS Device Manager


Emerson TREXLFPKLWS3S AMS Trex Device HART Communicator Wireless

The AMS Trex Device Communicator expands the long line of Emerson handheld devices while adding new capabilities that adapt it to consumer expectations for mobile device functionality.

Technicians armed with a Trex communicator won't waste time bringing devices back to the shop for analysis or reconfiguration. Problems with Foundation Fieldbus and HART devices can be diagnosed in the field while the devices are still installed. Simple issues can be addressed on the spot, avoiding unnecessary, and potentially destructive, invasive physical investigation of the problem.

Technicians need powerful and portable diagnostic tools so they can identify and troubleshoot device issues to minimize process upsets. With a Trex communicator in hand, you can properly diagnose device issues in the field. With the right handheld, maintenance teams will experience significant savings in work hours and peace of mind knowing that problems will be fixed quickly and properly the first time.

• Commission and validate devices faster
• Quickly fix issues in the field with advanced device diagnostics
• Configure and test valves inline
• Improve efficiency with a modern,intuitive user interface
• Intrinsically safe; usable anywhere you need to go


Emerson TREXLFPKLWS3S AMS Trex Device HART Communicator Wireless

The Emerson AMS Trex device communicator is designed for comfortable, one-handed, all-day operation in the field. It is packaged in an evenly-balanced form factor with a rugged hand strap so it is easy to hold, even when working in tight spaces. It comes standard with 32 GB of application memory, providing plenty of space to customize with the apps of your choice. With built-in Bluetooth, USB, and WiFi connectivity, data can be moved to and from the communicator using whichever connectivity option is most convenient.

The Trex communicator features a 5.7 inch resistive touchscreen display that is easy to use with bulky work gloves. The adjustable backlit screen can be adjusted to save power and adapt to dark environments or bright sunlight, ensuring a crisp display that is always easy to read.


Emerson TREXLFPKLWS3S AMS Trex Device HART Communicator Wireless


The AMS Trex Device Communicator expands the long line of Emerson handheld devices while adding new capabilities that adapt it to consumer expectations for mobile device functionality.

Technicians armed with a Trex communicator won't waste time bringing devices back to the shop for analysis or reconfiguration. Problems with Foundation Fieldbus and HART devices can be diagnosed in the field while the devices are still installed. Simple issues can be addressed on the spot, avoiding unnecessary, and potentially destructive, invasive physical investigation of the problem.

Technicians need powerful and portable diagnostic tools so they can identify and troubleshoot device issues to minimize process upsets. With a Trex communicator in hand, you can properly diagnose device issues in the field. With the right handheld, maintenance teams will experience significant savings in work hours and peace of mind knowing that problems will be fixed quickly and properly the first time.

Once changes are made in the field, AMS Trex will automatically synchronize the information with the AMS Device Manager database via WiFi or USB connection.


Emerson TREXLFPKLWS3S AMS Trex Device HART Communicator Wireless

The Trex communicator includes Upgrade Studio, a PC application to help keep the Trex unit up-to-date with new software and apps. Upgrade Studio can even connect to multiple devices at once, allowing you to simultaneously upgrade and perform installs on your entire fleets of AMS Trex Device Communicators.

With Upgrade Studio, add critical diagnostic tools to your toolkit and push them out to any number of Trex communicators. With multiple apps available and many more in development, Upgrade Studio will make the Trex communicator your go-anywhere, do-anything device:

Field Communicator – The Field Communicator app delivers a wide range of options for configuring and troubleshooting HART and Foundation Fieldbus devices.

Loop Diagnostics – With the Loop Diagnostic app, you can power the loop in the field and also perform loop troubleshooting and checkouts. The app helps with loop characteristic validation and lets you isolate and troubleshoot wiring issues.

Fieldbus Diagnostics – The Fieldbus Diagnostics app gives you the necessary toolset for troubleshooting and validating Foundation Fieldbus segments.



Ordering Codes of Emerson TREXLFPKLWS3S AMS Trex Device HART Communicator Wireless


TREXCHPNAWS1 TREXLHPNAWS1 TREXCFPNAWS1 TREXLFPNAWS1 TREXCHPNAWS3 TREXLHPNAWS3TREXCFPNAWS3 TREXLFPNAWS3 TREXCHPNAWP1 TREXLHPNAWP1 TREXCFPNAWP1 TREXLFPNAWP1
TREXCHPNAWP3 TREXLHPNAWP3 TREXCFPNAWP3 TREXLFPNAWP3 TREXCHPNA9S1 TREXLHPNA9S1TREXCFPNA9S1 TREXLFPNA9S1 TREXCHPNA9S3 TREXLHPNA9S3 TREXCFPNA9S3 TREXLFPNA9S3
TREXCHPNA9P1 TREXLHPNA9P1 TREXCFPNA9P1 TREXLFPNA9P1 TREXCHPNA9P3 TREXLHPNA9P3TREXCFPNA9P3 TREXLFPNA9P3 TREXCHPKLWS1 TREXLHPKLWS1 TREXCFPKLWS1 TREXLFPKLWS1
TREXCHPKLWS3 TREXLHPKLWS3 TREXCFPKLWS3 TREXLFPKLWS3 TREXCHPKLWP1 TREXLHPKLWP1TREXCFPKLWP1 TREXLFPKLWP1 TREXCHPKLWP3 TREXLHPKLWP3 TREXCFPKLWP3 TREXLFPKLWP3
TREXCHPKL9S1 TREXLHPKL9S1 TREXCFPKL9S1 TREXLFPKL9S1 TREXCHPKL9S3 TREXLHPKL9S3TREXCFPKL9S3 TREXLFPKL9S3 TREXCHPKL9P1 TREXLHPKL9P1 TREXCFPKL9P1 TREXLFPKL9P1 TREXCHPKL9P3 TREXLHPKL9P3 TREXCFPKL9P3 TREXLFPKL9P3

Emerson TREXLFPKLWS3S AMS Trex Device HART Communicator Wireless
| | | | | | | |
| --- | --- | --- | --- | --- | --- | --- |
| TREXCHPNAWS1 | | TREXLHPNAWS1 | | TREXCFPNAWS1 | | TREXLFPNAWS1 |
| TREXCHPNAWS3 | | TREXLHPNAWS3 | | TREXCFPNAWS3 | | TREXLFPNAWS3 |
| TREXCHPNAWP1 | | TREXLHPNAWP1 | | TREXCFPNAWP1 | | TREXLFPNAWP1 |
| TREXCHPNAWP3 | | TREXLHPNAWP3 | | TREXCFPNAWP3 | | TREXLFPNAWP3 |
| TREXCHPNA9S1 | | TREXLHPNA9S1 | | TREXCFPNA9S1 | | TREXLFPNA9S1 |
| TREXCHPNA9S3 | | TREXLHPNA9S3 | | TREXCFPNA9S3 | | TREXLFPNA9S3 |
| TREXCHPNA9P1 | | TREXLHPNA9P1 | | TREXCFPNA9P1 | | TREXLFPNA9P1 |
| TREXCHPNA9P3 | | TREXLHPNA9P3 | | TREXCFPNA9P3 | | TREXLFPNA9P3 |
| TREXCHPKLWS1 | | TREXLHPKLWS1 | | TREXCFPKLWS1 | | TREXLFPKLWS1 |
| TREXCHPKLWS3 | | TREXLHPKLWS3 | | TREXCFPKLWS3 | | TREXLFPKLWS3 |
| TREXCHPKLWP1 | | TREXLHPKLWP1 | | TREXCFPKLWP1 | | TREXLFPKLWP1 |
| TREXCHPKLWP3 | | TREXLHPKLWP3 | | TREXCFPKLWP3 | | TREXLFPKLWP3 |
| TREXCHPKL9S1 | | TREXLHPKL9S1 | | TREXCFPKL9S1 | | TREXLFPKL9S1 |
| TREXCHPKL9S3 | | TREXLHPKL9S3 | | TREXCFPKL9S3 | | TREXLFPKL9S3 |
| TREXCHPKL9P1 | | TREXLHPKL9P1 | | TREXCFPKL9P1 | | TREXLFPKL9P1 |
| TREXCHPKL9P3 | | TREXLHPKL9P3 | | TREXCFPKL9P3 | | TREXLFPKL9P3 |
Spare Parts Codes of
Emerson TREXLFPKLWS3S AMS Trex Device HART Communicator Wireless
TREX-0002-1211 Rechargeable Li-Ion Power Module
TREX-0002-3611 Rechargeable Li-Ion Power Module (with 3 years premium coverage)
TREX-0003-0011 AC Adapter (includes US, EU, UK, AU outlet plugs)
TREX-0003-0022 DC Adapter (12v vehicle accessory outlet)
TREX-0003-0002 AC Outlet Plugs (replacement set includes US, EU, UK, AU)
TREX-FFPA-0001 Foundation Fieldbus Power Plug
TREX-0004-0001 Lead Set with connectors
TREX-0005-0002 Hand Strap (replacement set of 2)
TREX-0005-0011 Carrying Case (includes hand & shoulder straps)
TREX-0005-0009 Shoulder Strap (replacement for use with carrying case)
TREX-0005-0004 Magnetic Hanger
TREX-0004-0002 USB cable (USB to micro USB)
TREX-PMDC-1211 Device Communicator communication module
TREX-PMDC-3611 Device Communicator communication module (with 3 years premium coverage)
TREX-PMDP-1211 Device Communicator Plus communication module
REX-PMDP-3611 Device Communicator Plus communication module (with 3 years premium coverage)
TREX-0012-0011 Stand (replacement integral to communication module)(
TREX-0045-0001 Quick Start Guide (Multilingual)
TREX-0049-0001 Resource DVD
We are specialized in intelligent instruments, including : control system, transmitters, flow meters,sensors, recorders, analyzers, control valves, controllers, PLC's, etc.
We mainly supply Yokogawa ,Honeywell,Siemens,ABB,FLUKE,Endress+Hauser,Schneider Electric,Moeller,FUJI,Omron,Pepperl+Fuchs,Hima,Yaskawa, Norgren, Hach, Weidmuller ,Phoenix,MTL,Testo etc.
Why choose us?
1. 100% original product, 100% quality assurance.
If you find a fake. Please contact us without hesitation! We afford the shipment cost! We send you a new product asking zero cent!
2. Varied payment methods.
We adopt T/T, western union and paypal. If you can not trust us , you can choose to pay it via Aliexpress! 100% make your money safe!
3.SHIPPING:
We can shipping all over the world.via DHL,UPS,Fedex,TNT and EMS etc., the packaging is very safe and strong. if you have any special needs,please notify me.
It will take 3 to 7days to reach in your hands.
Packaging:
Imported with original packaging or standard export packing.Customize design is acceptable.
Contact:
HONGKONG XIEYUAN TECH CO., LIMITED
Email:becky@hkxytech.com Web:www.hkxytech.com
Mobile:+86-15972186287(Whatsapp & Wechat)