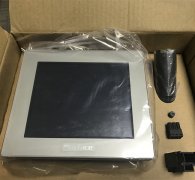 BASIC INFO
Pro-face PFXGP4501TADW GP4000 Series PFXGP4501TADW Touch Screen HMI 10.4 in TFT LCD In Stock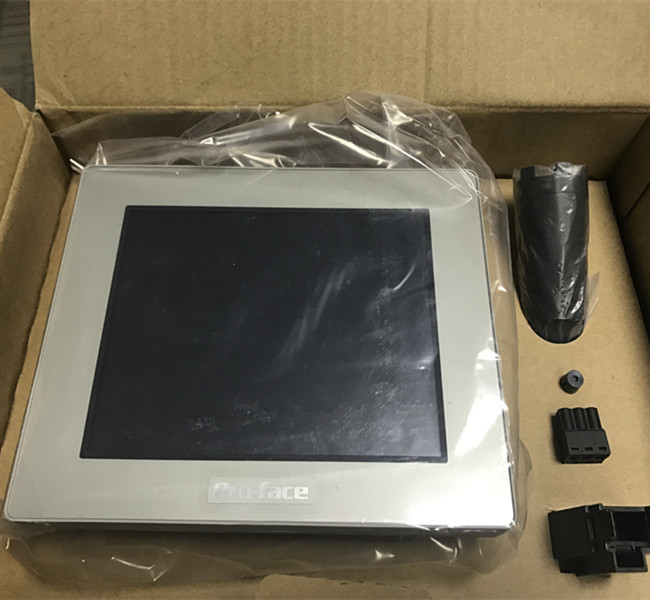 Smart Display of Pro-face PFXGP4501TADW GP4000 Series PFXGP4501TADW Touch Screen HMI 10.4 in TFT LCD In Stock
Powerful TFT LCD expression in 65,536 colors
All models employ 65,536-color TFT LCDs. Improved visibility enhances operability and security.
Realistic 3D parts that look just like the real thing
Add realistic three-dimensional graphical parts and easily create easy-to-identify screens with high added value. Realize expressive operation screens.
Application Memory Increased
Create more screens and use more image files than ever before.
New Size, 7.0" Wide screen
5.7" models now have a 30% larger screen allowing effective placement of menus and numeric keypads.
Customizable Start Screen
Display registered image such as your company name or product logo as a splash screen during start-up.
Enhanced Durability
New models feature enhanced durability for use in harsh environments.
An easy-maintenance environment-resistant cover that extends product lifetime by protecting the screen from cutting oils and chemicals.
Two-point touching operation with the matrix resistive touch panel
The GP4000 Series lineup includes models with an on-board matrix-type touch panel. Unintended operation can be prevented by setting two-point touching for buttons used in critical operations and operating environments. (Supported Models: GP-4601T, GP-4501T)



PFXGP4201TAD GP-4201T PFXGP4203TAD GP-4203T PFXGP4301TAD GP-4301T PFXGP4303TAD GP-4303T
PFXGP4401TAD GP-4401T PFXGP4503TAD GP-4503T
Ordering Models of Pro-face PFXGP4501TADW GP4000 Series PFXGP4501TADW Touch Screen HMI 10.4 in TFT LCD In Stock
PFXGP4201TAD GP-4201T PFXGP4203TAD GP-4203T PFXGP4301TAD GP-4301T PFXGP4303TAD GP-4303T PFXGP4401TAD GP-4401T PFXGP4503TAD GP-4503T PFXGP4501TMD GP-4501T PFXGP4501TMA GP-4501T PFXGP4501TAD GP-4501T PFXGP4501TAA GP-4501T PFXGP4601TMD GP-4601T PFXGP4603TAD GP-4603T PFXGP4601TMA GP-4601T PFXGP4601TAD GP-4601T PFXGP4601TAA GP-4601T
GP4000 Series of Pro-face PFXGP4501TADW GP4000 Series PFXGP4501TADW Touch Screen HMI 10.4 in TFT LCD In Stock

PFXGP4301TADC GP-4301T PFXGP4501TADC GP-4501T PFXGP4501TAAC GP-4501T PFXGP4601TADC GP-4601T PFXGP4601TAAC GP-4601T
GP4000W Series of Pro-face PFXGP4501TADW GP4000 Series PFXGP4501TADW Touch Screen HMI 10.4 in TFT LCD In Stock
PFXGP4201TADW GP-4201TW PFXGP4301TADW GP-4301TW PFXGP4401WADW GP-4401WW PFXGP4501TADW GP-4501TW PFXGM4201TAD GP-4201TM PFXGM4301TAD GP-4301TM
GP4100 Series of Pro-face PFXGP4501TADW GP4000 Series PFXGP4501TADW Touch Screen HMI 10.4 in TFT LCD In Stock

GP4104G1D GP-4104G GP4104W1D GP-4104W GP4105G1D GP-4105G GP4105W1D GP-4105W GP4106G1D GP-4106G GP4106W1D GP-4106W GP4107G1D GP-4107G GP4107W1D GP-4107W
GC4000 Series of Pro-face PFXGP4501TADW GP4000 Series PFXGP4501TADW Touch Screen HMI 10.4 in TFT LCD In Stock
PFXGE4501WAD GC4501W PFXGE4401WAD GC4401W PFXGE4408WAD GC4408W
GP3000 Series of Pro-face PFXGP4501TADW GP4000 Series PFXGP4501TADW Touch Screen HMI 10.4 in TFT LCD In Stock

AGP3200-T1-D24 AGP3200-A1-D24 AGP3360-T1-D24 AGP3310-T1-D24 AGP3300-T1-D24 AGP3300-T1-D24 AGP3300H-S1-D24 AGP3300-L1-D24 AGP3310H-T1-D24 AGP3300H-L1-D24 AGP3300-T1-D24-D81K AGP3300-T1-D24-D81C AGP3300-T1-D24-FN1M AGP3300-S1-D24-D81K AGP3300-S1-D24-D81C AGP3300-L1-D24-D81K AGP3300-L1-D24-D81C AGP3300-L1-D24-FN1M AGP3300-T1-D24-CA1M AGP3300-L1-D24-CA1M AGP3301-S1-D24 AGP3301-L1-D24 AGP3450-T1-D24 AGP3400-S1-D24 AGP3400-T1-D24-D81K AGP3400-S1-D24-D81C AGP3400-T1-D24-FN1M AGP3400-S1-D24-D81K AGP3400-T1-D24-CA1M AGP3400-T1-D24-D81C AGP3400-T1-D24 AGP3500-T1-D24-D81K AGP3500-T1-D24-D81C AGP3500-T1-D24-FN1M AGP3500-T1-D24 AGP3500-S1-D24 AGP3500-L1-D24 AGP3500-S1-D24-D81K AGP3500-S1-D24-D81C AGP3500-L1-D24-D81C AGP3500-T1-D24-CA1M AGP3600-T1-D24 AGP3600-T1-D24-FN1M AGP3600-T1-D24-CA1M AGP3600-T1-D24-D81C AGP3600-T1-D24-D81K AGP3750-T1-D24
ST3000 Series
AST3201-A1-D24 AST3211-A1-D24 AST3301-T1-D24 AST3301-S1-D24 AST3301-B1-D24 AST3302-B1-D24
AST3401-T1-D24 AST3501-T1-D24 AST3501-C1-D24
ST3000W Series
AST3301W-B1-D24 AST3301W-S1-D24 AST3501W-T1-D24
ST400 Series of Pro-face PFXGP4501TADW GP4000 Series PFXGP4501TADW Touch Screen HMI 10.4 in TFT LCD In Stock

ST400-AG41-24V ST401-AG41-24V ST402-AG41-24V ST403-AG41-24V GP2600-TC41-24V GP2601-TC41-24V GP2500-TC41-24V GP2501-TC41-24V GP2500-SC41-24V GP2501-SC41-24V GP2500-LG41-24V GP2501-LG41-24V GP2400-TC41-24V GP2401-TC41-24V GP2300-TC41-24V GP2300-SC41-24V GP2300-LG41-24V GP2301-TC41-24V GP2301-SC41-24V GP2301-LG41-24V GP2401H-T1-24V GP2301H-S1-24V GP2301H-LG41-24V GP37W2-BG41-24V GP477R-EG41-24VP AGP3750-T1-D24 AGP3600-T1-D24 AGP3500-T1-D24 AGP3500-S1-D24 AGP3500-L1-D24 AGP3450-T1-D24 AGP3400-T1-D24 AGP3400-S1-D24 AGP3300-T1-D24 AGP3300-S1-D24 AGP3300-L1-D24 AGP3301-S1-D24 AGP3301-L1-D24 AGP3302-B1-D24
ST400-AG41-24V ST401-AG41-24V ST402-AG41-24V ST403-AG41-24V GLC2600-T1-24V GLC2500-T1-24V GLC2400-T1-24V GLC2300-T1-24V GLC2300-LG41-24V


We are specialized in intelligent instruments, including : control system, transmitters, flow meters,sensors, recorders, analyzers, control valves, controllers, PLC's, etc.

We mainly supply Yokogawa, Emerson, Rosemount,Honeywell,Siemens, ABB,FLUKE, Endress+Hauser,Schneider Electric,Moeller,FUJI,Omron, Pepperl+Fuchs, Yaskawa,Norgren,CHINT,Hach,Weidmuller,Phoenix,MTL,SMC,Testo,Rockwell,ASCO,Parker,Mitsubishi, Hima, Hirschmann,Festo,GE, CISCO,Auma,IFM,GM,Turck,Bently Nevada,MOXA etc.

Why choose us?

1. 100% original product, 100% quality assurance.
If you find a fake. Please contact us without hesitation! We afford the shipment cost! We send you a new product asking zero cent!

2. Varied payment methods.
We adopt T/T, western union and paypal. If you can not trust us , you can choose to pay it via Aliexpress! 100% make your money safe!

3.SHIPPING:
We can shipping all over the world.via DHL,UPS,Fedex,TNT and EMS etc., the packaging is very safe and strong. if you have any special needs,please notify me.
It will take 3 to 7days to reach in your hands.

Packaging:
Imported with original packaging or standard export packing.Customize design is acceptable.

Contact:

HONGKONG XIEYUAN TECH CO., LIMITED
Email:becky@hkxytech.com Web:www.hkxytech.com
Mobile:+86-15972186287(Whatsapp & Wechat)