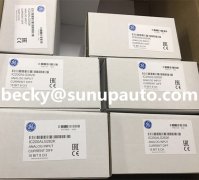 BASIC INFO
GE Versamax IC200MDD844 PLC Mixed Input Module 16 Points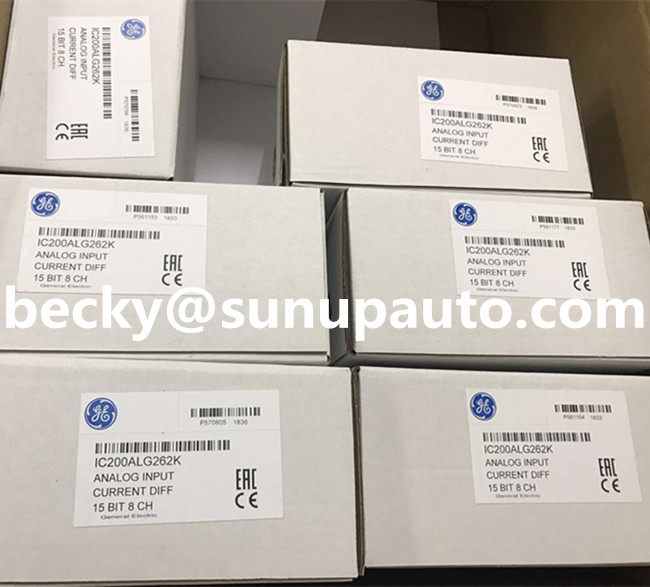 GE Versamax IC200MDD844 is a mixed module, output 12/24vdc pos. logic 0.5a 16 points / input 24 vdc pos/neg logic grouped 16 points. GE Versamax IC200MDD844 provides one group of 16 discrete outputs
and two groups of 8 discrete inputs. GE Versamax IC200MDD844 provides 16 bits of discrete input data and receives 16 bits of discrete output data.


General of
GE Versamax IC200MDD844 PLC Mixed Input Module 16 Points
Discrete input/output module IC200MDD844 (shown below) / BXIOMD1624 provides one group of 16 discrete outputs and two groups of 8 discrete inputs.

The outputs are positive or sourcing type outputs. They switch the loads to the positive side of the DC supply and thus supply current to the loads.

Inputs are positive logic; they receive current from input devices and return the current on the common. Input devices are connected between the input terminals and common terminals.
Product Description of GE Versamax IC200MDD844 PLC Mixed Input Module 16 Points
Made by General Electric as part of the VersaMax series, the IC200MDD844 is a discrete mixed input and output module. In total, this module provides 32 input and output points. These points are divided across three groups, one of which contains 16 outputs, while the other two each contain eight inputs. All output points for this module are either positive logic or sourcing types, meaning these points provide positive DC voltage to the loads. All input points for this device are positive logic, meaning they take the current from attached devices and return it to the common wire. This module also supports negative logic and 12 voltage output; however, this will require an upgrade to the IC200MDD844C or better version.
This module has an input on/off response time of 0.5 milliseconds in its basic configuration. To improve performance in environments with excessive interference or switch contact bouncing, the IC200MDD844 supports additional input filters which will alter response time. These filters include the following: zero milliseconds, one millisecond, or seven milliseconds. The default filter time is one millisecond. Note: These filter times are added to the basic configuration input response time, meaning that the total response time when the default filter is used will be 1.5 milliseconds.
When connected to a 5v backplane, this module consumes a maximum of 70 milliamps of current. The input impedance is rated at a maximum of 10 kOhms. Input voltage ranges from 0 to 30 volts. Output voltage ranges from 10.2 to 30 volts. The load current for each point is 0.5 amps for 30 volts.
GE Versamax IC200MDD844 PLC Mixed Input Module 16 Points
GE Intelligent Platforms / GE Fanuc GE Versamax
SKU 2178017 UPC 0647544251866
Mixed 24VDC POS LOG input group 16 point / 24 VDC output 16 point. IC200M IC200MD IC200MDD


LED Indicators
of
GE Versamax IC200MDD844 PLC Mixed Input Module 16 Points
Individual green LEDs indicate the on/off state of the output points and input points. Operation of the output LEDs is dependent on field power, but independent of load conditions. Individual amber LEDs indicate overload conditions on each output point. The green FLD PWR LED is on when field power is applied to the module. The green OK LED is on when backplane power is present to the module.

Configuration Parameters
of
GE Versamax IC200MDD844 PLC Mixed Input Module 16 Points
The module's basic input on/off response time is 0.5ms. For some applications, it may be preferable to add additional filtering to compensate for conditions such as noise spikes or switch bounce. Input filter times of 0ms, 1.0ms, or 7.0ms are selectable via software configuration, for total response times of 0.5ms, 1.5ms, and 7.5ms respectively. The default is 1.0ms filter time (total response time is 1.5ms).

Preinstallation Check
of
GE Versamax IC200MDD844 PLC Mixed Input Module 16 Points
Carefully inspect all shipping containers for damage. If any equipment is damaged, notify the delivery service immediately. Save the damaged shipping container for inspection by the delivery service. After unpacking the equipment, record all serial numbers. Save the shipping containers and packing material in case it is necessary to transport or ship any part of the system.
CPU of GE Versamax IC200MDD844 PLC Mixed Input Module 16 Points
IC200CPU001
CPU with 34kB Configurable Memory, Two Ports - RS-232 And RS-485
IC200CPU002
CPU with 42kB Configurable Memory, Two Ports - RS-232 And RS-485
IC200CPU005
CPU with 64kB Configurable Memory, Two Ports - RS-232 And RS-485
IC200CPUE05
CPU with Two Serial Ports, Embedded Ethernet Interface,and 64K Configurable Memory
Digital input module of GE Versamax IC200MDD844 PLC Mixed Input Module 16 Points
IC200MDL140 Input 120VAC, 8 Points
IC200MDL141 Input 240VAC, 8 Points Module
IC200MDL143 Input 120VAC 8 Point Isolated
IC200MDL144 Input 240VAC 4 Point Isolated Module
IC200MDL240 Input 120VAC, 16 Points
IC200MDL241 Input 240VAC, 16 Points
IC200MDL243 Input 120VAC 16 Point Isolated Module
IC200MDL244 Input 240VAC 8 Point Isolated Module
IC200MDL631 Input 125VDC Positive/Negative Logic 8 Point Isolated Module
IC200MDL632 Input 125VDC Positive/Negative Logic 16 Point Isolated Module
IC200MDL635 Input 48VDC Positive/Negative Logic (2 Groups of 8) 16 Point Module
IC200MDL636 Input 48VDC Positive/Negative Logic (4 Groups of 8) 32 Point Module
IC200MDL640 Input 24VDC Positive Logic, 16 Points
IC200MDL643 Input 5/12VDC (TTL) Positive/Negative Logic (2 Groups of 8) 16 Point Module
IC200MDL644 Input 5/12VDC (TTL) Positive/Negative Logic (4 Groups of 8) 32 Point Module
IC200MDL650 Input 24VDC Positive Logic, 32 Points
Digital Output Module of GE Versamax IC200MDD844 PLC Mixed Input Module 16 Points
IC200MDL329 Output 120VAC 0.5A per Point Isolated 8 Point Module
IC200MDL330 Output 120VAC 0.5A per Point Isolated 16 Point Module
IC200MDL331 Output 120VAC 2.0A per Point Isolated 8 Point Module
IC200MDL730 Output 24VDC Positive Logic 2.0A per Point (1 Group of 8) w/ESCP 8 Point Module
IC200MDL740 Output 12/24VDC Positive Logic 0.5A per Point (1 Group of 16) 16 Point Module
IC200MDL741 Output 24VDC Positive Logic 0.5A per Point (1 Group of 16) w/ESCP 16 Point Module
IC200MDL742 Output 24VDC Positive Logic 0.5A per Point (2 Groups of 16) w/ESCP 32 Point Module
IC200MDL743 Output 5/12/24VDC Negative Logic 0.5A per Point (1 Group of 16) 16 Point Module
IC200MDL744 Output 5/12/24VDC Negative Logic 0.5A per Point (2 Groups of 16) 32 Point Module
IC200MDL750 Output 12/24VDC Positive Logic 0.5A per Point (2 Groups of 16) 32 Point Module
IC200MDL930 Output Relay 2.0 Amp, Isolated Form A 8 Points
IC200MDL940 Output Relay 2.0 Amp, Isolated Form A 16 Points
Digital Mixing Module of GE Versamax IC200MDD844 PLC Mixed Input Module 16 Points
IC200MDD840 IC200MDD841 IC200MDD842 IC200MDD843 IC200MDD844 IC200MDD845
IC200MDD846 IC200MDD847 IC200MDD848 IC200MDD849 IC200MDD850
Analog Input Module of GE Versamax IC200MDD844 PLC Mixed Input Module 16 Points
IC200ALG230 Analog Input 12 Bit Voltage/Current, 4 Channels
IC200ALG240 Analog Input Module, 16 Bit Voltage/Current, 1500VAC Isolation, 8 Channels
IC200ALG260 Analog Input 12 Bit Voltage/Current, 8 Channels
IC200ALG620 Analog Input 16 Bit RTD, 4 Channels
IC200ALG630 Analog Input 16 Bit Thermocouple, 7 Channels
Analog Output Module of GE Versamax IC200MDD844 PLC Mixed Input Module 16 Points
IC200ALG320 Analog Output 12 Bit Current, 4 Channels
IC200ALG321 Analog Output 12 Bit 0-10V Voltage, 4 Channels
IC200ALG322 Analog Output 12 Bit +/-10V Voltage, 4 Channels
IC200ALG323 Analog Output Module, 16 Bit Voltage/Current, 1500VAC Isolation, 4 Channels
Analog Mixing Module of GE Versamax IC200MDD844 PLC Mixed Input Module 16 Points
IC200ALG430 Analog Mixed 12 Bit Input Current 4 Channels / Output Current 2 Channels
IC200ALG431 Analog Mixed 12 Bit 0-10V Input 4 Channels / Output 0-10V 2 Channels
IC200ALG432 Analog Mixed Module, 12 Bit -10 to +10VDC Input 4 Channels / Output -10 to +10VDC 2 Channels
I/O Frame of GE Versamax IC200MDD844 PLC Mixed Input Module 16 Points
IC200CHS001 I/O Carrier, Barrier Style, Field Wiring Interface
IC200CHS002 I/O Carrier, Box Style, Field Wiring Interface
IC200CHS003 I/O Carrier Connector Style, Field Wiring Interface (Requires One Cable)
IC200CHS005 I/O Carrier, Spring Clamp Style, Field Wiring Interface
IC200CHS006 Communications Carrier (Genius, DeviceNet, Profibus-DP)
IC200CHS011
IC200CHS012
IC200CHS014
IC200CHS015
IC200CHS022
IC200CHS025
IC200TBM001
IC200TBM002
IC200TBM005
Expansion Module of GE Versamax IC200MDD844 PLC Mixed Input Module 16 Points
IC200ETM001 Expansion Transmitter Module
IC200ERM001 Expansion Receiver Module, Isolated
IC200ERM002 Expansion Receiver Module, Non-isolated
Network Interface Module of GE Versamax IC200MDD844 PLC Mixed Input Module 16 Points
IC200GBI001 I/O Network Interface For Genius Bus (Slave)
IC200PBI001 I/O Network Interface For Profibus-DP (Slave)
IC200DBI001 I/O Network Interface For DeviceNet (Slave)
Network Communication Module of GE Versamax IC200MDD844 PLC Mixed Input Module 16 Points
IC200BEM002 PLC Network Communication Profibus-DP Slave
Power Supply Module of GE Versamax IC200MDD844 PLC Mixed Input Module 16 Points
IC200PWB001 Power Supply Booster Carrier
IC200PWR001 Power Supply 24VDC Input
IC200PWR002 Power Supply with Expanded 3.3VDC 24VDC Input
IC200PWR101 Power Supply 120/240VAC Input
IC200PWR102 Power Supply with Expanded 3.3VDC 120/240VAC Input
IC200PWR201 12VDC Power Supply
IC200PWR202 12VDC Expanded 3.3 V Power Supply
Cable of GE Versamax IC200MDD844 PLC Mixed Input Module 16 Points
IC200CBL001 Cable, CPU Programming RS-232
IC200CBL002 Cable, Expansion Firmware Upgrade
IC200CBL105 Cable, I/O Non-Shielded 2 Connectors .5m
IC200CBL110 Cable, I/O Non-Shielded 2 Connectors 1.0m
IC200CBL120 Cable, I/O Non-Shielded 2 Connectors 2.0m
IC200CBL230 Cable, I/O Non-Shielded 1 Connector 3.0m
IC200ACC301
I/O Filler of GE Versamax IC200MDD844 PLC Mixed Input Module 16 Points
IC200ACC302
I/O Input Simulator
IC200ACC303
I/O Shorting Bar Qty 2
IC200ACC304
I/O Cable Connector Kit Qty 2
Software of GE Versamax IC200MDD844 PLC Mixed Input Module 16 Points
IC641VPS300
VersaPro - Windows Programming Software for Series 90-30 and VersaMax PLC
IC641VPH300
VersaPro with Cable - Windows Programming Software for Series 90-30 and VersaMax PLC with SNP Mini-Convertor and Cable
IC641VPS700
VersaPro - Windows Programming Software for Series 90-70 and VersaMax PLC
IC641VPH700
VersaPro with Cable - Windows Programming Software for Series 90-70 and VersaMax PLC with SNP Mini-Convertor and Cable

We are specialized in intelligent instruments, including : control system, transmitters, flow meters,sensors, recorders, analyzers, control valves, controllers, PLC's, etc.

We mainly supply YOKOGAWA,WEIDMULLER, ABB, MOELLER, SCHNEIDER ElECTIC,FUJI,OMRON,HONEYWELL,SIEMENS,FLUKE,PEPPERL+FUCHS,HIMA,Endress+ Hauser etc.

Why choose us?

1. 100% original product, 100% quality assurance.
If you find a fake. Please contact us without hesitation! We afford the shipment cost! We send you a new product asking zero cent!

2. Varied payment methods.
We adopt T/T, western union and paypal. If you can not trust us , you can choose to pay it via Aliexpress! 100% make your money safe!

3. SHIPPING:
We can shipping all over the world.via DHL,UPS,Fedex,TNT and EMS etc., the packaging is very safe and strong. if you have any special needs,please notify me.
It will take 3 to 7days to reach in your hands.

Packaging:
Imported with original packaging or standard export packing.Customize design is acceptable.

Contact:

HONGKONG XIEYUAN TECH CO., LIMITED
Email:becky@hkxytech.com Web:www.hkxytech.com
Mobile:+86-15972186287(Whatsapp & Wechat)