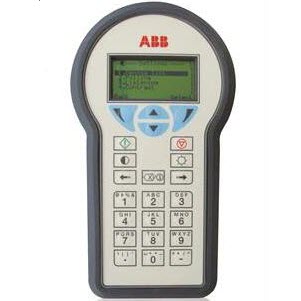 BASIC INFO
ABB DHH805 is a universal portable configuration tool that can help configure, poll and trim your ABB and the third party hart instrument. As a fully functional
field hart communicator
, DHH805 communicator supports commissioning, configuration and maintenance operations for universal practice and device specific commands.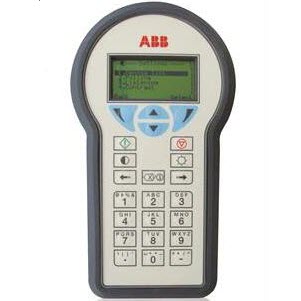 With the basic version of the DHH805, you can manage the generic HART command level of each HART device from any manufacturer, as well as the specific command level of ABB HART instruments, including 2600T, 600T, 2000T and AS800 series pressure transmitters.
General description

As part of ABB's Mobility line of device handhelds, the DHH805 is a handheld terminal for device configuration of HART® instruments. It interfaces to a wide range of devices supporting ABB instruments with an option to support those from third party suppliers. All supported HART field devices can be configured, polled and trimmed using the Mobility
DHH805
. As a full function HART communicator, the Mobility DHH805 supports Universal, Common Practice, and Device Specific commands for commissioning, configuration, and maintenance operations. The Mobility DHH805 provides a full view of information in a graphic dot matrix display. It's easy to navigate parameter scrolling capability eliminates the need to memorize menus for online or offline device configuration.The Mobility DHH805 is designed for optimum convenience and usability. It's sleek, easy to grasp contour with thumb key access makes the Mobility DHH805 suitable for single-handed operation.

The DHH805 provides a full view of device information in a 6 line easy to read display, allowing up to 100 hours of continuous use before recharging.Standard equipment are anti-static field bag, rechargeable battery pack, additional AA cell spare battery pack, USB connector and multiple intrinsic safety certifications for use in Hazardous areas. All of these components are provided in a robust case for transportation and storage.
Advantages of ABB hart communicator:
•Quick start up - 10 seconds to power on
•Backlit display – enable work in remote areas
•No expensive license renewal - DHH805 is used with HART DDs and you can download directly from the HART-Foundation website for free.
•2GB SD memory - store HART DDs (up to 1000) as much as possible and 200 separate device configuration files.
The base version of the DHH805 permits a comprehensive management at generic HART command level of every HART device from every manufacturer and at device specific commands level for ABB HART® instruments including:
- 2600T, 600T, 2000T, and AS800 series pressure transmitters

If you buy ABB handheld communicator, you can have the full view of device information in a 6 line and use it continuously up to 100 hours before recharging. Moreover, you will get the standard equipment which contains anti-static field bag, rechargeable battery pack, additional AA batteries USB connectors and multiple local safety certifications for hazardous areas.

Contact Me
Ms.Becky

HongKong XieYuan Tech CO., Ltd

Official site: http://www.hkxytech.com/
Professional site: http://www.fieldcommunicator.net
Mobile(what's app): +86 15972186287
Office Tel: +86 027 85309780
Email:becky@hkxytech.com
becky@whxyauto.com