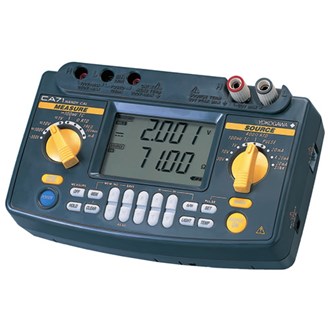 BASIC INFO
Yokogawa CA71 Portable Multifunction Calibrator CA71 Handy CAL Calibrator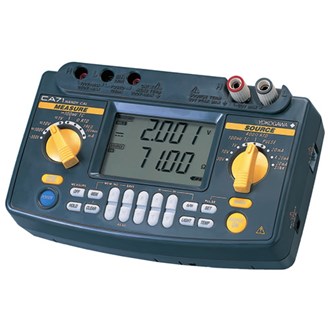 Overview of Yokogawa CA71 Portable Multifunction Calibrator CA71 Handy CAL Calibrator
The CA71 Portable Calibrator is a small, lightweight, multifunction calibrator that can simultaneously source and measure voltage, current, resistance, TC, RTD, frequency, and pulse signals. The Handy Calibrator incorporates rotary switches for simple handling. Just open the carrying case cover and connect the cables, and you're ready to take measurements.
The CA51/CA71 HANDY CAL calibrators are comprehensive generating/measuring instruments for all your calibration and equipment checking needs at maintenance sites. The CA51/CA71 can simultaneously generate and measure voltage, current, TC, RTD and pulse signals, thus you don't need to prepare many instruments. In addition, the incorporated rotary switches of good repute enable operations so smooth that an incorrect measurement caused from erroneous operations can be prevented.
Product Features of Yokogawa CA71 Portable Multifunction Calibrator CA71 Handy CAL Calibrator
* Source and measure operations can be performed simultaneously
* Source signal and measurement signal options: voltage, current, resistance, thermocouple (TC), resistance temperature detector (RTD), frequency, pulse
* AC voltages, including supply voltage, can be measured
* Includes wide array of additional functions
* Easy operation
* Compact and lightweight
* Auto-Step Output Function: n value sent automatically when n/m function selection is selected (two options: approximately 2.5 seconds/step or approximately 5 seconds/step)
* Sweep Functions: Sweep time (two options: approximately 16 seconds or approximately 32 seconds)
* Memory Function: 50 value sets (generated and measured values are stored as value sets with the same address (up to 50 value sets can be stored))
* Measuring Unit Maximum Input: Voltage terminal: 300 VAC Current terminal: 120 mA DC
* Current Terminal Input Protection: Fuses: 125 mA/250 V
* Measuring Unit Ground Voltage: Maximum 300 VAC
* Measurement Display Updating Rate: Approximately once per second
* Serial Interface: Enabled when communication cable (RS232) is connected (sold separately)
* Display Segmented: LCD (Approx. 76 mm × 48 mm)
* Backlight: LED backlight; auto-off after one minute (from when LIGHT key is turned on)
* Power Supply: Four AA alkaline batteries, or special AC adapter (sold separately)
* Auto-Power-Off Function: Approx. 10 minutes (auto-power-off can be disabled through a DIP switch setting)
* Applicable Standard: EN55011: 1998, Class B, Group 1; EN61326-1: 1997 + A1: 1998; IEC61010-1, IEC61010-2-31
* Insulation Resistance: Across input terminal and output terminal, 500 V DC, 50 MO or greater
* Withstand Voltage: Across input terminal and output terminal, 3.7 kVAC, for one minute
* Operating Temperature And Humidity Ranges: 0 - 50°C, 20 - 80% RH (no condensation)
Accessories of Yokogawa CA71 Portable Multifunction Calibrator CA71 Handy CAL Calibrator

1 - Set of Signal Generating Lead Cables (Red x 1, Black x 2), 98020
1 - Set of Measurement Lead Cables (Red and Black), RD031
1 - Carrying Case, 93016
1 - Terminal Adapter, 99021
1 - Fuse, 99040
4 - AA Alkaline Batteries
1 - User Manual

Yokogawa CA71 Portable Multifunction Calibrator CA71 Handy CAL Calibrator


We are specialized in intelligent instruments, including : control system, transmitters, flow meters,sensors, recorders, analyzers, control valves, controllers, PLC's, etc.
We have bigger advantages of Yokogawa, Emerson, Rosemount, Fisher, Honeywell, Siemens, ABB, FLUKE, Endress+Hauser, Schneider Electric, Pepperl+Fuchs, MTL, Rockwell(Allen Bradley), Hirschmann, Eaton, Moeller, FUJI, Omron, Yaskawa, Norgren, CHINT, Hach, Weidmuller, Phoenix, SMC, Testo, ASCO, Parker, Mitsubishi, Festo, GE, CISCO, Auma, IFM, GM, Turck, Bently Nevada, MOXA, Krohne, Foxboro and so on.
Why choose us?
1. 100% original product, 100% quality assurance.
If you find a fake. Please contact us without hesitation! We afford the shipment cost! We send you a new product asking zero cent!
2. Varied payment methods.
We adopt T/T, western union and paypal. If you can not trust us , you can choose to pay it via Aliexpress! 100% make your money safe!
3. SHIPPING:
We can shipping all over the world.via DHL,UPS,Fedex,TNT and EMS etc., the packaging is very safe and strong. if you have any special needs,please notify me.
It will take 3 to 7days to reach in your hands.
Packaging:
Imported with original packaging or standard export packing.Customize design is acceptable.
Contact:
HONGKONG XIEYUAN TECH CO., LIMITED
Email:becky@hkxytech.com Web:www.hkxytech.com
Mobile:+86-15972186287(Whatsapp & Wechat)