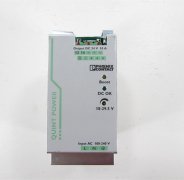 BASIC INFO
Phoenix Contact QUINT-PS/1AC/24DC/10 2866763 Power Supply Unit







Product Description of Phoenix Contact QUINT-PS/1AC/24DC/10 2866763 Power Supply Unit
QUINT POWER power supplies with maximum functionality
QUINT POWER circuit breakers magnetically and therefore quickly trip at six times the nominal current, for selective and therefore cost-effective system protection. The high level of system availability is additionally ensured, thanks to preventive function monitoring, as it reports critical operating states before errors occur.
Reliable starting of heavy loads takes place via the static power reserve POWER BOOST. Thanks to the adjustable voltage, all ranges between 5 V DC ... 56 V DC are covered.
Your advantages of Phoenix Contact QUINT-PS/1AC/24DC/10 2866763 Power Supply Unit
Fast tripping of standard circuit breakers with dynamic power reserve SFB (selective fuse breaking) technology with up to 6 times the nominal current for 12 ms
For superior system availability
Reliable starting of difficult loads with the static POWER BOOST power reserve with up to 1.5 times the nominal current permanently
Preventive function monitoring
Key Commercial Data of Phoenix Contact QUINT-PS/1AC/24DC/10 2866763 Power Supply Unit
| | |
| --- | --- |
| Orderkey | 2866763 |
| Packing unit | 1 pc |
| Catalog page | Page 159 (C-6-2015) |
| GTIN | 4046356113793 |
| Weight per Piece (excluding packing) | 1,462.600 g |
| Custom tariff number | 85044030 |
| Country of origin | TH (Thailand) |
Dimensions of Phoenix Contact QUINT-PS/1AC/24DC/10 2866763 Power Supply Unit
| | |
| --- | --- |
| Width | 60 mm |
| Height | 130 mm |
| Depth | 125 mm |
| Width with alternative assembly | 122 mm |
| Height with alternative assembly | 130 mm |
| Depth with alternative assembly | 63 mm |
Ambient conditions of Phoenix Contact QUINT-PS/1AC/24DC/10 2866763 Power Supply Unit
| | |
| --- | --- |
| Degree of protection | IP20 |
| Ambient temperature (operation) | -25 °C ... 70 °C (> 60 °C Derating: 2.5 %/K) |
| Ambient temperature (storage/transport) | -40 °C ... 85 °C |
| Max. permissible relative humidity (operation) | ≤ 95 % (at 25 °C, non-condensing) |
| Noise immunity | EN 61000-6-2:2005 |
| Installation height | 5000 m |
Input data of Phoenix Contact QUINT-PS/1AC/24DC/10 2866763 Power Supply Unit
| | |
| --- | --- |
| Nominal input voltage range | 100 V AC ... 240 V AC |
| | 110 V DC ... 250 V DC |
| Input voltage range | 85 V AC ... 264 V AC |
| | 90 V DC ... 350 V DC (UL 508: ≤ 300 V DC) |
| Dielectric strength maximum | 300 V AC |
| AC frequency range | 45 Hz ... 65 Hz |
| Frequency range DC | 0 Hz |
| Discharge current to PE | < 3.5 mA |
| Current consumption | 2.2 A (120 V AC) |
| | 1.3 A (230 V AC) |
| | 2.5 A (110 V DC) |
| | 1.2 A (220 V DC) |
| Nominal power consumption | 257 W |
| Inrush surge current | < 15 A (typical) |
| Power failure bypass | > 36 ms (120 V AC) |
| | > 36 ms (230 V AC) |
| Input fuse | 10 A (slow-blow, internal) |
| Choice of suitable circuit breakers | 10 A ... 20 A (AC: Characteristics B, C, D, K) |
| Type of protection | Transient surge protection |
| Protective circuit/component | Varistor, gas-filled surge arrester |
Output data of Phoenix Contact QUINT-PS/1AC/24DC/10 2866763 Power Supply Unit
| | |
| --- | --- |
| Nominal output voltage | 24 V DC ±1 % |
| Setting range of the output voltage (USet) | 18 V DC ... 29.5 V DC (> 24 V DC, constant capacity restricted) |
| Nominal output current (IN) | 10 A (-25 °C ... 60 °C, UOUT = 24 V DC) |
| POWER BOOST (IBoost) | 15 A (-25°C ... 40°C permanent, UOUT = 24 V DC ) |
| Selective Fuse Breaking (ISFB) | 60 A (12 ms) |
| Derating | 60 °C ... 70 °C (2.5%/K) |
| Connection in parallel | Yes, for redundancy and increased capacity |
| Connection in series | yes |
| Control deviation | < 1 % (change in load, static 10 % ... 90 %) |
| | < 2 % (change in load, dynamic 10 % ... 90 %) |
| | < 0.1 % (change in input voltage ±10 %) |
| Residual ripple | < 50 mVPP (with nominal values) |
| Output power | 240 W |
| Typical response time | < 0.15 s |
| Maximum power dissipation in no-load condition | 9.1 W |
| Power loss nominal load max. | 22 W |
General of Phoenix Contact QUINT-PS/1AC/24DC/10 2866763 Power Supply Unit
| | |
| --- | --- |
| Net weight | 1.1 kg |
| Efficiency | > 92.5 % (for 230 V AC and nominal values) |
| Insulation voltage input/output | 4 kV AC (type test) |
| | 2 kV AC (routine test) |
| Insulation voltage input / PE | 3.5 kV AC (type test) |
| | 2 kV AC (routine test) |
| Insulation voltage output / PE | 500 V DC (routine test) |
| Protection class | I |
| MTBF (IEC 61709, SN 29500) | > 940000 h (25 °C) |
| | > 530000 h (40 °C) |
| | > 230000 h (60°C) |
| Mounting position | horizontal DIN rail NS 35, EN 60715 |
| Assembly instructions | Alignable: 5 mm horizontally, 15 mm next to active components, 50 mm vertically |
Connection data, input of Phoenix Contact QUINT-PS/1AC/24DC/10 2866763 Power Supply Unit
| | |
| --- | --- |
| Connection method | Pluggable screw connection |
| Conductor cross section solid min. | 0.2 mm² |
| Conductor cross section solid max. | 2.5 mm² |
| Conductor cross section flexible min. | 0.2 mm² |
| Conductor cross section flexible max. | 2.5 mm² |
| Conductor cross section AWG min. | 16 |
| Conductor cross section AWG max. | 12 |
| Stripping length | 7 mm |
| Screw thread | M3 |
Connection data, output of Phoenix Contact QUINT-PS/1AC/24DC/10 2866763 Power Supply Unit
| | |
| --- | --- |
| Connection method | Pluggable screw connection |
| Conductor cross section solid min. | 0.2 mm² |
| Conductor cross section solid max. | 2.5 mm² |
| Conductor cross section flexible min. | 0.2 mm² |
| Conductor cross section flexible max. | 2.5 mm² |
| Conductor cross section AWG min. | 16 |
| Conductor cross section AWG max. | 12 |
| Stripping length | 7 mm |
| Screw thread | M3 |
Connection data for signaling of Phoenix Contact QUINT-PS/1AC/24DC/10 2866763 Power Supply Unit
| | |
| --- | --- |
| Conductor cross section solid min. | 0.2 mm² |
| Conductor cross section solid max. | 2.5 mm² |
| Conductor cross section flexible min. | 0.2 mm² |
| Conductor cross section flexible max. | 2.5 mm² |
| Conductor cross section AWG min. | 16 |
| Conductor cross section AWG max. | 12 |
| Screw thread | M3 |
Standards and Regulations of Phoenix Contact QUINT-PS/1AC/24DC/10 2866763 Power Supply Unit
| | |
| --- | --- |
| Electromagnetic compatibility | Conformance with EMC Directive 2014/30/EU |
| Shock | 18 ms, 30g, in each space direction (according to IEC 60068-2-27) |
| Noise emission | EN 55011 (EN 55022) |
| Noise immunity | EN 61000-6-2:2005 |
| Connection in acc. with standard | CSA |
| Standards/regulations | EN 61000-4-2 |
| Contact discharge | 4 kV (Test Level 2) |
| Standards/regulations | EN 61000-4-3 |
| Frequency range | 80 MHz ... 1 GHz |
| Test field strength | 10 V/m (Test Level 3) |
| Frequency range | 1.4 GHz ... 2 GHz |
| Test field strength | 3 V/m (Test Level 2) |
| Standards/regulations | EN 61000-4-4 |
| Comments | Criterion B |
| Standards/regulations | EN 61000-4-5 |
| Signal | 1 kV (Test Level 2 - asymmetrical) |
| Standards/regulations | EN 61000-6-3 |
| | EN 61000-4-6 |
| Frequency range | 0.15 MHz ... 80 MHz |
| Voltage | 10 V (Test Level 3) |
| Standard - Electrical safety | IEC 60950-1/VDE 0805 (SELV) |
| Standard – Electronic equipment for use in electrical power installations and their assembly into electrical power installations | EN 50178/VDE 0160 (PELV) |
| Standard – Safety extra-low voltage | IEC 60950-1 (SELV) and EN 60204-1 (PELV) |
| Standard - Safe isolation | DIN VDE 0100-410 |
| Standard – Limitation of mains harmonic currents | EN 61000-3-2 |
| Standard - Equipment safety | BG (design tested) |
| Standard - Approval for medical use | IEC 60601-1, 2 x MOOP |
| Shipbuilding approval | Germanischer Lloyd (EMC 1), ABS, LR, RINA, NK, DNV, BV |
| UL approvals | UL Listed UL 508 |
| | UL/C-UL Recognized UL 60950-1 |
| | UL ANSI/ISA-12.12.01 Class I, Division 2, Groups A, B, C, D (Hazardous Location) |
| DeviceNet approval | DeviceNet™ Power Supply Conformance Tested |
| Vibration (operation) | < 15 Hz, amplitude ±2.5 mm (according to IEC 60068-2-6) |
| | 15 Hz ... 150 Hz, 2.3g, 90 min. |
| Low Voltage Directive | Conformance with LV directive 2006/95/EC |
| Approval - requirement of the semiconductor industry with regard to mains voltage dips | SEMI F47-0706 Compliance Certificate |
| Information technology equipment - safety (CB scheme) | CB Scheme |
| Rail applications | EN 50121-4 |
| Overvoltage category (EN 62477-1) | III |
Classifications of Phoenix Contact QUINT-PS/1AC/24DC/10 2866763 Power Supply Unit
eCl@ss
| | |
| --- | --- |
| eCl@ss 4.0 | 27040702 |
| eCl@ss 4.1 | 27040702 |
| eCl@ss 5.0 | 27049002 |
| eCl@ss 5.1 | 27049002 |
| eCl@ss 6.0 | 27049002 |
| eCl@ss 7.0 | 27049002 |
| eCl@ss 8.0 | 27049002 |
| eCl@ss 9.0 | 27040701 |
ETIM of Phoenix Contact QUINT-PS/1AC/24DC/10 2866763 Power Supply Unit
| | |
| --- | --- |
| ETIM 2.0 | EC001039 |
| ETIM 3.0 | EC001039 |
| ETIM 4.0 | EC000599 |
| ETIM 5.0 | EC002540 |
| ETIM 6.0 | EC002540 |
UNSPSC of Phoenix Contact QUINT-PS/1AC/24DC/10 2866763 Power Supply Unit
| | |
| --- | --- |
| UNSPSC 6.01 | 30211502 |
| UNSPSC 7.0901 | 39121004 |
| UNSPSC 11 | 39121004 |
| UNSPSC 12.01 | 39121004 |
| UNSPSC 13.2 | 39121004 |
Product list QUINT POWER
Phoenix Contact QUINT-PS/1AC/24DC/10 2866763 Power Supply Unit
QUINT4-PS/1AC/24DC/5 - 2904600
QUINT4-PS/1AC/24DC/10 - 2904601
QUINT4-PS/1AC/24DC/20 - 2904602
QUINT4-PS/3AC/24DC/5 - 2904620
QUINT4-PS/3AC/24DC/10 - 2904621
QUINT4-PS/3AC/24DC/20 - 2904622
QUINT4-PS/1AC/24DC/5/... - 2907866
QUINT4-PS/1AC/24DC/10/... - 2907867
QUINT4-PS/1AC/24DC/20/... - 2907869
QUINT4-PS/3AC/24DC/5/... - 2907870
QUINT4-PS/3AC/24DC/10/... - 2907872
QUINT4-PS/3AC/24DC/20/... - 2907873
QUINT-PS/1AC/24DC/ 3.5 - 2866747
QUINT-PS/1AC/24DC/ 5 - 2866750
QUINT-PS/1AC/24DC/10 - 2866763
QUINT-PS/1AC/24DC/20 - 2866776
QUINT-PS/1AC/24DC/40 - 2866789
QUINT-PS/1AC/12DC/15 - 2866718
QUINT-PS/1AC/12DC/20 - 2866721
QUINT-PS/1AC/48DC/ 5 - 2866679
QUINT-PS/1AC/48DC/10 - 2866682
QUINT-PS/1AC/48DC/20 - 2866695
QUINT-PS/3AC/24DC/ 5 - 2866734
QUINT-PS/3AC/24DC/10 - 2866705
QUINT-PS/3AC/24DC/20 - 2866792
QUINT-PS/3AC/24DC/40 - 2866802
QUINT-PS/3AC/48DC/20 - 2320827
QUINT-PS/1AC/24DC/ 5/CO - 2320908
QUINT-PS/1AC/24DC/10/CO - 2320911
QUINT-PS/1AC/24DC/20/CO - 2320898
QUINT-PS/3AC/24DC/20/CO - 2320924


We are specialized in intelligent instruments, including : control system, transmitters, flow meters,sensors, recorders, analyzers, control valves, controllers, PLC's, etc.

We mainly supply YOKOGAWA,WEIDMULLER, ABB, MOELLER, SCHNEIDER ElECTIC,FUJI,OMRON,HONEYWELL,SIEMENS,FLUKE,PEPPERL+FUCHS,HIMA,Endress+ Hauser etc.

Why choose us?

1. 100% original product, 100% quality assurance.
If you find a fake. Please contact us without hesitation! We afford the shipment cost! We send you a new product asking zero cent!

2. Varied payment methods.
We adopt T/T, western union and paypal. If you can not trust us , you can choose to pay it via Aliexpress! 100% make your money safe!

3. SHIPPING:
We can shipping all over the world.via DHL,UPS,Fedex,TNT and EMS etc., the packaging is very safe and strong. if you have any special needs,please notify me.
It will take 3 to 7days to reach in your hands.

Packaging:
Imported with original packaging or standard export packing.Customize design is acceptable.

Contact:

HONGKONG XIEYUAN TECH CO., LIMITED
Email:becky@hkxytech.com Web:www.hkxytech.com
Mobile:+86-15972186287(Whatsapp & Wechat)