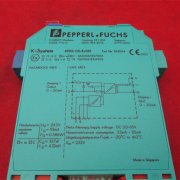 BASIC INFO
Pepperl+Fuchs KFD2-STC4-Ex1.2O Safety Barriers KFD2-STC4-Ex1.2O SMART Transmitter Power Supply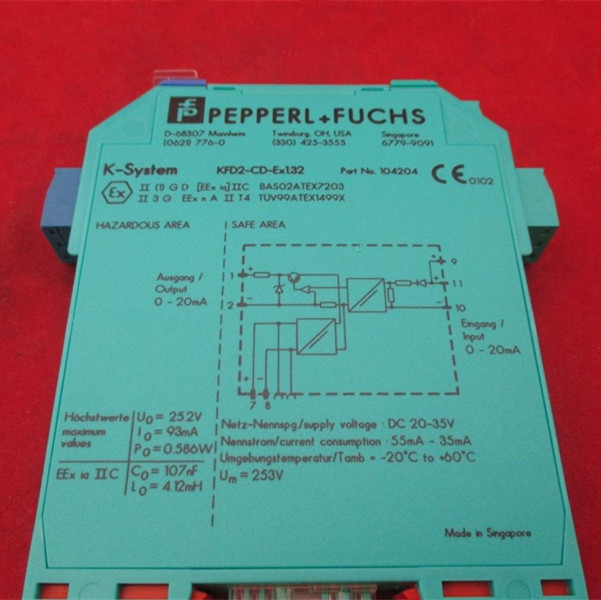 Features of Pepperl+Fuchs KFD2-STC4-Ex1.2O Safety Barriers KFD2-STC4-Ex1.2O SMART Transmitter Power Supply
• 1-channel isolated barrier
• 24 V DC supply (Power Rail)
• Input 2-wire and 3-wire SMART transmitters and 2-wire
SMART current sources
• Signal splitter (1 input and 2 outputs)
• Dual output 0/4 mA ... 20 mA
• Terminal blocks with test sockets
• High field voltage 17.6 V DC
• Up to SIL 3 acc. to IEC 61508
Function of Pepperl+Fuchs KFD2-STC4-Ex1.2O Safety Barriers KFD2-STC4-Ex1.2O SMART Transmitter Power Supply

This isolated barrier is used for intrinsic safety applications.The device supplies 2-wire and 3-wire SMART transmitters with higher output voltage in a hazardous area, and can also be used with 2-wire SMART current sources. It transfers the analog input signal to the safe area as two isolated current values.
Digital signals may be superimposed on the input signal in the hazardous or safe area and are transferred bi-directionally.If the HART communication resistance in the loop is too low,the internal resistance of 250 Ohm between terminals 8, 9 and 11, 12 can be used.
Test sockets for the connection of HART communicators are integrated into the terminals of the device.
Application of Pepperl+Fuchs KFD2-STC4-Ex1.2O Safety Barriers KFD2-STC4-Ex1.2O SMART Transmitter Power Supply
The device supports the following SMART protocols:
• HART
• BRAIN
• Foxboro

Product Description of
Pepperl+Fuchs KFD2-STC4-Ex1.2O Safety Barriers KFD2-STC4-Ex1.2O SMART Transmitter Power Supply
Input 0/4 mA ... 20 mA
2 x Output 0/4 mA ... 20 mA
General specifications of Pepperl+Fuchs KFD2-STC4-Ex1.2O Safety Barriers KFD2-STC4-Ex1.2O SMART Transmitter Power Supply
Signal type
Analog input
Functional safety related parameters of Pepperl+Fuchs KFD2-STC4-Ex1.2O Safety Barriers KFD2-STC4-Ex1.2O SMART Transmitter Power Supply
Safety Integrity Level (SIL)
SIL 3
Supply of Pepperl+Fuchs KFD2-STC4-Ex1.2O Safety Barriers KFD2-STC4-Ex1.2O SMART Transmitter Power Supply
Connection
Power Rail or terminals 14+, 15-
Rated voltage
20 ... 35 V DC
Ripple
within the supply tolerance
Power dissipation
1.8 W
Power consumption
2.4 W
Ordering Models of Pepperl+Fuchs KFD2-STC4-Ex1.2O Safety Barriers KFD2-STC4-Ex1.2O SMART Transmitter Power Supply
KCD2-SCD-1 KCD2-SCD-EX1 KCD2-SR-EX1.LB KCD2-SR-EX2 KCD2-STC-1 KCD2-STC-EX1 KCD2-STC-EX1.2O KCD2-UT2-EX1 KFA6-SR2-Ex1.W KFD0-SD2-Ex1.1045 KFD2-CD2-EX1 KFD2-CRG2-EX1.D KFD2-DWB-1.D KFD2-EB2 KFD2-GU-1 KFD2-GUT-Ex1.D KFD2-SCD2-EX2.LK KFD2-SH-EX1.T.OP KFD2-SOT2-Ex2 KFD2-SR2-Ex1.W.LB KFD2-SR2-Ex2.W KFD2-ST2-Ex2 KFD2-STC4-1 KFD2-STC4-EX2 KFD2-STC4-Ex2 KFD2-UT2-1 KFD2-UT2-2 KFD2-UT2-EX1 KFD2-UT2-Ex2 KFD2-VR4-EX1.26

Pepperl+Fuchs KFD2-STC4-Ex1.2O Safety Barriers KFD2-STC4-Ex1.2O SMART Transmitter Power Supply

KCD2-STC-Ex1 KCD2-STC-Ex1.ES KFD2-CRG2-Ex1.D KFD2-HLC-Ex1.D KFD2-HLC-Ex1.D.2W KFD2-STC4-Ex1 KFD2-STC4-Ex1.2O KFD2-STC4-Ex1.2O.H
KFD2-STC4-Ex1.H KFD2-STC4-Ex2 KFU8-CRG2-Ex1.D KCD2-STC-Ex1.2O KCD2-STC-Ex1.2O.ES KCD2-STC-Ex1.ES.SP KCD2-STC-Ex1.SP KFD2-STC3-Ex1 KFD2-STC4-Ex1-Y1 KFD2-STC4-Ex1.2O-Y1 KFD2-STC4-Ex1.ES KFD2-STC4-Ex2-Y1 KFD2-STC5-Ex1 KFD2-STC5-Ex1.2O KFD2-STC5-Ex1.2O.H KFD2-STC5-Ex1.H KFD2-STC5-Ex2 KFD2-STC5-Ex2 KFD2-STC5-Ex2 KFD2-STV4-Ex1.2O-1 KFD2-STV4-Ex2-1 KFD2-STV4-Ex2-2 KFD2-STV5-Ex1-1 KCD2-STC-Ex1.2O.DE KFD2-HLC-Ex1.D.4S KFD2-STV4-Ex1.2O-2 KCD2-STC-Ex1.HC KCD2-STC-Ex1.HC.SP KFD2-STC4-Ex1 KFD2-STC4-Ex1-Y1 KFD2-STC4-Ex1.2O
KFD2-STC4-Ex1.2O-Y1 KFD2-STC4-Ex1.2O.H KFD2-STC4-Ex1.H KFD2-STV4-Ex1-1 KFD2-STV4-Ex1-2 KFD2-STV4-Ex1.2O-1 KFD2-STV4-Ex2-1 KFD2-STV4-Ex2-2 KFD2-STV4-Ex1.2O-2 KFD2-STC3-Ex1 KCD2-STC-Ex1-Y1

Pepperl+Fuchs KFD2-STC4-Ex1.2O Safety Barriers KFD2-STC4-Ex1.2O SMART Transmitter Power Supply
KCD2-STC-Ex1 KCD2-STC-Ex1.ES KFD2-CRG2-Ex1.D KFD2-HLC-Ex1.D KFD2-HLC-Ex1.D.2W KFD2-STC4-Ex1 KFD2-STC4-Ex1.2O KFD2-STC4-Ex1.2O.H
KFD2-STC4-Ex1.H KFD2-STC4-Ex2 KFU8-CRG2-Ex1.D KCD2-STC-Ex1.2O KCD2-STC-Ex1.2O.ES KCD2-STC-Ex1.ES.SP KCD2-STC-Ex1.SP KFD2-STC3-Ex1 KFD2-STC4-Ex1-Y1 KFD2-STC4-Ex1.2O-Y1 KFD2-STC4-Ex1.ES KFD2-STC4-Ex2-Y1 KFD2-STC5-Ex1 KFD2-STC5-Ex1.2O KFD2-STC5-Ex1.2O.H KFD2-STC5-Ex1.H KFD2-STC5-Ex2 KFD2-STC5-Ex2 KFD2-STC5-Ex2 KFD2-STV4-Ex1.2O-1 KFD2-STV4-Ex2-1 KFD2-STV4-Ex2-2 KFD2-STV5-Ex1-1 KCD2-STC-Ex1.2O.DE KFD2-HLC-Ex1.D.4S KFD2-STV4-Ex1.2O-2 KCD2-STC-Ex1.HC KCD2-STC-Ex1.HC.SP KFD2-STC4-Ex1 KFD2-STC4-Ex1-Y1 KFD2-STC4-Ex1.2O KFD2-STC4-Ex1.2O-Y1 KFD2-STC4-Ex1.2O.H KFD2-STC4-Ex1.H KFD2-STV4-Ex1-1 KFD2-STV4-Ex1-2 KFD2-STV4-Ex1.2O-1 KFD2-STV4-Ex2-1 KFD2-STV4-Ex2-2 KFD2-STV4-Ex1.2O-2 KFD2-STC3-Ex1 KCD2-STC-Ex1-Y1

Pepperl+Fuchs KFD2-STC4-Ex1.2O Safety Barriers KFD2-STC4-Ex1.2O SMART Transmitter Power Supply
KCD2-SCD-1 KCD2-SCD-EX1 KCD2-SR-EX1.LB KCD2-SR-EX2 KCD2-STC-1 KCD2-STC-EX1 KCD2-STC-EX1.2O KCD2-UT2-EX1 KFA6-SR2-Ex1.W KFD0-SD2-Ex1.1045 KFD2-CD2-EX1 KFD2-CRG2-EX1.D KFD2-DWB-1.D KFD2-EB2 KFD2-GU-1 KFD2-GUT-Ex1.D KFD2-SCD2-EX2.LK KFD2-SH-EX1.T.OP KFD2-SOT2-Ex2 KFD2-SR2-Ex1.W.LB KFD2-SR2-Ex2.W KFD2-ST2-Ex2 KFD2-STC4-1 KFD2-STC4-EX2 KFD2-STC4-Ex2 KFD2-UT2-1 KFD2-UT2-2 KFD2-UT2-EX1 KFD2-UT2-Ex2 KFD2-VR4-EX1.26 KFU8-FSSP-1.D NBB0,8-5GM25-E2 NBB1,5-8GM50-E0 NBB10-30GM40-Z0 NBB10-30GM50-E2 NBB15-30GM50-WO NBB15-30GM50-WS NBB15-U1-A2 NBB15-U1-A2-T NBB15-U1-E2 NBB15-U1-Z2 NBB2-12GM50-E0-V1 NBB2-12GM50-E2 NBB2-6,5M30-E0 NBB2-8GM30-E2-5M NBB20-L2-A2-V1-3G-3D NBB20-L2-E0-V1 NBB20-L2-E2-V1 NBB20-U1-A2 NBB20-U1-E0 NBB20-U1-E2 NBB3-V3-Z4 NBB4-12GM50-E0 NBB4-12GM50-E0-V1 NBB4-12GM50-E2-V1 NBB5-18GM50-E2-V1 NBB5-18GM60-A2-V1 NBB8-18GM50-E2-V1 NBB8-18GM60-A2-V1 NBN12-18GM50-E2-V1 NBN12-18GM50-E2-V1-Y261468 NBN15-30GM50-E0 NBN15-30GM50-E2-V1 NBN15-30GM60-A2 NBN25-30GM50-E2 NBN3-F31-E8-V1 NBN30-L2-E2-V1 NBN30-U1-A2 NBN30-U1-E2 NBN4-12GM50-E2 NBN4-12GM50-E2-V1 NBN40-L2-E2-V1 NBN40-U1-A2 NBN40-U1-A2-T NBN40-U1-Z2 NBN40-U1K-N0 NBN5-F7-E0 NBN5-F7-E2 NBN8-12GM50-E0-V1 NBN8-12GM50-E2-V1 NBN8-18GM50-E0 NBN8-18GM50-E2-V1 NBN8-18GM60-WS NCB10-30GM40-NO NCB15-30GM50-Z5 NCB50-FP-A2-P1 NCB8-18GM40-N0 NCN15-30GM40-Z1 NJ15+U1+DW1-10 NJ2-12GK-SN NJ2-V3-N NJ4-12GK-N NJ40-FP-SN-P1 NJ5-18GM-N NJ5-18GM50-A2-V1 NJ8-18GM-N NRB10-30GM50-E2-C-V1 NRB15-30GM50-E2-C-V1
Pepperl+Fuchs KFD2-STC4-Ex1.2O Safety Barriers KFD2-STC4-Ex1.2O SMART Transmitter Power Supply

KCD2-SR-Ex1.LB KCD2-SR-Ex2 KFA6-DU-Ex1.D KFA6-ER-Ex1.W.LB KFA6-SOT2-Ex2 KFA6-SR2-Ex1.W KFA6-SR2-Ex1.W.LB KFA6-SR2-Ex2.W KFA6-SR2-Ex2.W.IR KFD2-DU-Ex1.D KFD2-ELD-Ex16 KFD2-ER-Ex1.W.LB KFD2-SH-Ex1 KFD2-SH-Ex1.T.OP KFD2-SOT3-Ex1.LB KFD2-SOT3-Ex1.LB.IO KFD2-SOT3-Ex2 KFD2-SOT3-Ex2.IO KFD2-SR2-Ex1.W KFD2-SR2-Ex1.W.LB KFD2-SR2-Ex2.W KFD2-SR3-Ex2.2S KFD2-SRA-Ex4 KFD2-ST3-Ex1.LB KFD2-ST3-Ex2 KHA6-SH-Ex1 KCD2-SON-Ex1 KCD2-SOT-Ex1.LB KCD2-SOT-Ex2 KCD2-SOT-Ex2.SP
Pepperl+Fuchs KFD2-STC4-Ex1.2O Safety Barriers KFD2-STC4-Ex1.2O SMART Transmitter Power Supply

KCD2-SR-Ex1.LB.SP KCD2-SR-Ex2.SP KCD2-ST-Ex1.LB KCD2-ST-Ex2 KFA5-SOT2-Ex2 KFA5-SR2-Ex1.W KFA5-SR2-Ex1.W.LB KFA5-SR2-Ex2.W KFA5-SR2-Ex2.W.IR KFD2-SH-Ex1.T KFD2-SOT3-Ex2.IO-Y1 KCD2-SON-Ex1.R1 KCD2-SON-Ex1.SP KCD2-SON-Ex2 KCD2-SON-Ex2.R1 KCD2-SON-Ex2.SP KCD2-SOT-Ex1.LB.SP KCD2-ST-Ex1.LB.SP KCD2-ST-Ex2.SP KFA4-SR2-Ex2.W KFA5-DU-Ex1.D KFA4-SR2-Ex1.W KFA4-SR2-Ex1.W.LB KFD2-SOT2-Ex1.LB KFD2-SOT2-Ex1.LB.IO KFD2-SOT2-Ex2 KFD2-SOT2-Ex2.IO KFD2-SOT2-Ex2.IO-Y181008 KFD2-SR2-Ex2.2S KFD2-ST2-Ex1.LB KFD2-ST2-Ex2
Pepperl+Fuchs KFD2-STC4-Ex1.2O Safety Barriers KFD2-STC4-Ex1.2O SMART Transmitter Power Supply
KFD2-STC4-EX1 KFD2-SR2-EX1.W KFD2-SR2-EX2.W KFD2-CD-EX1.32 KFD2-UT2-EX1. KFD2-ST-EX1 KFD2-UFC-EX1.D KFA5-SR2-EX2.W KFA5-SR2-EX1.W KFA6-SR2-EX2.W KFA5-SR2-EX1.W KFD2-ST-EX1 KFD2-SOT2-EX1 KFU8-UFC-EX1.D KFD2-CD-EX1.32 KFU8-FSSP-1.D KFA6-DWB-EX1.D KFD2-DWB-EX1.D KFA5-SR2-EX1,W KFA5-SR2-EX2,W KFD2-VR4-EX1.26 KFD2-STC4-EX1.20 KFD2-SOT2-EX2 KFD2-ST2-EX1.B KFD2-DWB-EX1.D KFD2-UFC-EX1.D KFA6-STR-1.24.500 KFD2-UT2-1 KFD2-UT2-2 KFD2-CD-1.32 KFD2-SOT2-EX1.LB KFA6-SR2-EX1.LB KFA6-SOT2-EX2 KFU8-FSSP-1.D KFU8-UFC-EX1,D KFU8-UFT-EX2.D KFA6-DWB-EX1.D KFD0-SCS-EX1.55 KFD2-STC4-EX2 KFD2-STC4-EX1Y125882 KFD2-UT2-EX2 UPR-03 KFD2-EB2.B4.AB KFD2-CD-EX1.32 KFD2-STC4-EX1 KFD2-UT2-EX1 KFD2-SR2-Ex1.W KFD2-SCD-EX1.LK KFD2-SOT2-EX2 KFD2-STC4-EX2 KFD2-SR2-Ex2.W KFD2-SR2-Ex1.W KFD2-STC4-EX1.2O KFD0-SCS-EX1.55 KFU8-UFC-EX1.D KFD2-SOT2-EX2 KFD2-STC4-EX1 KFD2-UT2-EX2 KFD2-VR4-EX1.26 KFD2-EB2.R4A.B KFD2-BR-1.PA.93 KFU8-DWB-1.D KFU8-DW-1.D KFU8-UFT-EX2.D Z787.H UPR-03
Pepperl+Fuchs KFD2-STC4-Ex1.2O Safety Barriers KFD2-STC4-Ex1.2O SMART Transmitter Power Supply
KCD2-SR-EX1.LB KFD2-SR2.Ex1.W KFA5-SR2-Ex1.W KFA6-SR2-Ex1.W KFD2-SR2-Ex1.W.LB KFA5-SR2-Ex1.W.LB KFA6-SR2-Ex1.W.LB KCD2-SR-EX2 KFD2-SR2-Ex2.W KFA5-SR2-Ex2.W KFA6-SR2-Ex2.W KFA5-SR2-EX2.W.IR KFA6-SR2-EX2.W.IR KFD2-SR2-Ex2.2S KFD2-SRA-Ex4 KFD2-SRT-Ex1 KFD2-SR-Ex1.4S.LK KFD2-DU-Ex1.D KFA5-DU-EX1.D KFA6-DU-EX1.D KFD2-ER-EX1.W.LB KFA5-ER-EX1.W.LB KFA6-ER-EX1.W.LB KFD2-ST2-Ex1.LB KFD2-ST2-Ex2 KFD2-SOT2-Ex1.LB KFD2-SOT2-EX1.LB.IO KFD2-SOT2-Ex1.N KFD2-SOT2-Ex2 KFA5-SOT2-Ex2 KFA6-SOT2-Ex2 KFD2-SOT2-Ex2.IO KFD2-SH-Ex1 KFD2-SH-Ex1.T.OP KHA6-SH-Ex1 KFD2-SR2-EX2.W.SM KFD2-DWB-Ex1.D KFA5-DWB-EX1.D KFA6-DWB-EX1.D KFD2-UFC-EX1.D KFU8-UFC-EX1.D KFD2-UFT-Ex2.D KFU8-UFT-Ex2.D KFD0-SD2-Ex1.1045 KFD0-SD2-Ex2.1045 KCD0-SD-EX1.1245 KFD0-SD2-EX2.1245 KFD0-SD2-Ex1.1065 KFD0-SD2-Ex1.1180 KFD0-SD2-Ex1.10100 KFD2-SL2-EX1 KFD2-SL2-EX1.B KFD2-SL2-Ex1.LK KFD2-SL2-Ex2 KFD2-SL2-Ex2.B KFD2-VM-Ex1.35 KFD2-VM-Ex1.35.L KFD0-RO-Ex2 KCD2-STC-EX1 KFD2-STC4-Ex1 KFD2-STC4-Ex1-Y122583 KFD2-STC4-Ex1.H KFD2-STV4-EX1-1 KFD2-STV4-EX1-2 KFD2-STC4-Ex1.2O KFD2-STC4-Ex1.2O-Y122582 KFD2-STC4-Ex1.2O.H KFD2-STV4-EX1.2O-1 KFD2-STV4-Ex1.2O-2 KFD2-STC4-Ex2 KFD2-STC4-Ex2-Y203646 KFD2-STV4-EX2-1 KFD2-STV4-EX2-2 KFD2-STC3-Ex1 KFD2-STV3-Ex1-1 KFD2-STV3-Ex1-2 KFD2-CRG-Ex1.D KFU8-CRG-Ex1.D KFD0-CS-Ex1.52 KFD0-CS-Ex2.52 KFD0-CS-Ex1.54 KFD0-CS-Ex2.54 KFD2-VR2-Ex1.50m KFD2-VR-Ex1.500m KFD2-VR-Ex1.12 KFD2-VR-Ex1.18 KFD2-VR-Ex1.19 KFD2-VR4-EX1.26 KFD0-CC-Ex1 KFD2-WAC2-EX1.D KFD2-UT2-Ex1 KFD2-UT2-Ex1-1 KFD2-UT2-Ex2 KFD2-UT2-Ex2-1 KFD0-TR-Ex1 KFD0-TT-Ex1 KCD2-RR-Ex1 KFD2-GU-Ex1 KFD2-GUT-Ex1.D KFU8-GUT-EX1.D KFD2-UT2-Ex1 KFD2-UT2-Ex1-1 KFD2-UT2-Ex2 KFD2-UT2-Ex2-1 KFD2-RR-Ex1 KFD2-PT2-Ex1 KFD2-PT2-Ex1-1 KFD2-PT2-Ex1-4 KFD2-PT2-Ex1-5 KFD0-RC-Ex1 KFD2-HLC-EX1.D KFD2-HLC-EX1.D.2W KFD2-HLC-EX1.D.4S KFD2-FF-Ex2.RS232 KFD2-ELD-Ex16

Pepperl+Fuchs KFD2-STC4-Ex1.2O Safety Barriers KFD2-STC4-Ex1.2O SMART Transmitter Power Supply

KCD2-SCD-EX1 KFD2-SCD-Ex1.LK KFD2-SCD2-Ex1.LK KFD2-CD2-EX1 KFD2-CD-EX1.32 KFD2-SCD2-EX2.LK KFD2-CD2-EX2 KFD0-SCS-Ex1.55 KFD0-CS-Ex1.50P KFD0-CS-Ex1.51P KFD0-CS-Ex1.53 KFD0-CS-Ex2.50P KFD0-CS-Ex2.51P KFD0-CS-Ex2.53 KFD2-EB2.R4A.B KFD2-EB2 KFA6-STR-1.24.500 KFA6-STR-1.24.4 UPR-03 UPR-03-S UPR-05 UPR-05-S UPR-I UPR-E K-MS K-CJC-BU KF-FKC-3G2B KF-FKC-5B KF-FKC-5G K-500R0%1 KCD0-LGH KFD0-LGH KFD0-LGH-GN KFD0-LGH-Y34868 F-KD-Ex2 F-KDR-Ex2 IS01 F-MPN-1 K-ADP1 K-ADP-USB

Pepperl+Fuchs KFD2-STC4-Ex1.2O Safety Barriers KFD2-STC4-Ex1.2O SMART Transmitter Power Supply
We are specialized in intelligent instruments, including : control system, transmitters, flow meters,sensors, recorders, analyzers, control valves, controllers, PLC's, etc.

We mainly supply Yokogawa, Emerson, Rosemount,Honeywell,Siemens, ABB,FLUKE, Endress+Hauser,Schneider Electric,Moeller,FUJI,Omron, Pepperl+Fuchs, Yaskawa,Norgren,CHINT,Hach,Weidmuller,Phoenix,MTL,SMC,Testo,Rockwell,ASCO,Parker,Mitsubishi, Hima, Hirschmann,Festo,GE, CISCO,Auma,IFM,GM,
Turck,Bently Nevada,MOXA etc.


Why do you choose us?

1. 100% original brand product, 100% quality assurance.
If you find a fake product. Please contact us without hesitation! We afford the shipment cost! We send you a new product asking zero cent.

2. Varied payment methods.
We adopt L/C, D/A, D/P, T/T, and other methods. If you can not trust us , you can choose to pay it via Aliexpress! 100% make your money safe!

Packaging: Imported with original packaging or standard export packing.Customize design is acceptable.

Shipping: By Express(EMS,DHL,UPS,TNT, FEDEX, ARAMEX), By Air, By Sea.

Contact:

HONGKONG XIEYUAN TECH CO., LIMITED
Email:becky@hkxytech.com Web:www.hkxytech.com
Mobile:+86-15972186287(Whatsapp & Wechat)