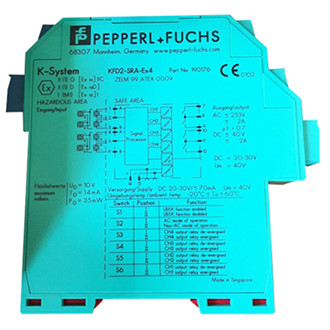 BASIC INFO
Pepperl+Fuchs KFD2-SRA-Ex4 Switch Amplifier KFD2-SRA-Ex4 Safety Barriers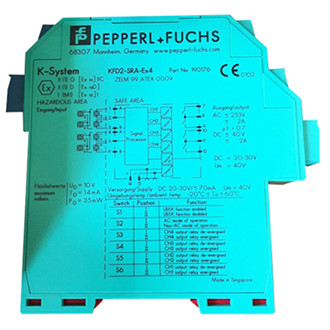 Features of Pepperl+Fuchs KFD2-SRA-Ex4 Switch Amplifier KFD2-SRA-Ex4 Safety Barriers

4-channel isolated barrier
24 V DC supply (Power Rail)
Dry contact or NAMUR inputs
50 % less wiring, 2:1 technology
Relay contact output
Line fault detection (LFD)
Reversible mode of operation
General specifications of Pepperl+Fuchs KFD2-SRA-Ex4 Switch Amplifier KFD2-SRA-Ex4 Safety Barriers

Signal type Digital Input

Supply of Pepperl+Fuchs KFD2-SRA-Ex4 Switch Amplifier KFD2-SRA-Ex4 Safety Barriers

Connection Power Rail or terminals 14+, 15-
Rated voltage 19 ... 30 V DC
Ripple ≤ 10 %
Rated current 45 ... 70 mA
Power dissipation 1.2 W

Input of Pepperl+Fuchs KFD2-SRA-Ex4 Switch Amplifier KFD2-SRA-Ex4 Safety Barriers

Connection side field side
Connection terminals 1-, 2+, 3-; 4-, 5+, 6-
Rated values acc. to EN 60947-5-6 (NAMUR), see system description for electrical data
Open circuit voltage/short-circuit current approx. 8 V DC / approx. 8 mA
Switching point/switching hysteresis 1.2 ... 2.1 mA / approx. 0.2 mA
Pulse/Pause ratio min. 35 ms / min. 35 ms (non-AC operation) min. 70 ms / min. 70 ms (AC operation)
Line fault detection breakage I ≤ 0.15 mA , short-circuit I > 6 mA

Output of Pepperl+Fuchs KFD2-SRA-Ex4 Switch Amplifier KFD2-SRA-Ex4 Safety Barriers

Connection side control side
Connection output I: terminals 7, 8 ; output II: terminals 8, 9 ; output III: terminals 10, 11 ; output IV: terminals 11, 12
Output I ... IV Signal I ... Signal IV ; relay
Contact loading 253 V AC/2 A /cos φ > 0.7; 40 V DC/2 A resistive load;
Energized/De-energized delay approx. 30 ms / approx. 30 ms
Mechanical life 5 x 106 switching cycles
Collective error message Power Rail

Transfer characteristics of Pepperl+Fuchs KFD2-SRA-Ex4 Switch Amplifier KFD2-SRA-Ex4 Safety Barriers

Switching frequency ≤ 10 Hz (non-AC operation) ≤ 3 Hz (AC operation)
Order Models of Pepperl+Fuchs KFD2-SRA-Ex4 Switch Amplifier KFD2-SRA-Ex4 Safety Barriers
KFA6-SR2-Ex1.W.LB KFA6-SR2-Ex2.W.IR KFD2-DU-Ex1.D KFD2-ER-Ex1.W.LB KFD2-SH-Ex1.T KFD2-SH-Ex1.T.OP KFD2-SOT2-Ex1.N
KFD2-SOT2-Ex2.IO KFD2-SOT2-Ex2.IO-Y181008 KFD2-SR2-Ex2.2S KFD2-SRA-Ex4 KFD2-ST2-Ex1.LB KHA6-SH-Ex1 KCD2-SON-Ex1
KCD2-SON-Ex1.R1 KCD2-SON-Ex1.SP KCD2-SON-Ex2 KCD2-SON-Ex2.R1 KCD2-SON-Ex2.SP KCD2-SOT-Ex1.LB.SP KCD2-SOT-Ex2.SP
KCD2-SR-Ex1.LB.SP KCD2-ST-Ex1.LB.SP KCD2-ST-Ex2 KCD2-ST-Ex2.SP KFA5-DU-Ex1.D KFD2-ELD-Ex16 KFD2-SOT2-Ex1.R1 KFD2
-UFC-Ex1.D KFU8-UFC-Ex1.D KFD2-DWB-Ex1.D KFA5-DWB-Ex1.D KFA6-DWB-Ex1.D KFD2-SR2-Ex2.W-SM KFD2-UFT-Ex2.D KFU8-
UFT-Ex2.D KFD2-RO-Ex2 KCD0-SD-Ex1.1245 KFD0-SD2-Ex1.1045 KFD2-SL2-Ex1 KFD2-SL2-Ex1.B KFD2-SL2-Ex1.LK KFD2-SL2-
Ex2.B KFD0-SD2-Ex2.1045 KFD2-SL2-Ex2 KFD2-VM-Ex1.35.L KFD0-SD2-Ex1.10100 KFD0-SD2-Ex1.1065 KFD0-SD2-Ex1.1180
KFD0-SD2-Ex2.1245 KFD2-RCI-Ex1 KFD2-SL2-Ex1.LK.1045 KFD2-SL2-Ex1.LK.1270 KFD2-SL2-Ex1.LK-Y1 KCD0-SD-Ex1.1245.SP
KCD2-UT2-Ex1 KFD2-GUT-Ex1.D KFD2-UT2-Ex1 KFD2-UT2-Ex2 KFD0-CC-Ex1 KFD0-TR-Ex1 KFD0-TT-Ex1 KFD2-PT2-Ex2 KFD2-PT2-
Ex1-1 KFD2-PT2-Ex1-4 KFD2-PT2-Ex1-5 KFD2-PT2-Ex1-6-Y112844 KFD2-UT2-Ex1-1 KFD2-UT2-Ex2-1 KFD2-WAC2-Ex1.D KFU8-
GUT-Ex1.d KFD2-PT2-Ex1-Y98312 KFD2-WAC2-Ex1.D-Y1 KFD2-CRG2-Ex1.D KFD2-GUT-Ex1.D KFD2-GU-Ex1 KFD2-WAC2-Ex1.D KFU8
-CRG2-Ex1.D KFU8-GUT-Ex1.D KFD2-WAC2-Ex1.D-Y1 KCD2-SCD-Ex1 KFD2-SCD-Ex1.LK KFD2-SCD2-Ex1.LK KFD0-CS-Ex1.51P KFD2
-SCD2-Ex2.LK KFD2-CD-Ex1.32 KCD2-SCD-Ex1.HC KCD2-SCD-Ex1.SP KFD0-CS-Ex1.50P KFD0-CS-Ex1.53 KFD0-CS-Ex2.50P KFD0-
CS-Ex2.51P KFD2-CD2-Ex1 KFD2-CD2-Ex2 KFD2-SCD2-Ex1-Y1 KFD2-SCD2-Ex2-Y1 KCD2-SCD-Ex1.HC.SP KFD0-CS-Ex2.53 KFD0-
CS-Ex2.51P-Y107439 KCD2-STC-Ex1 KFD2-CRG2-Ex1.D KFD2-STC4-Ex1 KFD2-STC4-Ex1-Y1 KFD2-STC4-Ex1.2O KFD2-STC4-Ex2
KFD2-STC4-Ex1.2O-Y1 KFD2-STC4-Ex1.H KCD2-STC-Ex1.2O KCD2-STC-Ex1.2O.DE KCD2-STC-Ex1.ES KCD2-STC-Ex1.HC KCD2-STC-
Ex1.SP KFD2-HLC-Ex1.D KFD2-HLC-Ex1.D.4S KFD2-STC3-Ex1 KFD2-STC4-Ex1.2O.H KFD2-STC4-Ex1.ES KFD2-STC4-Ex2-Y229428
KFD2-STV3-Ex1-1 KFD2-STV3-Ex1-2 KFD2-STV4-Ex1-1 KFD2-STV4-Ex1-2 KFD2-STV4-Ex1.2O-1 KFU8-CRG2-Ex1.D KCD2-STC-
Ex1.ES.SP KCD2-STC-Ex1.HC.SP KFD2-HLC-Ex1.D.2W KFD2-STV4-Ex1.2O-2 KFD2-STV4-Ex2-1 KFD2-STV4-Ex2-2
Pepperl+Fuchs KFD2-SRA-Ex4 Switch Amplifier KFD2-SRA-Ex4 Safety Barriers
KFD2-VR4-Ex1.26 KFD0-CS-Ex1.51P KFD0-SCS-Ex1.55 KCD2-RR-Ex1-Y1 KFD2-VR2-Ex1.50M KFD0-CS-Ex1.50P KFD0-CS-Ex1.52
KFD0-CS-Ex1.53 KFD0-CS-Ex1.54 KFD0-CS-Ex2.50P KFD0-CS-Ex2.51P KFD0-CS-Ex2.52 KFD0-CS-Ex2.54 KFD2-FF-Ex2.RS232
KFD2-VR-Ex1.12 KFD2-VR-Ex1.18 KFD2-VR-Ex1.19 KFD2-VR-Ex1.19-Y109129 KFD2-VR2-Ex1.500M KCD2-RR-Ex1 KCD2-RR-Ex1.SP
KFD0-CS-Ex1.54-Y2 KFD0-CS-Ex2.53 KFD0-CS-Ex2.51P-Y107439
M-LB-2.275TN.D M-LB-2.275TT.D M-LB-1.275.D M-LB-2.150TN.D M-LB-2.255.T3.D M-LB-2.30.T3.D M-LB-3.275TNC.D M-LB-4.275TNS.D
M-LB-4.275TT.D M-LB-1.150.D M-LB-1.150.M M-LB-1.275.M M-LB-1.NPE.M M-LB-2.150.T3.D M-LB-2.150.T3.M M-LB-2.255.T3.M M-LB-2.30.T3.M M-LB-3.150TNC.D M-LB-4.150TNS.D P-LB-1.B.12 P-LB-1.C.123 P-LB-1.A.13 P-LB-1.D.1234 P-LB-2.A.1346 P-LB-2.B.1245 P-LB-2.D.123456 P-LB-1.E.23 P-LB-1.F.1236 P-LB-2.C.2356 K-LB-1.30 K-LB-1.30G K-LB-1.6G K-LB-2.30 K-LB-2.3G K-LB-2.6 K-LB-2.6G K-LB-1.6 FN-LB-I FP-LB-I FS-LB-I
Pepperl+Fuchs KFD2-SRA-Ex4 Switch Amplifier KFD2-SRA-Ex4 Safety Barriers
KFD2-SOT2-EX1.LB KFD2-SOT2-EX1.LB KFD2-SOT2-EX1.LB KFD2-SOT2-EX1.LB KFD2-SOT2-EX1.LB KFD2-STC4-EX1.H KFD2-UFT-EX2.D KFD2-STC4-EX1.2O-Y122582 KFD2-STC4-EX1-Y122583 KFD2-SH-EX1 KHA6-SH-EX1 KFD2-STC4-1 KFD2-STC4-1.20 KFD2-STC4-EX1 KFD2-STC4-EX1.H KFD2-STC3-EX1 KFD2-GUT-EX1.D K-CJC-BU KFA6-SR2-EX1.W.LB KFU8-FSSP-1.D KFD2-PT2-EX1 KFD2-PT2-EX1-5 K-ADP-USB KFD2-CRG2-EX1.D KFD2-CRG2-1.D UPR-03 UPR-05 KFD2-STC1-EX1 KFD2-WAC2-EX1.D KFD2-EB2.R4A.B KFD2-SOT2-EX2 KFD2-SOT2-EX1.LB KFD2-SL2-EX1 KFD2-SL2-EX2 KFD2-UT2-1 KFD2-UT2-2 KFD2-UT2-EX1 KFD2-UT2-EX2 WE77/EX2 WE77/EX1 WE77/EX1-BI KFD2-ST2-EX2 KFD2-ST2-EX1.LB KFD0-CS-EX2.51P KFD2-VD-EX1.1560 KFD2-VR4-EX1.26 HIC2025 HIC2031 KFA5-SR2-EX2.W KFA6-SR2-EX2.W KFD2-GUT-EX1.D KFD2-GUT-1.D KFD2-STC4-Ex2 KFD2-DWB-1.D KFU8-DWB-1.D KFA6-DWB-EX1.D KFD2-VR2-Ex1.50M KFD0-CS-EX1.54 KFD0-CS-EX2.54 KCD2-SR-EX2 KFD2-STC4-2 KFD2-ST-EX2 KFD0-SD-EX1.1065 KHD2-FF-EX2.P-RS232 KFD2-EB2 KFD2-CR4-1 KFD2-CR4-1.20 KFD2-RR-EX1 KFD2-SOT2-EX1.LB KFD2-STV4-EX1-1 KCD2-STC-EX1 KFD2-ST2-EX1.LB KFD2-CRG2-1.D KFD0-SD2-EX1.1045 KCD2-E KCD2-E2 KCD2-RR-EX1 KFD2-STV1-EX1-1 KFD0-RO-EX2 KCD2-SCD-1 KFD0-TR-EX1 KCD2-SR-EX1.LB KCD0-SD-EX1.1245 KFD0-RSH-1 KFD2-CD2-EX1 KFD2-CD2-EX2 KFD0-RSH-1-Y2 KFD2-CD-EX1.32-8 KCD0-SD-EX1.1245 Z954 Z728 Z787 Z787.H Z715 Z788 Z966 Z966.H Z964 Z728 Z728.H
Pepperl+Fuchs KFD2-SRA-Ex4 Switch Amplifier KFD2-SRA-Ex4 Safety Barriers
HD2-FBPS-1.25.360 ELS-1 HCD2-FBPS-1.500 HD2-DM-A HD2-GTR-4PA KT-MB-GT2AD.FF KT-MB-GT2AD.FF.IO R-SP-E12 HCD2-FBPS-1.23.500 EI-0D2-10Y-10B FDH-1 HD2-DM-A.RO HD2-DM-B KFD2-BR-1.PA.1500 KFD2-BR-Ex1.3PA.93 KLD0-SAA KLD2-FBPS-1.25.360 KLD2-PR-1.IEC KT-MB-DMA KT-SRT-FF KT-SRT-PA USB-FBPS-1.11.45.NI BP-FBPS-1.30.1 FBTA-228-BPFB-R-8R HD2-GTR-4PA.PN KLD2-FBPS-1.12.220 FBTA-228-BPFB-8 FBTA-228-BPFB-R-4R HD2-FBPS-1.17.500 HD2-FBPS-1.23.500 HD2-FBPS-1.25.360 HD2-FBPS-1.500 KLD2-PR-Ex1.IEC KLD2-PR-Ex1.IEC1 MB-FB-4R.HO.SC EI-0D2-10Y-10B-Y1 DP-LBF-I1.36. F*-FT-Ex1 F*-FT-Ex1.D.IEC F*-FT-Ex1.I.IEC F*-LBF-D1.32 F*-LBF-I1.32 F.FB0.P**.A**.1.0.***.***.**** F.FB0.S**.A**.1.0.***.***.**** F.FB1.P14.A**.1.*.***.***.**** MBHC-FB-8R.HSC MBHC-FB-8R.RH MBHC-FB-8R.YO R2-SP-IC R4D0-FB-IA R8D0-MIO-Ex12.FF R8D0-MIO-Ex12.PA RD0-FB-Ex4. RD0-TI-Ex8.FF. RD0-TI-Ex8.PA. SCP-LBF-IA1.36.IE
HID2025 HID2026 HID2061 HID2061 HID2062 HID2062 HID2071 HID2071 HID2072 HID2072 HID2033 HID2034 HID2031 HID2032 HID2037 HID2038 HID2029 HID2029 HID2030 HID2030 HID2029SK HID2030SK HID2035 HID2036 HID2000 HID2038Y HID2012 HID2038 HID2024 HID2096 HID2025 HID2026 HID2025SK HID2026SK HIC2095 HIC2065 HIC2027 HIC2068 HIC2077 HIC2000 HIC2025ES HIC2031HC HIC2025HC HID2025ES HIC2027DE HID2081 HID2082 H-CJC-SP-8 H-CJC-SC-8 HIC2031 HIC2025 HID2026 HIC2077-Y1 HIC2441 H-CJC-PT100 HIC2025 HIC2031 HIC2027 HIC2027DE HIC2081 HID2025ES HIC2025ES
Pepperl+Fuchs KFD2-SRA-Ex4 Switch Amplifier KFD2-SRA-Ex4 Safety Barriers
KCD2-SCD-1 KCD2-SCD-EX1 KCD2-SR-EX1.LB KCD2-SR-EX2 KCD2-STC-1 KCD2-STC-EX1 KCD2-STC-EX1.2O KCD2-UT2-EX1 KFA6-SR2-Ex1.W KFD0-SD2-Ex1.1045 KFD2-CD2-EX1 KFD2-CRG2-EX1.D KFD2-DWB-1.D KFD2-EB2 KFD2-GU-1 KFD2-GUT-Ex1.D KFD2-SCD2-EX2.LK KFD2-SH-EX1.T.OP KFD2-SOT2-Ex2 KFD2-SR2-Ex1.W.LB KFD2-SR2-Ex2.W KFD2-ST2-Ex2 KFD2-STC4-1 KFD2-STC4-EX2 KFD2-STC4-Ex2 KFD2-UT2-1 KFD2-UT2-2 KFD2-UT2-EX1 KFD2-UT2-Ex2 KFD2-VR4-EX1.26 KFD2-SR2-Ex2.W KFD2-SL2-Ex1 KFD2-SR2-Ex1.W KFD2-STC4-Ex1 KFD2-SR2-EX.1.W.LB KFD2-EB2.R4A.B KFD2-SCD2-EX1.LK KFD2-SR2-EX2.W KFD2-SL2-EX2.B KFD0-TT-EX1 KFD0-TR-EX1 KFD2-STC4-EX2 KFD2-UFC-EX1.D KFD2-SCD2-EX2-LK KFD2-CD-EX1.32-15 KFD2-STC4-EX1.2O KFD2-SH-EX1.T.OP KFD2-SR2-EX2.2S KFD2-BR-1.PA.93 KFD2-UT2-EX2 KFD2-UFC-EX1.D KFD0-SD2-EX1.1045 KFD2-SOT2-EX1.LB KFD2-STC4-EX1.20 KFD2-STC4-1.20 KFD2-SCD2-EX2.LK KFD2-SCD2-2.LK KFD2-SH-EX1 KFD0-SD2-Ex2.1245 KFD2-SL2-Ex1.LK KFD2-BR-Ex1.3PA.93 KFD2-CD2-EX2 KFD2-UT2-EX2 KFD2-STC4-EX1.2O KFD2-CR4-1.2O KFD2-CD2-EX1 KFD2-SL2-EX2 KFD2-PR-1.IEC KFD2-WAC2-EX1.D KFD2-UFT-EX2.D KFD2-UFC-1.D KFD-STC4-EX1.2O.DE KFD2-SCD2-EX1 KFD2-PT2-Ex1 KFD2-SR2-EX2.2S KFD0-SD2-EX1.1045 KCD2-E2L KCD2-STC-EX1 KFD2-SR2-EX1.W KFD2-SCD2-EX1-LK KCD2-SCD-EX1 KFD2-UT2-EX1 KFD2-VR4-EX1.26 KFD2-SR2-EX1.W.LB KFDO-RSH-1 KFD2-GS-1.2W KFD2-EB.R4A.B KFD0-SCS-EX1.55 KFD2-EX1.32 KFD2-STC4-Ex1-Y1. KFD2-SR2-EX2.2S KFD2-SCD2-EX2.LK
Pepperl+Fuchs KFD2-SRA-Ex4 Switch Amplifier KFD2-SRA-Ex4 Safety Barriers
KCD2-SCD-1 KCD2-SCD-EX1 KCD2-SR-EX1.LB KCD2-SR-EX2 KCD2-STC-1 KCD2-STC-EX1 KCD2-STC-EX1.2O KCD2-UT2-EX1 KFA6-SR2-Ex1.W KFD0-SD2-Ex1.1045 KFD2-CD2-EX1 KFD2-CRG2-EX1.D KFD2-DWB-1.D KFD2-EB2 KFD2-GU-1 KFD2-GUT-Ex1.D KFD2-SCD2-EX2.LK KFD2-SH-EX1.T.OP KFD2-SOT2-Ex2 KFD2-SR2-Ex1.W.LB KFD2-SR2-Ex2.W KFD2-ST2-Ex2 KFD2-STC4-1 KFD2-STC4-EX2 KFD2-STC4-Ex2 KFD2-UT2-1 KFD2-UT2-2 KFD2-UT2-EX1 KFD2-UT2-Ex2 KFD2-VR4-EX1.26
KCD2-STC-Ex1 KCD2-STC-Ex1.ES KFD2-CRG2-Ex1.D KFD2-HLC-Ex1.D KFD2-HLC-Ex1.D.2W KFD2-STC4-Ex1 KFD2-STC4-Ex1.2O KFD2-STC4-Ex1.2O.H KFD2-STC4-Ex1.H KFD2-STC4-Ex2 KFU8-CRG2-Ex1.D KCD2-STC-Ex1.2O KCD2-STC-Ex1.2O.ES KCD2-STC-Ex1.ES.SP KCD2-STC-Ex1.SP KFD2-STC3-Ex1 KFD2-STC4-Ex1-Y1 KFD2-STC4-Ex1.2O-Y1 KFD2-STC4-Ex1.ES KFD2-STC4-Ex2-Y1 KFD2-STC5-Ex1 KFD2-STC5-Ex1.2O KFD2-STC5-Ex1.2O.H KFD2-STC5-Ex1.H KFD2-STC5-Ex2 KFD2-STC5-Ex2 KFD2-STC5-Ex2 KFD2-STV4-Ex1.2O-1 KFD2-STV4-Ex2-1 KFD2-STV4-Ex2-2 KFD2-STV5-Ex1-1 KCD2-STC-Ex1.2O.DE KFD2-HLC-Ex1.D.4S KFD2-STV4-Ex1.2O-2 KCD2-STC-Ex1.HC KCD2-STC-Ex1.HC.SP KFD2-STC4-Ex1 KFD2-STC4-Ex1-Y1 KFD2-STC4-Ex1.2O KFD2-STC4-Ex1.2O-Y1 KFD2-STC4-Ex1.2O.H KFD2-STC4-Ex1.H KFD2-STV4-Ex1-1 KFD2-STV4-Ex1-2 KFD2-STV4-Ex1.2O-1 KFD2-STV4-Ex2-1 KFD2-STV4-Ex2-2 KFD2-STV4-Ex1.2O-2 KFD2-STC3-Ex1 KCD2-STC-Ex1-Y1
Pepperl+Fuchs KFD2-SRA-Ex4 Switch Amplifier KFD2-SRA-Ex4 Safety Barriers
KCD2-STC-Ex1 KCD2-STC-Ex1.ES KFD2-CRG2-Ex1.D KFD2-HLC-Ex1.D KFD2-HLC-Ex1.D.2W KFD2-STC4-Ex1 KFD2-STC4-Ex1.2O KFD2-STC4-Ex1.2O.H KFD2-STC4-Ex1.H KFD2-STC4-Ex2 KFU8-CRG2-Ex1.D KCD2-STC-Ex1.2O KCD2-STC-Ex1.2O.ES KCD2-STC-Ex1.ES.SP KCD2-STC-Ex1.SP KFD2-STC3-Ex1 KFD2-STC4-Ex1-Y1 KFD2-STC4-Ex1.2O-Y1 KFD2-STC4-Ex1.ES KFD2-STC4-Ex2-Y1 KFD2-STC5-Ex1 KFD2-STC5-Ex1.2O KFD2-STC5-Ex1.2O.H KFD2-STC5-Ex1.H KFD2-STC5-Ex2 KFD2-STC5-Ex2 KFD2-STC5-Ex2 KFD2-STV4-Ex1.2O-1 KFD2-STV4-Ex2-1 KFD2-STV4-Ex2-2 KFD2-STV5-Ex1-1 KCD2-STC-Ex1.2O.DE KFD2-HLC-Ex1.D.4S KFD2-STV4-Ex1.2O-2 KCD2-STC-Ex1.HC KCD2-STC-Ex1.HC.SP KFD2-STC4-Ex1 KFD2-STC4-Ex1-Y1 KFD2-STC4-Ex1.2O KFD2-STC4-Ex1.2O-Y1 KFD2-STC4-Ex1.2O.H KFD2-STC4-Ex1.H KFD2-STV4-Ex1-1 KFD2-STV4-Ex1-2 KFD2-STV4-Ex1.2O-1 KFD2-STV4-Ex2-1 KFD2-STV4-Ex2-2 KFD2-STV4-Ex1.2O-2 KFD2-STC3-Ex1 KCD2-STC-Ex1-Y1
KCD2-SCD-1 KCD2-SCD-EX1 KCD2-SR-EX1.LB KCD2-SR-EX2 KCD2-STC-1 KCD2-STC-EX1 KCD2-STC-EX1.2O KCD2-UT2-EX1 KFA6-SR2-Ex1.W KFD0-SD2-Ex1.1045 KFD2-CD2-EX1 KFD2-CRG2-EX1.D KFD2-DWB-1.D KFD2-EB2 KFD2-GU-1 KFD2-GUT-Ex1.D KFD2-SCD2-EX2.LK KFD2-SH-EX1.T.OP KFD2-SOT2-Ex2 KFD2-SR2-Ex1.W.LB KFD2-SR2-Ex2.W KFD2-ST2-Ex2 KFD2-STC4-1 KFD2-STC4-EX2 KFD2-STC4-Ex2 KFD2-UT2-1 KFD2-UT2-2 KFD2-UT2-EX1 KFD2-UT2-Ex2 KFD2-VR4-EX1.26 KFU8-FSSP-1.D
Pepperl+Fuchs KFD2-SRA-Ex4 Switch Amplifier KFD2-SRA-Ex4 Safety Barriers
KCD2-SR-Ex1.LB KCD2-SR-Ex2 KFA6-DU-Ex1.D KFA6-ER-Ex1.W.LB KFA6-SOT2-Ex2 KFA6-SR2-Ex1.W KFA6-SR2-Ex1.W.LB KFA6-SR2-Ex2.W KFA6-SR2-Ex2.W.IR KFD2-DU-Ex1.D KFD2-ELD-Ex16 KFD2-ER-Ex1.W.LB KFD2-SH-Ex1 KFD2-SH-Ex1.T.OP KFD2-SOT3-Ex1.LB KFD2-SOT3-Ex1.LB.IO KFD2-SOT3-Ex2 KFD2-SOT3-Ex2.IO KFD2-SR2-Ex1.W KFD2-SR2-Ex1.W.LB KFD2-SR2-Ex2.W KFD2-SR3-Ex2.2S KFD2-SRA-Ex4 KFD2-ST3-Ex1.LB KFD2-ST3-Ex2 KHA6-SH-Ex1 KCD2-SON-Ex1 KCD2-SOT-Ex1.LB KCD2-SOT-Ex2 KCD2-SOT-Ex2.SP
KCD2-SR-Ex1.LB.SP KCD2-SR-Ex2.SP KCD2-ST-Ex1.LB KCD2-ST-Ex2 KFA5-SOT2-Ex2 KFA5-SR2-Ex1.W KFA5-SR2-Ex1.W.LB KFA5-SR2-Ex2.W KFA5-SR2-Ex2.W.IR KFD2-SH-Ex1.T KFD2-SOT3-Ex2.IO-Y1 KCD2-SON-Ex1.R1 KCD2-SON-Ex1.SP KCD2-SON-Ex2 KCD2-SON-Ex2.R1 KCD2-SON-Ex2.SP KCD2-SOT-Ex1.LB.SP KCD2-ST-Ex1.LB.SP KCD2-ST-Ex2.SP KFA4-SR2-Ex2.W KFA5-DU-Ex1.D KFA4-SR2-Ex1.W KFA4-SR2-Ex1.W.LB KFD2-SOT2-Ex1.LB KFD2-SOT2-Ex1.LB.IO KFD2-SOT2-Ex2 KFD2-SOT2-Ex2.IO KFD2-SOT2-Ex2.IO-Y181008 KFD2-SR2-Ex2.2S KFD2-ST2-Ex1.LB KFD2-ST2-Ex2
Pepperl+Fuchs KFD2-SRA-Ex4 Switch Amplifier KFD2-SRA-Ex4 Safety Barriers
KFD2-STC4-EX1 KFD2-SR2-EX1.W KFD2-SR2-EX2.W KFD2-CD-EX1.32 KFD2-UT2-EX1. KFD2-ST-EX1 KFD2-UFC-EX1.D KFA5-SR2-EX2.W KFA5-SR2-EX1.W KFA6-SR2-EX2.W KFA5-SR2-EX1.W KFD2-ST-EX1 KFD2-SOT2-EX1 KFU8-UFC-EX1.D KFD2-CD-EX1.32 KFU8-FSSP-1.D KFA6-DWB-EX1.D KFD2-DWB-EX1.D KFA5-SR2-EX1,W KFA5-SR2-EX2,W KFD2-VR4-EX1.26 KFD2-STC4-EX1.20 KFD2-SOT2-EX2 KFD2-ST2-EX1.B KFD2-DWB-EX1.D KFD2-UFC-EX1.D KFA6-STR-1.24.500 KFD2-UT2-1 KFD2-UT2-2 KFD2-CD-1.32 KFD2-SOT2-EX1.LB KFA6-SR2-EX1.LB KFA6-SOT2-EX2 KFU8-FSSP-1.D KFU8-UFC-EX1,D KFU8-UFT-EX2.D KFA6-DWB-EX1.D KFD0-SCS-EX1.55 KFD2-STC4-EX2 KFD2-STC4-EX1Y125882 KFD2-UT2-EX2 UPR-03 KFD2-EB2.B4.AB KFD2-CD-EX1.32 KFD2-STC4-EX1 KFD2-UT2-EX1 KFD2-SR2-Ex1.W KFD2-SCD-EX1.LK KFD2-SOT2-EX2 KFD2-STC4-EX2 KFD2-SR2-Ex2.W KFD2-SR2-Ex1.W KFD2-STC4-EX1.2O KFD0-SCS-EX1.55 KFU8-UFC-EX1.D KFD2-SOT2-EX2 KFD2-STC4-EX1 KFD2-UT2-EX2 KFD2-VR4-EX1.26 KFD2-EB2.R4A.B KFD2-BR-1.PA.93 KFU8-DWB-1.D KFU8-DW-1.D KFU8-UFT-EX2.D Z787.H UPR-03
Pepperl+Fuchs KFD2-SRA-Ex4 Switch Amplifier KFD2-SRA-Ex4 Safety Barriers
KCD2-SR-EX1.LB KFD2-SR2.Ex1.W KFA5-SR2-Ex1.W KFA6-SR2-Ex1.W KFD2-SR2-Ex1.W.LB KFA5-SR2-Ex1.W.LB KFA6-SR2-Ex1.W.LB KCD2-SR-EX2 KFD2-SR2-Ex2.W KFA5-SR2-Ex2.W KFA6-SR2-Ex2.W KFA5-SR2-EX2.W.IR KFA6-SR2-EX2.W.IR KFD2-SR2-Ex2.2S KFD2-SRA-Ex4 KFD2-SRT-Ex1 KFD2-SR-Ex1.4S.LK KFD2-DU-Ex1.D KFA5-DU-EX1.D KFA6-DU-EX1.D KFD2-ER-EX1.W.LB KFA5-ER-EX1.W.LB KFA6-ER-EX1.W.LB KFD2-ST2-Ex1.LB KFD2-ST2-Ex2 KFD2-SOT2-Ex1.LB KFD2-SOT2-EX1.LB.IO KFD2-SOT2-Ex1.N KFD2-SOT2-Ex2 KFA5-SOT2-Ex2 KFA6-SOT2-Ex2 KFD2-SOT2-Ex2.IO KFD2-SH-Ex1 KFD2-SH-Ex1.T.OP KHA6-SH-Ex1 KFD2-SR2-EX2.W.SM KFD2-DWB-Ex1.D KFA5-DWB-EX1.D KFA6-DWB-EX1.D KFD2-UFC-EX1.D KFU8-UFC-EX1.D KFD2-UFT-Ex2.D KFU8-UFT-Ex2.D KFD0-SD2-Ex1.1045 KFD0-SD2-Ex2.1045 KCD0-SD-EX1.1245 KFD0-SD2-EX2.1245 KFD0-SD2-Ex1.1065 KFD0-SD2-Ex1.1180 KFD0-SD2-Ex1.10100 KFD2-SL2-EX1 KFD2-SL2-EX1.B KFD2-SL2-Ex1.LK KFD2-SL2-Ex2 KFD2-SL2-Ex2.B KFD2-VM-Ex1.35 KFD2-VM-Ex1.35.L KFD0-RO-Ex2 KCD2-STC-EX1 KFD2-STC4-Ex1 KFD2-STC4-Ex1-Y122583 KFD2-STC4-Ex1.H KFD2-STV4-EX1-1 KFD2-STV4-EX1-2 KFD2-STC4-Ex1.2O KFD2-STC4-Ex1.2O-Y122582 KFD2-STC4-Ex1.2O.H KFD2-STV4-EX1.2O-1 KFD2-STV4-Ex1.2O-2 KFD2-STC4-Ex2 KFD2-STC4-Ex2-Y203646 KFD2-STV4-EX2-1 KFD2-STV4-EX2-2 KFD2-STC3-Ex1 KFD2-STV3-Ex1-1 KFD2-STV3-Ex1-2 KFD2-CRG-Ex1.D KFU8-CRG-Ex1.D KFD0-CS-Ex1.52 KFD0-CS-Ex2.52 KFD0-CS-Ex1.54 KFD0-CS-Ex2.54 KFD2-VR2-Ex1.50m KFD2-VR-Ex1.500m KFD2-VR-Ex1.12 KFD2-VR-Ex1.18 KFD2-VR-Ex1.19 KFD2-VR4-EX1.26 KFD0-CC-Ex1 KFD2-WAC2-EX1.D KFD2-UT2-Ex1 KFD2-UT2-Ex1-1 KFD2-UT2-Ex2 KFD2-UT2-Ex2-1 KFD0-TR-Ex1 KFD0-TT-Ex1 KCD2-RR-Ex1 KFD2-GU-Ex1 KFD2-GUT-Ex1.D KFU8-GUT-EX1.D KFD2-UT2-Ex1 KFD2-UT2-Ex1-1 KFD2-UT2-Ex2 KFD2-UT2-Ex2-1 KFD2-RR-Ex1 KFD2-PT2-Ex1 KFD2-PT2-Ex1-1 KFD2-PT2-Ex1-4 KFD2-PT2-Ex1-5 KFD0-RC-Ex1 KFD2-HLC-EX1.D KFD2-HLC-EX1.D.2W KFD2-HLC-EX1.D.4S KFD2-FF-Ex2.RS232 KFD2-ELD-Ex16
KCD2-SCD-EX1 KFD2-SCD-Ex1.LK KFD2-SCD2-Ex1.LK KFD2-CD2-EX1 KFD2-CD-EX1.32 KFD2-SCD2-EX2.LK KFD2-CD2-EX2 KFD0-SCS-Ex1.55 KFD0-CS-Ex1.50P KFD0-CS-Ex1.51P KFD0-CS-Ex1.53 KFD0-CS-Ex2.50P KFD0-CS-Ex2.51P KFD0-CS-Ex2.53 KFD2-EB2.R4A.B KFD2-EB2 KFA6-STR-1.24.500 KFA6-STR-1.24.4 UPR-03 UPR-03-S UPR-05 UPR-05-S UPR-I UPR-E K-MS K-CJC-BU KF-FKC-3G2B KF-FKC-5B KF-FKC-5G K-500R0%1 KCD0-LGH KFD0-LGH KFD0-LGH-GN KFD0-LGH-Y34868 F-KD-Ex2 F-KDR-Ex2 IS01 F-MPN-1 K-ADP1 K-ADP-USB
Pepperl+Fuchs KFD2-SRA-Ex4 Switch Amplifier KFD2-SRA-Ex4 Safety Barriers
We are specialized in intelligent instruments, including : control system, transmitters, flow meters,sensors, recorders, analyzers, control valves, controllers, PLC's, etc.
We mainly supply Yokogawa ,Emerson, Rosemount,Honeywell,Siemens,ABB,FLUKE,Endress+Hauser,Schneider Electric,Moeller,FUJI,Omron, Pepperl+Fuchs,Hima,Yaskawa, Norgren, Hach, Weidmuller,Phoenix,MTL,Testo,Rockwell etc.
Why do you choose us?
1. 100% original brand product, 100% quality assurance.
If you find a fake product. Please contact us without hesitation! We afford the shipment cost! We send you a new product asking zero cent.
2. Varied payment methods.
We adopt L/C, D/A, D/P, T/T, and other methods. If you can not trust us , you can choose to pay it via Aliexpress! 100% make your money safe!
Packaging: Imported with original packaging or standard export packing.Customize design is acceptable.
Shipping: By Express(EMS,DHL,UPS,TNT, FEDEX, ARAMEX), By Air, By Sea.
Contact:
HONGKONG XIEYUAN TECH CO., LIMITED
Email:becky@hkxytech.com Web:www.hkxytech.com
Mobile:+86-15972186287(Whatsapp & Wechat)