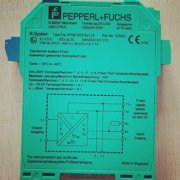 BASIC INFO
Pepperl+Fuchs KFD2-SCD-EX1.LK SMART Current Driver KFD2-SCD-EX1.LK Isolated Barrier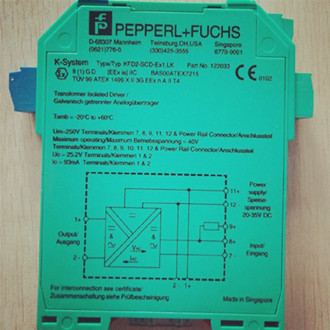 Features of Pepperl+Fuchs KFD2-SCD-EX1.LK SMART Current Driver KFD2-SCD-EX1.LK Isolated Barrier

• 1-channel isolated barrier
• 24 V DC supply (Power Rail)
• Current output up to 700 load
• HART I/P and valve positioner
• Line fault detection (LFD)
• Accuracy 0.1 %
• Terminal blocks with test sockets
• Up to SIL 2 acc. to IEC 61508



Function of Pepperl+Fuchs KFD2-SCD-EX1.LK SMART Current Driver KFD2-SCD-EX1.LK Isolated Barrier

This isolated barrier KFD2-SCD-EX1.LK is used for intrinsic safety applications. It drives SMART I/P converters, electrical valves, and positioners in hazardous areas. Digital signals are superimposed on the analog values at the field or control side and are transferred bi-directionally.

Current transferred across the DC/DC converter is repeated at terminals 1 and 2. An open and shorted field circuit presents a high input impedance to the control side to allow line fault detection by control system.Pepperl+Fuchs isolated barrier KFD2-SCD-EX1.LK

If the loop resistance for the digital communication is too low, an internal resistor of 250 between terminals 8 and 9 is available, which may be used as the HART communication resistor. Pepperl+Fuchs isolated barrier KFD2-SCD-EX1.LK

Sockets for the connection of a HART communicator are integrated into the terminals of the device.

General specifications of Pepperl+Fuchs KFD2-SCD-EX1.LK SMART Current Driver KFD2-SCD-EX1.LK Isolated Barrier
Signal type
Analog output
Functional safety related parameters of Pepperl+Fuchs KFD2-SCD-EX1.LK SMART Current Driver KFD2-SCD-EX1.LK Isolated Barrier
Safety Integrity Level (SIL)
SIL 2
Supply of Pepperl+Fuchs KFD2-SCD-EX1.LK SMART Current Driver KFD2-SCD-EX1.LK Isolated Barrier
Connection
Power Rail or terminals 11+, 12-
Rated voltage
20 ... 35 V DC
Ripple
within the supply tolerance
Power dissipation
1.1 W at 20 mA into 10 V (equivalent to 500 Ω) load
Power consumption
1.3 W
Input of Pepperl+Fuchs KFD2-SCD-EX1.LK SMART Current Driver KFD2-SCD-EX1.LK Isolated Barrier
Connection side
control side
Connection
terminals 7-, 8+
Voltage drop
approx. 4 V or internal resistance 200 Ω at 20 mA
Input resistance
> 100 kΩ, when wiring resistance in the field < 50 Ω or > 800 Ω at 20 mA
Current
4 ... 20 mA limited to approx. 25 mA
Output of Pepperl+Fuchs KFD2-SCD-EX1.LK SMART Current Driver KFD2-SCD-EX1.LK Isolated Barrier
Connection side
field side
Connection
terminals 1+, 2-
Current
4 ... 20 mA
Load
100 ... 700 Ω
Voltage
≥ 14 V at 20 mA
Transfer characteristics of Pepperl+Fuchs KFD2-SCD-EX1.LK SMART Current Driver KFD2-SCD-EX1.LK Isolated Barrier
Accuracy
0.1 %
Rise time
< 100 µs at bounce from 10 ... 90 %
Indicators/settings of Pepperl+Fuchs KFD2-SCD-EX1.LK SMART Current Driver KFD2-SCD-EX1.LK Isolated Barrier
Display elements
LEDs
Labeling
space for labeling at the front
Directive conformity of Pepperl+Fuchs KFD2-SCD-EX1.LK SMART Current Driver KFD2-SCD-EX1.LK Isolated Barrier
Electromagnetic compatibility
Directive 2014/30/EU
EN 61326-1:2013 (industrial locations)

Detailed Models of Pepperl+Fuchs KFD2-SCD-EX1.LK SMART Current Driver KFD2-SCD-EX1.LK Isolated Barrier

KFD2-SR2-Ex2.W
KFD2-SL2-Ex1
KFD2-SR2-Ex1.W
KFD2-STC4-Ex1
KFD2-SR2-EX.1.W.LB
KFD2-EB2.R4A.B
KFD2-SCD2-EX1.LK
KFD2-SR2-EX2.W
KFD2-SL2-EX2.B
KFD0-TT-EX1
KFD0-TR-EX1
KFD2-STC4-EX2
KFD2-UFC-EX1.D
KFD2-SCD2-EX2-LK
KFD2-CD-EX1.32-15
KFD2-STC4-EX1.2O
KFD2-SH-EX1.T.OP
KFD2-SR2-EX2.2S
KFD2-BR-1.PA.93
KFD2-UT2-EX2
KFD2-UFC-EX1.D
KFD0-SD2-EX1.1045
KFD2-SOT2-EX1.LB
KFD2-STC4-EX1.20
KFD2-STC4-1.20
KFD2-SCD2-EX2.LK
KFD2-SCD2-2.LK
KFD2-SH-EX1
KFD0-SD2-Ex2.1245
KFD2-SL2-Ex1.LK
KFD2-BR-Ex1.3PA.93
KFD2-CD2-EX2
KFD2-UT2-EX2
KFD2-STC4-EX1.2O
KFD2-CR4-1.2O
KFD2-CD2-EX1
KFD2-SL2-EX2
KLD2-PR-1.IEC
KFD2-WAC2-EX1.D
KFD2-UFT-EX2.D
KFD2-UFC-1.D
KFD-STC4-EX1.2O.DE
KFD2-SCD2-EX1
KFD2-PT2-Ex1
KFD2-SR2-EX2.2S
KFD0-SD2-EX1.1045
KCD2-E2L
KCD2-STC-EX1
KFD2-SR2-EX1.W
KFD2-SCD2-EX1-LK
KCD2-SCD-EX1
KFD2-UT2-EX1
KFD2-VR4-EX1.26
KFD2-SR2-EX1.W.LB
KFDO-RSH-1
KFD2-GS-1.2W
KFD2-EB.R4A.B
KFD0-SCS-EX1.55
KFD2-EX1.32
KFD2-STC4-Ex1-Y1.
KFD2-SR2-EX2.2S
KFD2-SCD2-EX2.LK
KFA5-SR2-EX1.W.LB
KFD2-RR-EX1
KFD2-SCD-EX1.LK
KFA6-STR-1.24.500
Z787.H
KFD0-CS-EX2.50P
KFD0-CS-EX2.51P
KFA6-SR2-EX1.W.LB
KFA5-SR2-EX1.W
KFD2-ST2-EX2
KFD2-DWB-1.D
KFD2-UT-EX1
KFD2-SR2-2.2S
HD2-FBPS-1.500
HD2-DM-B
KFD2-GU-Ex1.D
KFD2-PT2-EX1-5
KFD2-DWB-Ex1.D
KFA6-DWB-EX1.D
KFD2-STV4-EX2-2
Z728
Z828
KFD0-CS-Ex1.54P
KFU8-DW-1.D
KFD0-RO-Ex2
S1SD-1TI-1U
KFD2-GUT-1.D
KFD0-SCS-1.55
KFD2-DWB-Ex1.D
KFD2-PT2-EX1-5
KFA6-DWB-EX1.D
KFD2-STV4-EX2-2
Z728
Z828
KFD0-CS-Ex1.54P
KFD0-RO-Ex2
KFD2-GUT-1.D
KFD2-SCD2-1.LK
KFD2-GU-Ex1

Pepperl+Fuchs KFD2-SCD-EX1.LK SMART Current Driver KFD2-SCD-EX1.LK Isolated Barrier


We are specialized in intelligent instruments, including : control system, transmitters, flow meters,sensors, recorders, analyzers, control valves, controllers, PLC's, etc.

We mainly supply Yokogawa ,Honeywell,Siemens,ABB,FLUKE,Endress+Hauser,Schneider Electric,Moeller,FUJI,Omron,Pepperl+Fuchs,Hima,Yaskawa, Norgren, Hach, Weidmuller ,Phoenix,MTL,Testo etc.

Why choose us?

1. 100% original product, 100% quality assurance.
If you find a fake. Please contact us without hesitation! We afford the shipment cost! We send you a new product asking zero cent!

2. Varied payment methods.
We adopt T/T, western union and paypal. If you can not trust us , you can choose to pay it via Aliexpress! 100% make your money safe!

3.SHIPPING:
We can shipping all over the world.via DHL,UPS,Fedex,TNT and EMS etc., the packaging is very safe and strong. if you have any special needs,please notify me.
It will take 3 to 7days to reach in your hands.

Packaging:
Imported with original packaging or standard export packing.Customize design is acceptable.

Contact:

HONGKONG XIEYUAN TECH CO., LIMITED
Email:becky@hkxytech.com Web:www.hkxytech.com
Mobile:+86-15972186287(Whatsapp & Wechat)