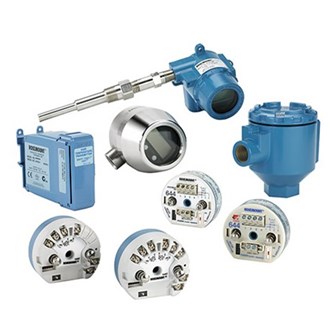 BASIC INFO
Rosemount 644HAI1J6 Smart Temperature Transmitter with Hart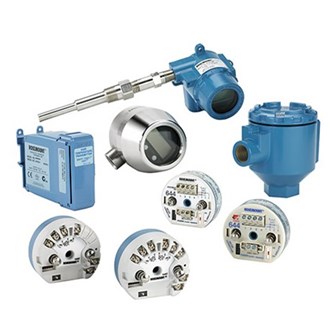 Description of
Rosemount 644HAI1J6 Smart Temperature Transmitter with Hart
The Rosemount 644 temperature transmitter is designed for use in control applications where the loss of the temperature points may be detrimental. These highly accurate Rosemount 644 temperature transmitters are available in a variety of mounting styles, field housings, and communication protocols to meet your demanding installation requirements.
Each Rosemount 644 temperature transmitter is a 2-wire design providing either a 4-20 mA/HART or a completely digital FOUNDATION fieldbus ouput. Each unit can be configured for a variety of sensor inputs: RTD, themocouple, millivolt, or ohm. The advanced Rosemount 644 temperature transmitter powers PlantWeb ® by communicating important temperature diagnostics and PlantWeb alerts to ensure process health and enable economical single-sensor architecture.
Entering the temperature-resistance profile specific to the RTD sensor into the Rosemount 644 temperature transmitter results in transmitter-sensor matching. This eliminates the sensor interchangeability error, which can improve accuracy by up to 75%. The integral LCD display provides local indication of temperature measurement and diagnostics for immediate and accurate verification or process conditions.
Meeting the NAMUR NE 21 recommendations, the Rosemount 644 temperature transmitter ensures top transmitter performance in harsh EMC environments. In addition, the Rosemount 644 HART transmitter meets NAMUR NE 43 and NE 89 recommendations.
The Rosemount 644 temperature transmitter offers great mounting flexibility. The DIN A style head mount transmitters fits a variety of housings for remote transmitter mounting and can be integral or remote mounted to a sensor. The compact rail mount style is great for DIN rail mounting in the tight spaces of a crowded control room.
Rosemount 644HAI1J6 Smart Temperature Transmitter with Hart
Engineered for versatility, the Rosemount 644 Temperature Transmitter is available with HART®, FOUNDATION™ Fieldbus or PROFIBUS® protocols in head, field or rail mount styles and a variety of enclosure options. By adding a Local Operator Interface (LOI), you can update your transmitter configuration in the field without tools. For diverse application requirements, this transmitter includes diagnostic capabilities, such as Hot Backup™ capability, sensor drift alert and thermocouple degradation.
Product Highlights of Rosemount 644HAI1J6 Smart Temperature Transmitter with Hart

Extremely versatile temperature transmitter available in HART®, FOUNDATION™ Fieldbus or PROFIBUS® protocols
Diverse mounting configurations including head, field or rail mount with many enclosure options
LOI option eliminates the need for special configuration tools (i.e. field communicator) for ease-of-use
Transmitter-sensor matching with Callendar-Van Dusen constants reduces total measurement error
Hot Backup™ capability and sensor drift alert with dual sensors ensure measurement integrity
Thermocouple degradation diagnostic monitors thermocouple health to detect degradation before failure
Minimum and maximum temperature tracking observes temperature extremes for easy troubleshooting
Device dashboards provide easy interface for simplified device configuration and diagnostic troubleshooting
Order codes of Rosemount 644HAI1J6 Smart Temperature Transmitter with Hart

644HANAJ6M5Q4
644RANAC4Q4
644HAE1J4M5Q4
644HAE1J6M5
644HAE1J7M5Q4
644HAE1M5F6
644HAE1XAJ5M5Q4
644HAE2XAJ6M5F6Q4
644HAE5J5M5Q4
644HAE5J6Q4
644HAK5J5M5
644RAI1Q4
644HAE1XAQ4
644HAI1J6
2088G1S22A1M5
2088G2S22A1M5
2088G2S22A1
2088G4S22B1M5B4
2088G3S22A1M5B4Q4
2088G2S22A1M5B4K5
2088G4S22A1M4Q4HR5
2088G3S22A1E5Q4
2088G4S22A1B4Q4
2088G3S22A1B4Q4
Rosemount 644HAI1J6 Smart Temperature Transmitter with Hart
We are specialized in intelligent instruments, including : control system, transmitters, flow meters,sensors, recorders, analyzers, control valves, controllers, PLC's, etc.
We have bigger advantages of Yokogawa, Emerson, Rosemount, Fisher, Honeywell, Siemens, ABB, FLUKE, Endress+Hauser, Schneider Electric, Pepperl+Fuchs, MTL, Rockwell(Allen Bradley), Hirschmann, Eaton, Moeller, FUJI, Omron, Yaskawa, Norgren, CHINT, Hach, Weidmuller, Phoenix, SMC, Testo, ASCO, Parker, Mitsubishi, Festo, GE, CISCO, Auma, IFM, GM, Turck, Bently Nevada, MOXA, Krohne, Foxboro and so on.
Why choose us?
1. 100% original product, 100% quality assurance.
If you find a fake. Please contact us without hesitation! We afford the shipment cost! We send you a new product asking zero cent!
2. Varied payment methods.
We adopt T/T, western union and paypal. If you can not trust us , you can choose to pay it via Aliexpress! 100% make your money safe!
3.SHIPPING:
We can shipping all over the world.via DHL,UPS,Fedex,TNT and EMS etc., the packaging is very safe and strong. if you have any special needs,please notify me.
It will take 3 to 7days to reach in your hands.
Packaging:
Imported with original packaging or standard export packing.Customize design is acceptable.
Contact:
HONGKONG XIEYUAN TECH CO., LIMITED
Email:becky@hkxytech.com Web:www.hkxytech.com
Mobile:+86-15972186287(Whatsapp & Wechat)