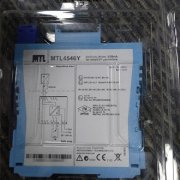 BASIC INFO
MTL4546Y Safety Barrier Isolating Driver 1ch 4 to 20mA for Smart I/P Converters
Detailed Product Description of MTL4546Y Safety Barrier Isolating Driver 1ch 4 to 20mA for Smart I/P Converters

MTL Safety Barriers Analogue Output
MTL4546 1ch 4-20mA smart isolating driver + LFD
MTL4546C 1ch 4-20mA smart isolating driver + oc LFD
MTL4546S 1ch 4-20mA HART isolating driver + LFD
MTL4546Y 1ch 4-20mA smart isolating driver + oc LFD
MTL4549 2ch 4-20mA smart isolating driver + LFD
MTL4549C 2ch 4-20mA smart isolating driver + oc LFD
MTL4549Y 2ch 4-20mA smart isolating driver + oc LFD
MTL4546Y Safety Barrier Isolating Driver 1ch 4 to 20mA for Smart I/P Converters
MTL is a pioneer in the development of the "shunt diode" safety barrier. This is a passive network device that uses Zener diodes, resistors and fuses to safely divert excess electrical energy to ground and thus prevent sparking in or overheating of equipment in hazardous areas. Their key benefits are low cost and the ability to operate with data in analogue DC or high-speed digital forms.
MTL became a world leader with its ranges of shunt diode safety barriers and its support role in the emergence of this new technology.The early MTL700 Series soon established itself as an 'industry standard' with a reputation for quality and reliability.
The ranges have evolved over the years but the latest MTL7700 Series is unique in providing a broad range of benefits that the instrumentation engineer looks for in a modern barrier.
With the new MTL7700, and continuing support for our other ranges, MTL's commitment to zener barriers is confirmed for many years to come.
MTL4546Y Safety Barrier Isolating Driver 1ch 4 to 20mA for Smart I/P Converters

MTL offers the best choice in DIN-rail and backplane mounting isolators to meet the requirements of modern systems.The DIN-rail mounting isolator ranges provide a wide choice of functions with high accuracy and reliability, while the backplane mounting products are established as the leading IS system interface with solutions for all the major DCS companies.
The NEW MTL4500 Series is the latest generation of backplane mounting products, building upon the heritage of MTL4000 and introducing many key application benefits.
The NEW MTL5500 Series launches a new industry standard for DIN rail mounting products, ideally suited to a wide variety of interface tasks for process instrumentation.


We are specialized in intelligent instruments, including : control system, transmitters, flow meters,sensors, recorders, analyzers, control valves, controllers, PLC's, etc.

We mainly supply YOKOGAWA,WEIDMULLER, ABB, MOELLER, SCHNEIDER ElECTIC,FUJI,OMRON,HONEYWELL,SIEMENS,FLUKE,PEPPERL+FUCHS,HIMA,Endress+ Hauser etc.

Why choose us?

1. 100% original product, 100% quality assurance.
If you find a fake. Please contact us without hesitation! We afford the shipment cost! We send you a new product asking zero cent!

2. Varied payment methods.
We adopt T/T, western union and paypal. If you can not trust us , you can choose to pay it via Aliexpress! 100% make your money safe!

3. SHIPPING:
We can shipping all over the world.via DHL,UPS,Fedex,TNT and EMS etc., the packaging is very safe and strong. if you have any special needs,please notify me.
It will take 3 to 7days to reach in your hands.

Packaging:
Imported with original packaging or standard export packing.Customize design is acceptable.

Contact:

HONGKONG XIEYUAN TECH CO., LIMITED
Email:becky@hkxytech.com Web:www.hkxytech.com
Mobile:+86-15972186287(Whatsapp & Wechat)