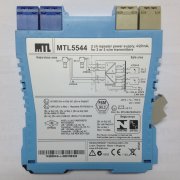 BASIC INFO
MTL4511 MTL5511 Switch Proximity Detector Interface MTL4511 MTL5511 Isolated Barriers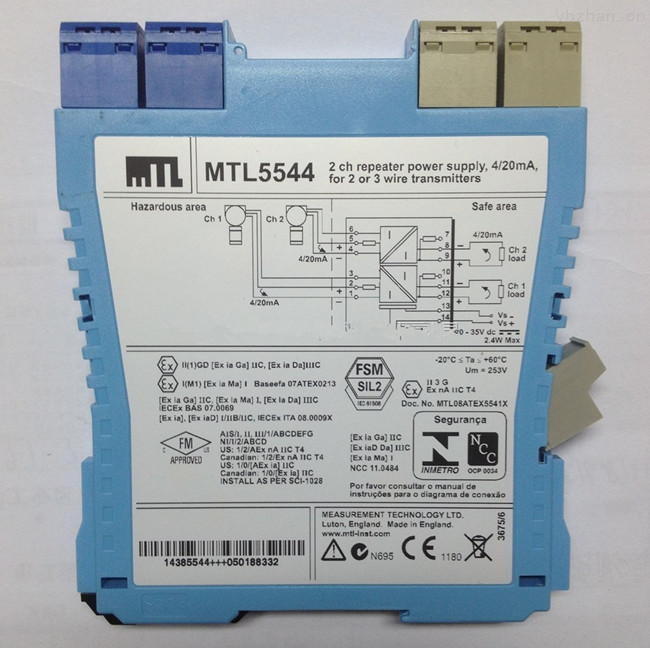 The MTLx511 enables a safe-area load to be controlled by a switch or proximity detector located in a hazardous-area. When selected, open or short circuit conditions in the field wiring are detected by the linefault-detect (LFD) facility and also indicated on the top of the module. Phase reversal for the channel is selected by a switch on the side of the module and output is provided by changeover relay contacts.

SPECIFICATION of MTL4511 MTL5511 Switch Proximity Detector Interface MTL4511 MTL5511 Isolated Barriers
See also common specification
Number of channels
One
Location of switches
Zone 0, IIC, T6 hazardous area
Div. 1, Group A hazardous location
Location of proximity detector
Zone 0, IIC, T4–6 hazardous area if suitably certified
Div. 1, Group A hazardous location
Hazardous-area inputs
Inputs conforming to BS EN60947–5–6:2001 standards for proximity detectors (NAMUR)

Voltage applied to sensor of MTL4511 MTL5511 Switch Proximity Detector Interface MTL4511 MTL5511 Isolated Barriers
7 to 9V dc from 1kΩ ±10%
Input/output characteristics
Normal phase
Outputs closed if input > 2.1mA (< 2kΩ in input circuit)
Outputs open if input < 1.2mA (> 10kΩ in input circuit)
Hysteresis: 200μA (650Ω) nominal

Line fault detection (LFD) (when selected) of MTL4511 MTL5511 Switch Proximity Detector Interface MTL4511 MTL5511 Isolated Barriers
User-selectable via switches on the side of the unit. A line fault is indicated by an LED. The channel output relay is de-energised if an input line fault is detected.
Open-circuit alarm on if Iin < 50μA
Open-circuit alarm off if Iin > 250μA
Short-circuit alarm on if Rin < 100Ω
Short-circuit alarm off if Rin > 360Ω
Note: Resistors must be fitted when using the LFD facility with a contact input
500Ω to 1kΩ in series with switch
20kΩ to 25kΩ in parallel with switch

Safe-area output of MTL4511 MTL5511 Switch Proximity Detector Interface MTL4511 MTL5511 Isolated Barriers
Single pole relay with changeover contacts
Note: reactive loads must be adequately suppressed
LED indicators
Green: power indication
Yellow: channel status, on when output energised
Red: LFD indication, on when line fault detected
Maximum current consumption
25mA at 24V
Power dissipation within unit
0.6W at 24V
Safety description (each channel)
Uo=10.5V Io=14mA Po=37mW Um = 253V rms or dc
SIL
2
IEC 61508:2010
SIL capable
These models have been assessed for use in IEC 61508 functional safety applications.See data on MTL web site and refer to the safety manual.
MTL4500 Series Barriers MTL4511 MTL5511 Switch Proximity Detector Interface MTL4511 MTL5511 Isolated Barriers
MTL4511 MTL4513 MTL4514 MTL4515 MTL4516 MTL4516C MTL4517 MTL4518 MTL4521 MTL4541 MTL4541B MTL4544 MTL4546 MTL4549 MTL4575 MTL5991 MTL4015 MTL4016 MTL4021 MTL4031 MTL4032 MTL4041B MTL4044 MTL4044D MTL4045C MTL4046C MTL4081 MTL4073 MTL5501-SR MTL5510 MTL5510B MTL5511 MTL5513 MTL5514 MTL5516C MTL5517 MTL5521 MTL5522 MTL5523 MTL5524 MTL5525 MTL5526 MTL5531 MTL5532 MTL5533 MTL5541 MTL5541A MTL5541AS MTL5541S MTL5544 MTL5544A MTL5544AS MTL5544D MTL5544S MTL4501-SR MTL4504 MTL4510 MTL4510B MTL4511 MTL4513 MTL4514 MTL4516 MTL4516C MTL4517 MTL4521 MTL4521L MTL4523 MTL4523R MTL4523L MTL4524 MTL4524S MTL4525 MTL4526 MTL4531 MTL4532 MTL4533 MTL4541 MTL4541A MTL4541AS MTL4541B MTL4541P MTL4541S MTL4544 MTL4544A MTL4544AS MTL4544B MTL4544D MTL4544S MTL4546 MTL4546C MTL4546Y MTL4549 MTL4549C MTL4549Y MTL4561 MTL4575 MTL4576-RTD MTL4576-THC MTL4599 MTL4599N

MTL4511 MTL5511 Switch Proximity Detector Interface MTL4511 MTL5511 Isolated Barriers

MTL5513 MTL5514 MTL5516 MTL5517 MTL5521 MTL5522 MTL5523 MTL5524 MTL5525 MTL5521-11-24 MTL5541 MTL5544 MTL5545 MTL5546 MTL5549 MTL5575 MTL5599 MTL4501-SR MTL4504 MTL4510 MTL4510B MTL4511 MTL4513 MTL4514 (B)(D) MTL4516 MTL4516C MTL4517 MTL4521 MTL4521L MTL4523 MTL4523L MTL4523R MTL4523V MTL4523VL MTL4524 MTL4524S MTL4525 MTL4526 MTL4531 MTL4532 MTL4533 MTL4541 MTL4541A MTL4546C
MTL4541AS MTL4541B MTL4541P MTL4541S MTL4541T MTL4544 MTL4544A MTL4544AS MTL4544B MTL4544D MTL4544S MTL4546 MTL4546S MTL4546Y MTL4549 MTL4549C MTL4549Y MTL4561 MTL4575 MTL4576-RTD MTL4576-THC MTL4581
MTL4511 MTL5511 Switch Proximity Detector Interface MTL4511 MTL5511 Isolated Barriers

MTL5501-SR MTL5510 MTL5510B MTL5511 MTL5513 MTL5514 MTL5514D MTL5516C MTL5517 MTL5521 MTL5522 MTL5523 MTL5523V MTL5523VL MTL5524 MTL5525 MTL5526 MTL5531 MTL5532 MTL5533 MTL5541 MTL5541A MTL5541AS MTL5541S MTL5544 MTL5544A MTL5544AS MTL5544D MTL5544S MTL5546 MTL5546Y MTL5549 MTL5549Y MTL5561 MTL5575 MTL5576-RTD MTL5576-THC MTL5581 MTL5582 MTL5544D MTL5575 MTL5516C
MTL4541 MTL5541 MTL5546Y ICC212 IOP32 IOP32D
MTL7700 Series shunt-diode safety barriers MTL4511 MTL5511 Switch Proximity Detector Interface MTL4511 MTL5511 Isolated Barriers

MTL7706+ MTL7707+ MTL7707P+ MTL7710+ MTL7715+ MTL7715P+ MTL7722+ MTL7728+ MTL7728- MTL7728AC MTL7728P+ MTL7729P+ MTL7741
MTL7742 MTL7743 MTL7744 MTL7745 MTL7755AC MTL7756AC MTL7758- MTL7758+ MTL7760AC MTL7761AC MTL7761PAC MTL7764+ MTL7764AC
MTL7765AC MTL7766AC MTL7766PAC MTL7767+ MTL7778AC MTL7779+ MTL7787+ MTL7787- MTL7787P+ MTL7788+ MTL7788R+ MTL7789+ MTL7796- MTL7796+ MTL7798 MTL7799 MTL705+ MTL706+ MTL707+ MTL707P+ MTL708+ MTL710+ MTL710AC MTL710P+ MTL715+ MTL715P+ MTL722+
MTL722P+ MTL728+ MTL728AC MTL728P+ MTL729P+ MTL751AC MTL755AC MTL758+ MTL760AC MTL761AC MTL761PAC MTL764+ MTL764AC
MTL765AC MTL766AC MTL766PAC MTL767+ MTL768+ MTL772AC MTL778AC MTL779+ MTL786+ MTL787+ MTL787S+ MTL787SP+ MTL788+
MTL788R+ MTL791 MTL796+ MTL799 ICC201-I1-O1 ICC201-I1-O2 ICC201-I2-O1 ICC201-I2-O2 ICC201-I2-O2 ICC211-I1-O2 ICC211-I2-O1 ICC211-I2-O2 ICC212 ICC221 ICC222 ICC241-T3 ICC241-T1 ICC241-T2 ICC301-I9-O1 ICC312 ICC316-T2 ICC317-T2-LFD ICC352-T1 ICC352-T2 ICC441 ICC446
MTL4511 MTL5511 Switch Proximity Detector Interface MTL4511 MTL5511 Isolated Barriers
MTL4510 MTL4510B MTL4511 MTL4513 MTL4514 MTL4514B MTL4514D MTL4516 MTL4516C MTL4517 MTL4521 MTL4521L MTL4523 MTL4524R MTL4523L MTL4524 MTL4524S MTL4524 MTL4526 MTL4531 MTL4532 MTL4541 MTL4541A MTL4541B MTL4544 MTL4544A MTL4544D MTL4544S MTL4546Y MTL4549 MTL4549Y MTL4546 MTL4573 MTL4575 MTL4576-RTD MTL4576-THC MTL4581 MTL4599 MTL4599N
MTL5510 MTL5510B MTL5511 MTL5513 MTL5514 MTL5514D MTL5516C MTL5517 MTL5521 MTL5522 MTL5523 MTL5523V MTL5523VL MTL5524 MTL5525 MTL5526 MTL5531 MTL5532 MTL5533 MTL5541 MTL5541AS MTL5541S MTL5544 MTL5544A MTL5544AS MTL5544D MTL5544S MTL5546 MTL5546Y MTL5549 MTL5549Y MTL5561 MTL5573 MTL5575 MTL5576-RTD MTL5576-THC MTL5581 MTL5582 MTL5599 MTL5314 MTL5501-SR MTL5510 MTL5510B MTL5511 MTL5513 MTL5514 MTL5516C MTL5517 MTL5521 MTL5522 MTL5523 MTL5524 MTL5525 MTL5526 MTL5531 MTL5532 MTL5533 MTL5541 MTL5541A MTL5541AS MTL5541S MTL5544 MTL5544A MTL5544AS MTL5544D MTL5544S
MTL4511 MTL5511 Switch Proximity Detector Interface MTL4511 MTL5511 Isolated Barriers

MTL4501-SR MTL4504 MTL4510 MTL4510B MTL4511 MTL4513 MTL4514 MTL4516 MTL4516C MTL4517 MTL4521 MTL4521L MTL4523 MTL4523R MTL4523L MTL4524 MTL4524S MTL4525 MTL4526 MTL4531 MTL4532 MTL4533 MTL4541 MTL4541A MTL4541AS MTL4541B MTL4541P MTL4541S MTL4544 MTL4544A MTL4544AS MTL4544B MTL4544D MTL4544S MTL4546 MTL4546C MTL4546Y MTL4549 MTL4549C MTL4549Y MTL4561 MTL4575 MTL4576-RTD MTL4576-THC MTL4599 MTL4599N
MTL4511 MTL5511 Switch Proximity Detector Interface MTL4511 MTL5511 Isolated Barriers

MTL7706+ MTL7707+ MTL7707P+ MTL7710+ MTL7715+ MTL7715P+ MTL7722+ MTL7728+ MTL7728- MTL7728AC MTL7728P+ MTL7729P+ MTL7741 MTL7742 MTL7743 MTL7744 MTL7745 MTL7755AC MTL7756AC MTL7758- MTL7758+ MTL7760AC MTL7761AC MTL7761PAC MTL7764+ MTL7764AC MTL7765AC MTL7766AC MTL7766PAC MTL7767+ MTL7778AC MTL7779+ MTL7787+ MTL7787- MTL7787P+ MTL7788+ MTL7788R+ MTL7789+ MTL7796- MTL7796+ MTL7798 MTL7799 MTL705+ MTL706+ MTL707+ MTL707P+ MTL708+ MTL710+ MTL710AC MTL710P+ MTL715+ MTL715P+ MTL722+ MTL722P+ MTL728+ MTL728AC MTL728P+ MTL729P+ MTL751AC MTL755AC MTL758+ MTL760AC MTL761AC MTL761PAC MTL764+ MTL764AC MTL765AC MTL766AC MTL766PAC MTL767+ MTL768+ MTL772AC MTL778AC MTL779+ MTL786+ MTL787+ MTL787S+ MTL787SP+ MTL788+ MTL788R+ MTL791 MTL796+ MTL799
SD07 SD16 SD32 SD55 SD07X SD16X SD32X SD55X SD150X SD275X SD07R SD16R SD32R SD55R SD07R3 SD16R3 SD32R3 SD55R3 SDRTD SD32T3 SDPSTN SLP07D SLP16D SLP32D MA15/D/1/SI MA15/D/2/SI MA15/D/1TT/SI MA15/D/2TT/L MA30/D/1/SI MA30/D/2/SI MA30/D/3/SI MA05/D/1 MA05/D/2 MA10/D/1 MA10/D/2 MA05/SC/1 MA05/SC/2 MA10/SC/1 MA10/SC/2 MA05/I/1 MA05/I/2 MA10/I/1 MA10/I/2
MTL4511 MTL5511 Switch Proximity Detector Interface MTL4511 MTL5511 Isolated Barriers
TP48-N TP48-N-NDI TP48-I TP48-I-NDI TP48-G TP48-G-NDI TP48-3-N-NDI TP48-3-I-NDI TP48-3-G-NDI TP48-3-N TP48-3-I TP48-3-G TP48-4-N-NDI TP48-4-I-NDI TP48-4-G-NDI TP48-4-N TP48-4-I TP48-4-G ICC201-I1-O1 ICC201-I1-O2 ICC201-I2-O1 ICC201-I2-O2 ICC201-I2-O2 ICC211-I1-O2 ICC211-I2-O1 ICC211-I2-O2
ICC212 ICC221 ICC222 ICC241-T3 ICC241-T1 ICC241-T2 ICC301-I9-O1 ICC312 ICC316-T2 ICC317-T2-LFD ICC352-T1 ICC352-T2 ICC441 ICC446
MTL4511 MTL5511 Switch Proximity Detector Interface MTL4511 MTL5511 Isolated Barriers
MTL5011B MTL5012 MTL5012S MTL5014 MTL5015 MTL5017 MTL5018 MTL5018AC MTL5021 MTL5021-SR MTL5022 MTL5022-SR MTL5023 MTL5024
MTL5025 MTL5025-SR MTL5031 MTL5032 MTL5040 MTL5041 MTL5042 MTL5042-SR MTL5043 MTL5044 MTL5045 MTL5046 MTL5049 MTL5051 MTL5061 MTL5061-SR MTL5074 MTL5074-RTD MTL5081 MTL5082 MTL5099 MTL5314 MTL5344 MTL5349 MTL5531-111LI MTL5531-115LI MTL5991
MPA5500 MTL5501-SR MTL5510 MTL5510B MTL5511 MTL5513 MTL5514 MTL5514D MTL5516C MTL5517 MTL5521 MTL5522 MTL5523 MTL5523V
MTL5523VL MTL5524 MTL5525 MTL5526 MTL5531 MTL5532 MTL5532-R MTL5533 MTL5541 MTL5541A MTL5541AS MTL5541S MTL5544 MTL5544A
MTL5544AS MTL5544D MTL5544S MTL5546 MTL5546Y MTL5549 MTL5549Y MTL5561 MTL5573 MTL5575 MTL5575-R MTL5576-RTD MTL5576-THC
MTL5581 MTL5582 MTL5599
MTL4511 MTL5511 Switch Proximity Detector Interface MTL4511 MTL5511 Isolated Barriers

MTL5510 MTL5510B MTL5511 MTL5513 MTL5514 MTL5514D MTL5516C MTL5517 MTL5521 MTL5522 MTL5523 MTL5523V MTL5523VL MTL5524 MTL5525 MTL5526 MTL5531 MTL5532 MTL5533 MTL5541 MTL5541AS MTL5541S MTL5544 MTL5544A MTL5544AS MTL5544D MTL5544S MTL5546 MTL5546Y MTL5549 MTL5549Y MTL5561 MTL5573 MTL5575 MTL5576-RTD MTL5576-THC MTL5581 MTL5582 MTL5599 MTL5314
MTL4511 MTL5511 Switch Proximity Detector Interface MTL4511 MTL5511 Isolated Barriers

MTL4510 MTL4510B MTL4511 MTL4513 MTL4514 MTL4514B MTL4514D MTL4516 MTL4516C MTL4517 MTL4521 MTL4521L MTL4523 MTL4524R MTL4523L MTL4524 MTL4524S MTL4524 MTL4526 MTL4531 MTL4532 MTL4541 MTL4541A MTL4541B MTL4544 MTL4544A MTL4544D MTL4544S MTL4546Y MTL4549 MTL4549Y MTL4546 MTL4573 MTL4575 MTL4576-RTD MTL4576-THC MTL4581 MTL4599 MTL4599N
HAZ1-3 HAZ4-6 SAF1-3 SAF4-6 SAF7-9 SAF10-12 PWR5000 HAZ-CJC TAG57 TGL57 PB-8T PB-16T PB-24T PB-32T IMB57 MLTHR2 ERB57S ERB57O ERL7 MLETM7 MS010 TH5000 PCS45 PCL45USB DX070 DX170 BMK08 BMK16 DMK01 DMP08 DVK16 MCC45 MCK45 SCK45 MPL01 PCL45USB PCS45 CPM08 CPM16U CPM32U CPS04 CGS08 CPS08 CPS16 CPS16C-250 CPS24 CPS16C BPS04 BPS08 ERK04 ERK06 ERK08 ERK16 HMP24 SVK16 TSK08 TSK16 TSK24
MTL4511 MTL5511 Switch Proximity Detector Interface MTL4511 MTL5511 Isolated Barriers

MTL5011B MTL5014 MTL5022 MTL5024 MTL5031 MTL5042 MTL5042 MTL5046 MTL5074 MTL5082
KFD2-GU-1 KFD0-CS-EX1.51P KFD0-CS-EX1.54 KFD0-RO-EX2 KFD0-SCS-EX1.55 KFD0-SD2-EX1.10100 KFD0-SD2-EX1.1045 KFD0-SD2-EX2.1045 KFD0-TR-EX1 KFD2-CD-1.32 KFD2-CD2-EX2 KFD2-CD-EX1.32 KFD2-CRG2-1.D KFD2-CRG2-EX1.D KFD2-DWB-EX1.D KFD2-EB2-R4A.B KFD2-PT2-EX1-5 KFD2-SCD2-1.LK KFD2-SCD2-EX2.LK KFD2-SCD-EX1.LK KFD2-SL2-EX1 KFD2-SL2-EX2.B KFD2-SL2-EX1.B KFD2-SOT2-EX2 KFD2-SR2-EX1.W KFD2-SR2-EX2.W KFD2-SRA-EX4 KFD2-ST2-EX2 KFD2-STC4-1 KFD2-STC4-1.20 KFD2-STC4-2 KFD2-STC4-EX1 KFD2-STC4-EX1-Y122583 KFD2-UFC-1.D KFD2-UFC-EX1.D KFD2-USC-1.D KFD2-UT2-1 KFD2-UT2-2 KFD2-UT2-EX1 KFD2-UT2-EX1-1 KFD2-UT2-EX2 KFD2-UT2-EX2-1 KFD2-VR2-EX1.50M KFD2-VR4-EX1.26 KFD2-VR-EX1.500M KFDO-CC-EX1 KFDO-SD2-EX1.10100 KFD2-STC4-EX1.20 KFD2-VR4-EX1.26 KFD2-UFC-EX1.D KFD2-STC4-EX1.20 KFA6-SOT2-EX2 KFA6-SR2-EX1.W KFA6-SR2-EX2.W KFA6-DWB-EX1.D KFU8-FSSP-1.D KFU8-UFC-1.D KFU8-UFC-EX1.D KFU8-FSSP-1.D KCD2-RR-EX1 KCD2-SCD-1 KCD2-SCD-EX1 KCD2-SR-EX1.LB KCD2-SR-EX2 KCD2-STC-EX1.2O KCD2-UT2-EX1 KCD2-STC-EX1 KCD2-SCD-EX1

MTL4511 MTL5511 Switch Proximity Detector Interface MTL4511 MTL5511 Isolated Barriers

AVM58I-011K1AHBN-1212 AVM58N-011K1R0GN-1213 AVM58N-011K1R0GN-1213 AVS58N-011AARHGN-0013 AVS58N-011K1R0GN-0013 DVM58N-011AGR0BN-1213 DVM58N-011AGR0BN-1213 FVM58N-011K2R3BN-1213 FVM58N-032K2R3BN-1213 FVM58N-032K2R3GN-1213 PVM58I-011AGR0BN-1213 PVM58I-011AGROBN-1213 PVM58N-011AGR0BN-1213 PVS58I-011AGR0BN-0013 RHI58N-0BAK1R61N-01000 RHI58N-0BAK1R61N-02500 RHI58N-0BAK1R66N-04096 RHI58N-OBAK1R61N-01024 RHI58N-OBAK1R61N-01024 RHI58N-OBAK1R66N-01024 RHI58N-OBAK1R66N-05000 RHI90N-0HAK1R61N-01000 RHI90N-0LAAAR66N-01024 RHI90N-0LAK1R61N-01024 RHI90N-0NAK1R61N-01024 RHI90N-OHAK1R61N-01024 RHI90N-OHAK1R61N-01024 RHI90N-OHAK1R61N-02048 RHI90N-OIAK1R61N-02500 RVI50N-09BK0A3TN-00500 RVI50N-09BKOA3TN-00360 RVI50N-09BKOA3TN-00600 RVI50N-09BKOA3TN-02000 RVI58N-011AAR61N-00100 RVI58N-011AAR66N-01024 RVI58N-011K1R61N-00100 RVI58N-011K1R61N-01000 RVI58N-011K1R61N-01024 RVI58N-011K1R61N-05000 RVI58N-032K1R61N-01024 RVI58N-O11K1A61N-01024 RVI58X-011K1R61N-01024 RVI78N-10CK2A31N-01000 RVI78N-10CK2A31N-01024 TVI50T-09BK0R6TN-00500 TVI50T-09BK0R6TN-01000 TVI50T-09BK0R6TN-01000 UB2000-F42-E5-V15 UB2000-F42-E6-V15 UB3000-F42-UK-V95 UB500-18GM75-I-V15 UB500-18GM75-U-V15 UB800-18GM40A-I-V1 UC2000-30GM-IUR2-V15 UB400-12GM-E5-V1 UC4000-30GM-E6R2-V15 UC4000-30GM-IUR2-V15 UC6000-30GM-E6R2-V15 VDM28-8-L/73C/136 VT18-8-400-M-LAS/30/40A/118
MTL4511 MTL5511 Switch Proximity Detector Interface MTL4511 MTL5511 Isolated Barriers

NBN25-30GM50-E0 NBN25-30GM50-E0-V1 NBN25-30GM50-E2 NBN25-30GM50-E2-V1 NCB1.5-6.5M25-N0 NCB1.5-6.5M25-N0-V1 NCB1.5-8GM25-N0 NCB1.5-8GM25-N0-V1 NCB1.5-8GM40-Z0 NCB1.5-8GM40-Z1 NCB1.5-8GM50-Z0-V3NCB1.5-8GM50-Z1-V3 NCB1.5-18GM60-E2-D NCB1.5-18GM60-E2-D-V1 NCB2-12GM35-N0 NCB2-12GM35-N0-V1 NCB2-12GM40-Z0 NCB2-12GM40-Z0-V1 NCB2-12GM40-Z1 NCB2-12GM40-Z1-V1 NCB4-12GM35-Z4 NCB4-12GM40-Z4-V1 NCB4-12GM40-Z5-V1 NCB4-12GM40-N0 NCB4-12GM40-N0-V1 NCB4-12GM60-B3B-V1 NCB4-12GM70-E1-M NCB5-18GM40-Z0 NCB5-18GM40-Z0-V1 NCB5-18GM40-Z1 NCB5-18GM40-Z1-V1 NCB5-18GM40-Z3-V1NCB5-18GK40-N0 NCB5-18GM40-N0 NCB5-18GM40-N0-V1 NCB5-18GM60-B3B-V1 NCB5-18GM70-N0 NCB8-18GM40-NO NCB8-18GM40-NO-V1 NCB8-18GM50-Z4 NCB8-18GM50-Z4-V1 NCB8-18GM50-Z5-V1 NCB10-30GM40-Z0 NCB10-30GM40-Z0-V1 NCB10-30GM40-Z1 NCB10-30GM40-Z1-V1 NCB10-30GK40-N0 NCB10-30GM40-N0 NCB10-30GM40-N0-V1 NCB15-30GM40-N0 NCB15-30GM40-N0-V1 NCB15-30GM50-Z4 NCB15-30GM50-Z4-V1 NCN2-8GM40-Z0 NCN2-8GM40-Z1 NCN2-8GM50-Z0-V3 NCN2-8GM50-Z1-V3 NCN4-12GK35-N0 NCN4-12GM35-N0 NCN4-12GM35-N0-V1 NCN4-12GM40-Z0 NCN4-12GM40-Z0-V1 NCN4-12GM40-Z1 NCN4-12GM40-Z1-V1 NCN8-12GM35-Z4 NCN8-12GM40-Z4-V1 NCN8-18GM40-Z0 NCN8-18GM40-Z0-V1 NCN8-18GM40-Z1NCN8-18GM40-Z1-V1 NCN8-18GM40-N0-V1 NCN8-18GM60-B3B-V1 NCN12-18GM50-Z4 NCN12-18GM50-Z4-V1 NCN12-18GM50-Z5-V1 NCN15-30GK40-N0 NCN15-30GM40-N0 NCN15-30GM40-N0-V1 NCN15-30GM40-Z0 NCN15-30GM40-Z0-V1 NCN15-30GM40-Z1 NCN15-30GM40-Z1-V1 NCN25-30GM50-Z4 NCN25-30GM50-Z4-V1 NCN25-30GM50-Z5 NEB3-8GM45-E NEB3-8GM45-E2 NEB3-8GM50-E2-V3 NEB3-8GM50-E-V3 NEB4-8GM45-E2 NEB4-8GM50-E2-V3 NEB6-12GM50-E2 NEB6-12GM50-E2-V1 NEB8-12GM50-E2-V1 NEB12-18GM50-E2 NEB12-18GM50-E2-V1 NEB12-18GM50-E-V1 NEB22-30GM60-E2-V1 NEN6-8GM45-E2-V1 NEN6-8GM45-E2-V3 NEN10-12GM50-E2-V1 NEN20-18GM50-E2-V1 NEN40-30GM60-E2-V1NJ0.6-3-22-ENJ0.6-3-22-E2 NJ0.6-4GM22-E NJ0.6-4GM22-E2 NJ0.8-4.5-N NJ0.8-5GM-N NJ1.5-6.5-N NJ1.5-8GM40-E2 NJ1.5-8GM40-E2-V1 NJ1.5-8GM40-E-V1 NJ1.5-8GM40-WO NJ1.5-8GM40-WS NJ1.5-8GM-N NJ1.5-8GM-N-V1 NJ1.5-18GM-N-D NJ1.5-18GM-N-D-V1 NJ2-6.5-40-E2 NJ2-6.5-50-E NJ2-11-N NJ2-11-N-G NJ2-11-SNNJ2-11-SN-G NJ2-12GK40-E NJ2-12GK40-E2 NJ2-12GK40-E3 NJ2-12GM40-E NJ2-12GM40-E1 NJ2-12GM40-E2 NJ2-12GM40-E2-V1 NJ2-12GM40-E3 NJ2-12GM40-E3-V1 NJ2-12GM40-E-V1 NJ2-12GM50-WO NJ2-12GM50-WO-V13 NJ2-12GM50-WS-V13 NJ2-12GK-N NBN3-6.5M25-E0-V3NJ2-12GK-SN NJ2-12GM-N NJ2-12GM-N-V1 NJ3-18GK-S1N NJ4-12GK40-E NJ4-12GK40-E1 NJ4-12GK40-E2 NJ4-12GK40-E3 NJ4-12GM40-E NJ4-12GM40-E1 NJ4-12GM40-E2NJ4-12GM40-E2-V1 NJ4-12GM40-E3 NJ4-12GM40-E3-V1 NJ4-12GM40-E-V1 NJ4-12GM50-WO NJ4-12GM50-WO-V13 NJ4-12GM50-WS NJ4-12GM50-WS-V12 NJ4-12GM50-WS-V13 NJ4-12GK-N NJ4-12GK-SN NJ4-12GM-N NJ4-12GM-N-V1 NJ4-30GM-N-200 NJ5-11-N NJ5-11-N-G NJ5-18GM50-A2 NJ5-18GM50-A2-V1 NJ5-18GM50-E NJ5-18GM50-E1 NJ5-18GM50-E2 NJ5-18GM50-E2-V1 NJ5-18GM50-E3 NJ5-18GM50-E-V1 NJ5-18GK-N NJ5-18GK-N-150 NJ5-18GK-SN

MTL4511 MTL5511 Switch Proximity Detector Interface MTL4511 MTL5511 Isolated Barriers

KFD2-GU-1 KFD0-CS-EX1.51P KFD0-CS-EX1.54 KFD0-RO-EX2 KFD0-SCS-EX1.55 KFD0-SD2-EX1.10100 KFD0-SD2-EX1.1045 KFD0-SD2-EX2.1045 KFD0-TR-EX1 KFD2-CD-1.32 KFD2-CD2-EX2 KFD2-CD-EX1.32 KFD2-CRG2-1.D KFD2-CRG2-EX1.D KFD2-DWB-EX1.D KFD2-EB2-R4A.B KFD2-PT2-EX1-5 KFD2-SCD2-1.LK KFD2-SCD2-EX2.LK KFD2-SCD-EX1.LK KFD2-SL2-EX1 KFD2-SL2-EX2.B KFD2-SL2-EX1.B KFD2-SOT2-EX2 KFD2-SR2-EX1.W KFD2-SR2-EX2.W KFD2-SRA-EX4 KFD2-ST2-EX2 KFD2-STC4-1 KFD2-STC4-1.20 KFD2-STC4-2 KFD2-STC4-EX1 KFD2-STC4-EX1-Y122583 KFD2-UFC-1.D KFD2-UFC-EX1.D KFD2-USC-1.D KFD2-UT2-1 KFD2-UT2-2 KFD2-UT2-EX1 KFD2-UT2-EX1-1 KFD2-UT2-EX2 KFD2-UT2-EX2-1 KFD2-VR2-EX1.50M KFD2-VR4-EX1.26 KFD2-VR-EX1.500M KFDO-CC-EX1 KFDO-SD2-EX1.10100 KFD2-STC4-EX1.20 KFD2-VR4-EX1.26 KFD2-UFC-EX1.D KFD2-STC4-EX1.20 KFA6-SOT2-EX2 KFA6-SR2-EX1.W KFA6-SR2-EX2.W KFA6-DWB-EX1.D KFU8-FSSP-1.D KFU8-UFC-1.D KFU8-UFC-EX1.D KFU8-FSSP-1.D KCD2-RR-EX1 KCD2-SCD-1 KCD2-SCD-EX1 KCD2-SR-EX1.LB KCD2-SR-EX2 KCD2-STC-EX1.2O KCD2-UT2-EX1 KCD2-STC-EX1 KCD2-SCD-EX1
MTL4511 MTL5511 Switch Proximity Detector Interface MTL4511 MTL5511 Isolated Barriers

10-11331_R-1000 10-11631_A-1024 14-14361-1024 IC-KP2-2HB6-V15B AVM58I-011K1AHBN-1212 AVM58N-011K1R0GN-1213 AVM58N-011K1R0GN-1213 AVS58N-011AARHGN-0013 AVS58N-011K1R0GN-0013 DVM58N-011AGR0BN-1213 DVM58N-011AGR0BN-1213 FVM58N-011K2R3BN-1213 FVM58N-032K2R3BN-1213 FVM58N-032K2R3GN-1213 PVM58I-011AGR0BN-1213 PVM58I-011AGROBN-1213 PVM58N-011AGR0BN-1213 PVS58I-011AGR0BN-0013 RHI58N-0BAK1R61N-01000 RHI58N-0BAK1R61N-02500 RHI58N-0BAK1R66N-04096 RHI58N-OBAK1R61N-01024 RHI58N-OBAK1R61N-01024 RHI58N-OBAK1R66N-01024 RHI58N-OBAK1R66N-05000 RHI90N-0HAK1R61N-01000 RHI90N-0LAAAR66N-01024 RHI90N-0LAK1R61N-01024 RHI90N-0NAK1R61N-01024 RHI90N-OHAK1R61N-01024 RHI90N-OHAK1R61N-01024 RHI90N-OHAK1R61N-02048 RHI90N-OIAK1R61N-02500 RVI50N-09BK0A3TN-00500 RVI50N-09BKOA3TN-00360 RVI50N-09BKOA3TN-00600 RVI50N-09BKOA3TN-02000 RVI58N-011AAR61N-00100 RVI58N-011AAR66N-01024 RVI58N-011K1R61N-00100 RVI58N-011K1R61N-01000 RVI58N-011K1R61N-01024 RVI58N-011K1R61N-05000 RVI58N-032K1R61N-01024 RVI58N-O11K1A61N-01024 RVI58X-011K1R61N-01024 RVI78N-10CK2A31N-01000 RVI78N-10CK2A31N-01024 TVI50T-09BK0R6TN-00500 TVI50T-09BK0R6TN-01000 TVI50T-09BK0R6TN-01000 UB2000-F42-E5-V15 UB2000-F42-E6-V15 UB3000-F42-UK-V95 UB500-18GM75-I-V15 UB500-18GM75-U-V15 UB800-18GM40A-I-V1 UC2000-30GM-IUR2-V15 UB400-12GM-E5-V1 UC4000-30GM-E6R2-V15 UC4000-30GM-IUR2-V15 UC6000-30GM-E6R2-V15 VDM28-8-L/73C/136 VT18-8-400-M-LAS/30/40A/118


We are specialized in intelligent instruments, including : control system, transmitters, flow meters,sensors, recorders, analyzers, control valves, controllers, PLC's, etc.

We mainly supply Yokogawa ,Honeywell,Siemens,ABB,FLUKE,Endress+Hauser,Schneider Electric,Moeller,FUJI,Omron,Pepperl+Fuchs,Hima,Yaskawa, Norgren, Hach, Weidmuller ,Phoenix,MTL,Testo etc.

Why choose us?

1. 100% original product, 100% quality assurance.
If you find a fake. Please contact us without hesitation! We afford the shipment cost! We send you a new product asking zero cent!

2. Varied payment methods.
We adopt T/T, western union and paypal. If you can not trust us , you can choose to pay it via Aliexpress! 100% make your money safe!

3.SHIPPING:
We can shipping all over the world.via DHL,UPS,Fedex,TNT and EMS etc., the packaging is very safe and strong. if you have any special needs,please notify me.
It will take 3 to 7days to reach in your hands.

Packaging:
Imported with original packaging or standard export packing.Customize design is acceptable.

Contact:

HONGKONG XIEYUAN TECH CO., LIMITED
Email:becky@hkxytech.com Web:www.hkxytech.com
Mobile:+86-15972186287(Whatsapp & Wechat)