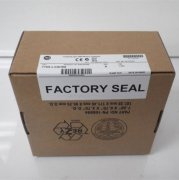 BASIC INFO
Allen-Bradley 1769-L30ER Controller A-B 1769-L30ER CompactLogix 5370 Controller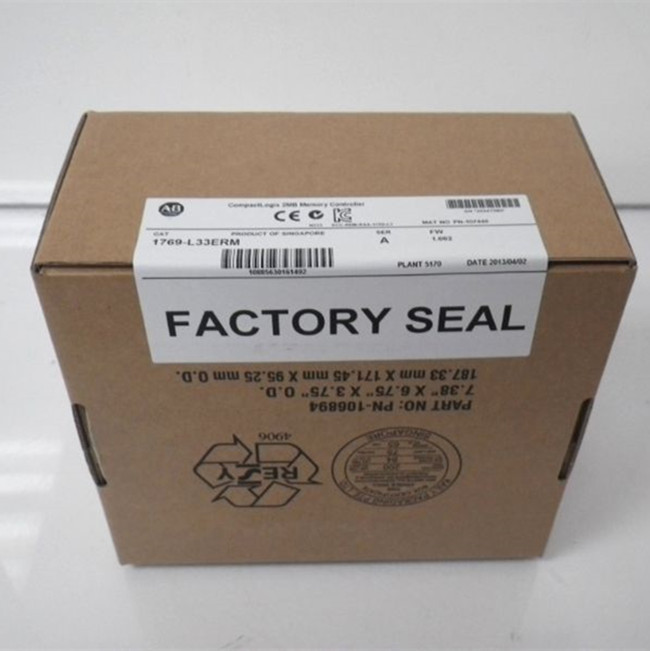 Description of Allen-Bradley 1769-L30ER Controller A-B 1769-L30ER CompactLogix 5370 Controller

Allen Bradley CompactLogix Dual Ethernet with DLR enabled, 1MB capacity of memory, 8 I-O extension, 16 Ethernet Channels. Controllers are shipped with 1GB SD card and can support up to 2GB SD card. CPU Module
Allen-Bradley 1769-L30ER Controller A-B 1769-L30ER CompactLogix 5370 Controller

• Support seamless bridging with data control and collection over the same network
• Support SIL 3, PLe integrity (L4xS controllers only)
• Permit on-line editing, forcing and other standard activities while securely isolating safety functionality (L4xS controllers only)
• Integrate with 1769 Compact I/O™ modules
• Provide integrated serial port
• Offer user memory options ranging 2 MB to 3 MB
• Require SERCOS interface modules for motion
• Require a chassis
Allen-Bradley 1769-L30ER Controller A-B 1769-L30ER CompactLogix 5370 Controller
1

Name:

ALLEN BRADLEY module 1769-L30ER

2

Model No:

1769-L30ER

3

Specification:

expansion module

4

Packing Details:

Standard

5

Brand:

ALLEN BRADELY

6

Usage:

electricity,electronic power,textile ,printing and dyeing, medical,food,package,plastic,wires and cable,concrete and car industries.

7

Place of Origin:

United States

8

Minimum Order Quantity

1pcs

9

Delivery Time:

Large In Stock

10

Payment Terms:

TT or Western Union

11

Supply Ability:

10000pcs/day

12

Detailed Product Description:

1) High quality and competitive price

2) Standard packing and timely delivery

3) We supply original product made in Japan

4) Small order are acceptable

5) The methods of delivery: DHL, UPS, EMS or FEDEX (faster and safer)

6) We are distributor of MITSUBISHI plc,inverter,hmi,ac servo . All of our products are original made in Japan.

Should there be any of your interest, please feel free

to contact us.We will give the best prices to you.
Allen-Bradley 1769-L30ER Controller A-B 1769-L30ER CompactLogix 5370 Controller
CompactLogix 5370 Controller Catalog Numbers

1769-L16ER-BB1B, 1769-L18ER-BB1B, 1769-L18ERM-BB1B, 1769-L19ER-BB1B,1769-L24ER-QB1B, 1769-L24ER-QBFC1B, 1769-L24ER-QBFC1BK, 1769-L27ERMQBFC1B,1769-L30ER,1769-L30ER-NSE, 1769-L30ERM, 1769-L30ERMK, 1769-L30ERMS, 1769-L33ER, 1769-L33ERM, 1769-L33ERMK, 1769-L33ERMS, 1769-L33ERMSK, 1769-L36ERM, 1769-L36ERMS, 1769-L37ERM, 1769-L37ERMK,1769-L37ERMS, 1769-L37ERMSK, 1769-L38ERM, 1769-L38ERMK, 1769-L38ERMS, 1769-L38ERMSK
Armor CompactLogix and Armor Compact GuardLogix Controller Catalog Numbers Allen-Bradley 1769-L30ER Controller A-B 1769-L30ER CompactLogix 5370 Controller

1769-L33ERMO, 1769-L33ERMOS, 1769-L36ERMO, 1769-L36ERMOS, 1769-L37ERMO,
1769-L37ERMOS,1769-L38ERMO, 1769-L38ERMOS 1769

Packaged Controller Catalog Numbers of Allen-Bradley 1769-L30ER Controller A-B 1769-L30ER CompactLogix 5370 Controller

1769-L23-QBFC1B, 1769-L23E-QB1B, 1769-L23E-QBFC1B
1769 Modular Controller Catalog Numbers of Allen-Bradley 1769-L30ER Controller A-B 1769-L30ER CompactLogix 5370 Controller

1769-L31, 1769-L32C, 1769-L35CR, 1769-L32E, 1769-L32EK, 1769-L35E
1768 Controller Catalog Numbers of Allen-Bradley 1769-L30ER Controller A-B 1769-L30ER CompactLogix 5370 Controller

1768-L43, 1768-L43S, 1768-L45, 1768-L45S
Memory Card Catalog Numbers of Allen-Bradley 1769-L30ER Controller A-B 1769-L30ER CompactLogix 5370 Controller

1784-CF128, 1784-SD1, 1784-SD2
Allen-Bradley 1769-L30ER Controller A-B 1769-L30ER CompactLogix 5370 Controller
1769-ADN COMPACTLOGIX DEVICENET ADAPTER
1769-ARM COMPACTLOGIX ADDRESS RESERVE MODULE
1769-ASCII COMPACTLOGIX ASCII INTERFACE MODULE
1769-BOOLEAN COMPACTLOGIX BOOLEAN MODULE
1769-CLL1 COMPACTLOGIX EXPANSION CABLE
1769-CLL3 COMPACTLOGIX EXPANSION CABLE
1769-CRL1 COMPACTLOGIX EXPANSION CABLE
1769-CRL3 COMPACTLOGIX EXPANSION CABLE
1769-CRR1 COMPACTLOGIX EXPANSION CABLE
1769-CRR3 COMPACTLOGIX EXPANSION CABLE
1769-ECL COMPACTLOGIX END CAP
1769-ECR COMPACTLOGIX END CAP
1769-HSC COMPACTLOGIX HIGH SPEED COUNTER MODULE
1769-IA16 COMPACTLOGIX 16 POINT DIGITAL INPUT
1769-IA8I COMPACTLOGIX 8 POINT DIGITAL INPUT
1769-IF16C COMPACTLOGIX 16 POINT ANALOG INPUT
1769-IF16V COMPACTLOGIX 16 POINT ANALOG INPUT
1769-IF4 COMPACTLOGIX 4 POINT ANALOG INPUT

Allen-Bradley 1769-L30ER Controller A-B 1769-L30ER CompactLogix 5370 Controller

1769-ADN
1769-AENTR
1769-ARM
1769-ASCII
1769-BA
1769-BOOLEAN
1769-CJC
1769-CLL1
1769-CLL3
1769-CRL1
1769-CRL3
1769-CRR1
1769-CRR3
1769-ECL
1769-ECR
1769-HSC
1769-IA16
1769-IA8I
1769-IF16C
1769-IF16V
1769-IF4
1769-IF4FXOF2F
1769-IF4I
1769-IF4XOF2
1769-IF8
1769-IG16
1769-IM12
1769-IQ16
1769-IQ16F
1769-IQ32
1769-IQ32T
1769-IQ6XOW4
1769-IR6
1769-IT6
1769-L16ER-BB1B
1769-L18ER-BB1B
1769-L18ERM-BB1B
1769-L19ER-BB1B
1769-L23-QBFC1B
1769-L23E-QB1B
1769-L24ER-QB1B
1769-L24ER-QBFC1B
1769-L27ERM-QBFC1B
1769-L30ER
1769-L30ER-NSE
1769-L30ERM
1769-L30ERMS
1769-L31
1769-L32E
1769-L33ER
1769-L33ERM
1769-L33ERMS
1769-L35E
1769-L36ERM
1769-L36ERMS
1769-OA16
1769-OA8
1769-OB16
1769-OB16P
1769-OB32
1769-OB32T
1769-OB8
1769-OF2
1769-OF4
1769-OF4CI
1769-OF4VI
1769-OF8C
1769-OF8V
1769-OG16
1769-OV16
1769-OV32T
1769-OW16
1769-OW8
1769-OW8I
1769-PA2
1769-PA4
1769-PB2
1769-PB4
1769-RD
1769-RL1
1769-RL2
1769-RTB40AIO
1769-RTB40DIO
1769-RTB45
1769-RTBN10
1769-RTBN18
1769-SDN
1769-SM1
1769-SM2
Allen-Bradley 1769-L30ER Controller A-B 1769-L30ER CompactLogix 5370 Controller
1756-L55M12 1746-P4 170XTS00100 1756-L55M13 1746-A4 170MCI02500 1756-L55M14 1746-A7 170MCI02800 1756-L55M22 1746-A10 170CPS11100 1756-L55M23 1746-A13 SST-PFB-CLX 1746-IB16 1770-SC 1756-L61 1746-IB32 1746-P4 1756-L63 1746-OB16 1492D-16BVTOD 1756-HSC 1746-OB32 1794-IV16 1756-IB16 1746-OW8 1794-OV16 1756-IB32 1746-OW16 1794-8B8P 1756-OB32 1746-NI4 1792D-CB12JP 1756-ENBT 1746-NT4 1794-ASB 1756-CNBR 1746-NT8 1794-ASB2 1756-CNB 1746-NR4 1794-OB16D 1756-DNB 1746-NI8 1761-L32BWB 1756-OB16I 1746-NR8 1746-P7 1756-IF16 1746-IM16 AS-BDAP-216 1756-IM16I 1746-NIO4I 170ADI35000 1756-OW16I 1746-NIO4V 170PNT11020 1756-IR6I 1746-NO4I 140CPS11100 1756-CP3 1746-NO8I PC-E984-245 1756-OF8 1746-NO4V MHDA1056N00 1756-IA16 1746-HSCE 18030 CRM601 SY/NET 1756-OF6CI 1746-OA16 ATV58HU41N4 1756-DHRIO 1746-IG16 AS-W808-002 1756-OA16 1746-IA16 AS-P120-000 1756-BA1 1746-IV16 1746-OB16E 1756-A10 1746-oV32 1746-OV16 1756-BNC/B 1746-OV16 1746-OV32 1756-TBCH 1746-NI16I 1746-HSCE 1756-TBNH 1746-OX8 1746-OX8 1756-PA72 1786-TPS 1746-OB32 1756-OB16E 1786-BNC 1746-IB32 1756-PA75R 1747-SDN 2090-SCNP10-0 1756-A7 1747-ASB 56NEX 1756-A17 1747-SN 1756-M08SE 1756-A13 1784-PCIC AS-BDAO-216 1747-L524 1794-TB3S 1785-L40B 1747-L531 1794-TBN AS-BDEP-216 1747-L532 1794-PS13 1785L80C15 1747-L541 1746-C9 1771OFE1 1747-L551 1794-ACN15 1771CFM 1747-L552 1747-CP3 1771OAD 1747-L553 1794-OM8 1771OBD 1747-L542 1762-MM1 1771OZL 1747-L543 1761-NET-DNI 1785L60B 1746-P1 1769-OV16 1771IQ 1746-P2 1764-LSP 1762-OW16 1746-P3 1764-24BWA 1771-CP1 140CPU53414B 2711-K6C10 TCSESM083F2CU0 MA0329001 1746-IN16 140DAI74000 1762-OW16 140ERT85410 1769-IF8 140CPU67160 RS20-2400M2M2SDAE 1769-OW16 140CPU43412A
Allen-Bradley 1769-L30ER Controller A-B 1769-L30ER CompactLogix 5370 Controller

1756-L55M12 1746-P4 170XTS00100 1756-L55M13 1746-A4 170MCI02500 1756-L55M14 1746-A7 170MCI02800 1756-L55M22 1746-A10 170CPS11100 1756-L55M23 1746-A13 SST-PFB-CLX 1746-IB16 1770-SC 1756-L61 1746-IB32 1746-P4 1756-L63 1746-OB16 1492D-16BVTOD 1756-HSC 1746-OB32 1794-IV16 1756-IB16 1746-OW8 1794-OV16 1756-IB32 1746-OW16 1794-8B8P 1756-OB32 1746-NI4 1792D-CB12JP 1756-ENBT 1746-NT4 1794-ASB 1756-CNBR 1746-NT8 1794-ASB2 1756-CNB 1746-NR4 1794-OB16D 1756-DNB 1746-NI8 1761-L32BWB 1756-OB16I 1746-NR8 1746-P7 1756-IF16 1746-IM16 AS-BDAP-216 1756-IM16I 1746-NIO4I 170ADI35000 1756-OW16I 1746-NIO4V 170PNT11020 1756-IR6I 1746-NO4I 140CPS11100 1756-CP3 1746-NO8I PC-E984-245 1756-OF8 1746-NO4V MHDA1056N00 1756-IA16 1746-HSCE 18030 CRM601 SY/NET 1756-OF6CI 1746-OA16 ATV58HU41N4 1756-DHRIO 1746-IG16 AS-W808-002 1756-OA16 1746-IA16 AS-P120-000 1756-BA1 1746-IV16 1746-OB16E 1756-A10 1746-oV32 1746-OV16 1756-BNC/B 1746-OV16 1746-OV32 1756-TBCH 1746-NI16I 1746-HSCE 1756-TBNH 1746-OX8 1746-OX8 1756-PA72 1786-TPS 1746-OB32 1756-OB16E 1786-BNC 1746-IB32 1756-PA75R 1747-SDN 2090-SCNP10-0 1756-A7 1747-ASB 56NEX 1756-A17 1747-SN 1756-M08SE 1756-A13 1784-PCIC AS-BDAO-216 1747-L524 1794-TB3S 1785-L40B 1747-L531 1794-TBN AS-BDEP-216 1747-L532 1794-PS13 1785L80C15 1747-L541 1746-C9 1771OFE1 1747-L551 1794-ACN15 1771CFM 1747-L552 1747-CP3 1771OAD 1747-L553 1794-OM8 1771OBD 1747-L542 1762-MM1 1771OZL 1747-L543 1761-NET-DNI 1785L60B 1746-P1 1769-OV16 1771IQ 1746-P2 1764-LSP 1762-OW16 1746-P3 1764-24BWA 1771-CP1 140CPU53414B 2711-K6C10

Allen-Bradley 1769-L30ER Controller A-B 1769-L30ER CompactLogix 5370 Controller

2711p-t10c4d8 2711p-b10c10d2 2711p-b10c10d6 2711p-b10c15a2 2711p-b10c15d7 2711p-b10c1d2 2711p-b10c1d6 2711p-b10c4a2 2711p-b10c4a8 2711p-b10c4a9 2711p-b10c4d2 2711p-b10c4d8 2711p-b10c4d9 2711p-b12c10d2 2711p-b12c10d6 2711p-b12c1d2 2711p-b12c1d6 2711p-b12c4a6 2711p-b12c4a8 2711p-b12c4a9 2711p-b12c4d1 2711p-b12c4d6 2711p-b12c4d8 2711p-b12c4d9 2711p-b15c10d2 2711p-b15c10d6 2711p-b15c1d2 2711p-b15c1d6 2711p-b15c4a1 2711p-b15c4a7 2711p-b15c4a8 2711p-b15c4a9 2711p-b15c4d8 2711p-b15c4d9 2711p-b4c20a 2711p-b4c20a8 2711p-b4c20d 2711p-b4c20d8 2711p-b4c3a 2711p-b4c3d 2711p-b4c5a 2711p-b4c5d 2711p-b4c5d8 2711p-b6c1a 2711p-b6c1d 2711p-b6c20a 2711p-b6c20a8 2711p-b6c20a9 2711p-b6c20d 2711p-b6c20d8 2711p-b6c20d9 2711p-b6c3a 2711p-b6c3d 2711p-b6c5a 2711p-b6c5a8 2711p-b6c5a9 2711p-b6c5d 2711p-b6c5d9 2711p-b6c8a 2711p-b6c8d 2711p-b6m1a 2711p-b6m1d 2711p-b6m20a 2711p-b6m20a8 2711p-b6m20d 2711p-b6m3a 2711p-b6m3d 2711p-b6m5a 2711p-b6m5a8 2711p-b6m5d 2711p-b6m8a 2711p-b6m8d 2711p-b7c10d2 2711p-b7c10d6 2711p-b7c15a2 2711p-b7c1d2 2711p-b7c1d6 2711p-b7c4a8 2711p-b7c4a9 2711p-b7c4d8 2711p-b7c4d9 2711p-b7c6a1 2711pc-b4c20d 2711pc-b4c20d8 2711p-cbl-ex04 2711pc-k4m20d 2711pc-k4m20d8 2711pc-t10c4d1 2711pc-t6c20d 2711pc-t6c20d8 2711pc-t6m20d 2711pc-t6m20d8 2711p-k10c4a8 2711p-k10c4a9 2711p-k10c4d1 2711p-k10c4d2 2711p-k10c4d6 2711p-k10c4d8 2711p-k10c4d9 2711p-k12c4a7 2711p-k12c4a8 2711p-k12c4a9 2711p-k12c4d1 2711p-k12c4d2 2711p-k12c4d7 2711p-k12c4d8 2711p-k12c4d9 2711p-k15c15a1 2711p-k15c4a2 2711p-k15c4a8 2711p-k15c4a9 2711p-k15c4d2 2711p-k15c4d7 2711p-k15c4d8 2711p-k15c4d9 2711p-k15c6a1 2711p-k4c20a 2711p-k4c20a8 2711p-k4c20d 2711p-k4c3a 2711p-k4c3d 2711p-k4c5a 2711p-k4c5a8 2711p-k4c5d 2711p-k4m20a 2711p-k4m20a8 2711p-k4m20d2711p-k4m20d8 2711p-k4m3a 2711p-k4m3d 2711p-k4m5a 2711p-k4m5d 2711p-k4m5d8 2711p-k6c1a 2711p-k6c1d 2711p-k6c20a 2711p-k6c20a8 2711p-k6c20a9 2711p-k6c20d 2711p-k6c20d9 2711p-k6c3a 2711p-k6c3d 2711p-k6c5a 2711p-k6c5a8 2711p-k6c5a9 2711p-k6c5d 2711p-k6c5d9 2711p-k6c8a 2711p-k6c8d 2711p-k6m1a 2711p-k6m1d 2711p-k6m20a 2711p-k6m20a8 2711p-k6m20d 2711p-k6m3a 2711p-k6m3d 2711p-k6m5a 2711p-k6m5a8 2711p-k6m5d 2711p-k6m5d8 2711p-k6m8a 2711p-k6m8d 2711p-k7c4a8 2711p-k7c4a9 2711p-k7c4d2 2711p-k7c4d8 2711p-k7c4d9 2711p-k7c6a1 2711p-rak10 2711p-rak12e 2711p-rak12s 2711p-rak15 2711p-rak4 2711p-rak6 2711p-rak7 2711p-rat10 2711p-rat12e 2711p-rat12e2 2711p-rat12s 2711p-rat15 2711p-rat7 2711p-rbb10 2711p-rbb12 2711p-rbb15 2711p-rbb7 2711p-rbk10 2711p-rbk12 2711p-rbk15 2711p-rbk7 2711p-rbt10 2711p-rbt12 2711p-rbt12h 2711p-rbt15 2711p-rbt7 2711p-rc3 2711p-rc4 2711p-rch 2711p-rdb10c 2711p-rdb10cm 2711p-rdb12c 2711p-rdb12ck 2711p-rdb15c 2711p-rdb7c 2711p-rdb7ck 2711p-rdb7cm 2711p-rdk10c 2711p-rdk12c 2711p-rdk12ck 2711p-rdk15c 2711p-rdk7c 2711p-rdk7ck 2711p-rdt10c 2711p-rdt10cm 2711p-rdt12ag 2711p-rdt12c 2711p-rdt12ck 2711p-rdt12h 2711p-rdt12tp 2711p-rdt15ag 2711p-rdt15c 2711p-rdt15tp 2711p-rdt7c 2711p-rdt7ck 2711p-rdt7cm 2711p-rfk10 2711p-rfk12 2711p-rfk15 2711p-rfk6 2711p-rfk7 2711p-rgb4 2711p-rgk10 2711p-rgk12 2711p-rgk15 2711p-rgk4 2711p-rgk6 2711p-rgk7 2711p-rgt10 2711p-rgt12 2711p-rgt15 2711p-rgt6 2711p-rgt7 2711p-rl10c 2711p-rl10c2 2711p-rl12c 2711p-rl12c2 2711p-rl15c 2711p-rl7c 2711p-rl7c2 2711p-rn0 2711p-rn1 2711p-rn10c 2711p-rn10h 2711p-rn10hk 2711p-rn15c 2711p-rn15s 2711p-rn15sk 2711p-rn20 2711p-rn22c 2711p-rn3 2711p-rn6 2711p-rn6k 2711p-rn8 2711p-rp 2711p-rp1 2711p-rp1d 2711p-rp2 2711p-rp2a 2711p-rp2dk 2711p-rp3a 2711p-rp6a 2711p-rp6k 2711p-rp7d 2711p-rp8a 2711p-rp8d 2711p-rp8dk 2711p-rp9a 2711p-rp9d 2711p-rp9dk 2711p-rpd 2711p-rr128 2711p-rr128k 2711p-rr256 2711p-rr64 2711p-rsacdin 2711p-rtbac3 2711p-rtbdc2 2711p-rtfc 2711p-rtmc 2711p-ru310 2711p-rua310 2711p-rul01 2711p-rul10 2711p-rvac 2711p-rvt12 2711p-rw1 2711p-rw2 2711p-rw3 2711p-rw6 2711p-rw7 2711p-rw8 2711p-ry2032 2711p-t10c10d2 2711p-t10c10d6 2711p-t10c1d2 2711p-t10c1d6 2711p-t10c4a2 2711p-t10c4a8 2711p-t10c4a9 2711p-t10c4d8 2711p-t10c4d9 2711p-t12c10d2 2711p-t12c10d6 2711p-t12c15d2 2711p-t12c1d2 2711p-t12c1d6 2711p-t12c4a1 2711p-t12c4a2 2711p-t12c4a8 2711p-t12c4a9 2711p-t12c4d6k 2711p-t12c4d8k 2711p-t12c4d9 2711p-t15c10d2 2711p-t15c10d6 2711p-t15c15d5 2711p-t15c1d2 2711p-t15c1d6 2711p-t15c4a7 2711p-t15c4a8 2711p-t15c4a9 2711p-t15c4d5 2711p-t15c4d7 2711p-t15c4d8 2711p-t15c4d9 2711p-t15c6a1 2711p-t15c6d5 2711p-t6c1a 2711p-t6c1d 2711p-t6c20a 2711p-t6c20a8 2711p-t6c20a9 2711p-t6c20d 2711p-t6c20d8 2711p-t6c3a 2711p-t6c3d 2711p-t6c5a 2711p-t6c5d 2711p-t6c8a 2711p-t6c8d 2711p-t6m1a 2711p-t6m1d 2711p-t6m20a 2711p-t6m20d 2711p-t6m20d8 2711p-t6m3a 2711p-t6m3d 2711p-t6m5a 2711p-t6m5a8 2711p-t6m5d 2711p-t6m8a 2711p-t6m8d 2711p-t7c10d2 2711p-t7c10d6 2711p-t7c15a1 2711p-t7c15a2 2711p-t7c1d2 2711p-t7c1d6 2711p-t7c4a8 2711p-t7c4a9 2711p-t7c4d6 2711p-t7c4d8 2711p-t7c4d8k 2711p-t7c4d9 2711p-t7c6a1 2711p-t7c6d1
Allen-Bradley 1769-L30ER Controller A-B 1769-L30ER CompactLogix 5370 Controller
We are specialized in intelligent instruments, including : control system, transmitters, flow meters,sensors, recorders, analyzers, control valves, controllers, PLC's, etc.

We mainly supply Yokogawa, Emerson, Rosemount,Honeywell,Siemens, ABB,FLUKE, Endress+Hauser,Schneider Electric,Moeller,FUJI,Omron, Pepperl+Fuchs, Yaskawa,Norgren,CHINT,Hach,Weidmuller,Phoenix,MTL,SMC,Testo,Rockwell,ASCO,Parker,Mitsubishi, Hima, Hirschmann,Festo,GE, CISCO,Auma,IFM,GM,
Turck,Bently Nevada,MOXA etc.

Why choose us?

1. 100% original product, 100% quality assurance.
If you find a fake. Please contact us without hesitation! We afford the shipment cost! We send you a new product asking zero cent!

2. Varied payment methods.
We adopt T/T, western union and paypal. If you can not trust us , you can choose to pay it via Aliexpress! 100% make your money safe!

3.SHIPPING:
We can shipping all over the world.via DHL,UPS,Fedex,TNT and EMS etc., the packaging is very safe and strong. if you have any special needs,please notify me.
It will take 3 to 7days to reach in your hands.

Packaging:
Imported with original packaging or standard export packing.Customize design is acceptable.

Contact:

HONGKONG XIEYUAN TECH CO., LIMITED
Email:becky@hkxytech.com Web:www.hkxytech.com
Mobile:+86-15972186287(Whatsapp & Wechat)