Yokogawa ROTAMASS 3 DISCONTINUED Replaced by ROTAMASS Total
Yokogawa ROTAMASS 3 DISCONTINUED Replaced by ROTAMASS Total Insight Coriolis Mass Flow Meter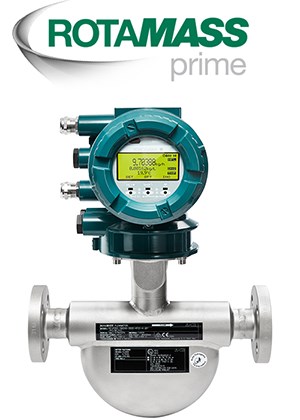 Yokogawa ROTAMASS 3 DISCONTINUED Replaced by ROTAMASS Total Insight Coriolis Mass Flow Meter
In the last decade, the use of Coriolis flow meters has been changing from general purpose to supporting your needs in specific applications.
While the technological complexity increased, the demand for simple operation and handling is also a rising requirement.
Yokogawa answers these needs by offering six dedicated product lines with two specialized transmitters allowing the highest flexibility - the ROTAMASS Total Insight.
Total Insight
The ROTAMASS philosophy gives Total Insight throughout the whole lifecycle.
To facilitate optimal processes and increase the efficiency of personnel, Yokogawa has placed a strong focus on simplifying fundamental operating concepts with Total Insight. The Total Insight concept is built in to the latest generation of Rotamass transmitters and provide enhanced settings for customized setups, pre-defined trend views, or multiple configuration sets for fast changeover in batch production are supported.


Yokogawa ROTAMASS 3 DISCONTINUED Replaced by ROTAMASS Total Insight Coriolis Mass Flow Meter
When every drop counts
The world's smallest dual bent tube Coriolis flow meter series for highly accurate measurement at lowest flows.
The dual tube design compensates for fluctuations of density, temperature, pressure and environment conditions. This provides a consistent repeatable and accurate measurement especially for small size Coriolis flow meters.
Typical Applications

Batching
Dosing
Blending
Chemical injection
Dosing systems
High pressure gases
Liquid and gas low flow measurement
Precision coatings
Metering pump control
Metrology
R&D laboratory
Vacuum thin film coating
Versatile in applications
The versatile Coriolis flow meter with superior turndown and lowest pressure drop in the market. Ideal for a broad range of standard applications, this series is a flexible and cost effective solution for highly accurate flow and density measurements.
Features such as concentration measurement or the Tube Health Check function allow the meter to be adjusted to customer needs.
Typical Applications

Batching
Blending
Chemical recovery
Continuous reaction
In-line concentration and density measurement
Catalyst feed
Filling and dosing
Mass balance
Net oil computing
Palm oil
Process control

Yokogawa ROTAMASS 3 DISCONTINUED Replaced by ROTAMASS Total Insight Coriolis Mass Flow Meter

Essential and Ultimate Transmitters
Future Ready. The ROTAMASS TI product family has a common and unified transmitter platform with two options that provide the highest flexibility and a tailor-made solution. The Essential transmitter is the cost effective solution for general purpose applications, and the Ultimate transmitter provides various additional features for best-in-class measurement.
Essential Transmitter
Multilingual wizard for easy setup and guidance through the main configuration
"Event Management" as unique and useful support to run the process effectively and safely
Data mobility provided by microSD card for easy transfer to other devices for fast setup or to pc for in-depth process analysis or remote service
Widest range of I/O combinations in the market for most flexible adjustment to the existing system periphery
Universal power supply to install the device anywhere in the world
Hart, Modbus communiction
NAMUR NE95 compliance, SIL 2 and SIL 3 compliance
Ultimate Transmitter
Patented "Tube Integrity" function and "Total Health Check" for inline meter verification without disturbing running measurements
"Features on demand" for easy expansion of special functions via software activation key
Batching function and Viscosity function
"Dynamic Pressure Compensation" for consistently accurate and stable measurement even with significant fluctuations in operating pressures
Inline concentration measurement
Integrated net oil computing acc. API standard
Hart, Modbus, Foundation Fieldbus, Profibus PA communication