Important Notice Regarding The Voluntary Recall of Fluke 902
Dear Fluke Customer,
Fluke has confirmed that there is a safety issue involving a specific 902 FC Clamp Meter (hereinafter referred to as "affected product"). As a preventive measure, Fluke decided to voluntarily recall all "affected products" and provide affected customers with free repair services.
We apologize for any inconvenience caused to you, and hope you can understand that customer safety is our number one priority.
Actively recall the following "affected products":

| | | | |
| --- | --- | --- | --- |
| Model Name | Manufacture Date | Starting Serial Number | Ending Serial Number |
| FLUKE-902FC | May 21,2019-December 31,2020 | 46116001SV or 46116001MV | 52019999SV or 52019999MV |
Where to find the product serial number
The product serial number is displayed on the product box and on the back of the product. If you cannot find the serial number, you can treat your clamp meter as an "affected product."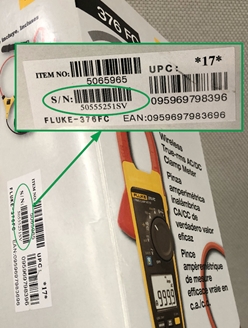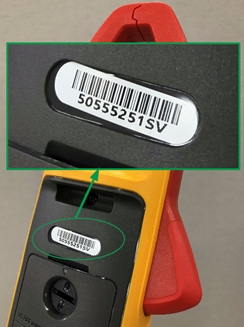 If you cannot find the serial number on your clamp meter, or if the serial number is illegible, check the back of the clamp meter to find the country of origin molded on the battery cover. If there is the words "Assembled in Malaysia" or "Assembled in Singapore" on it, your clamp meter should be treated as an "affected product".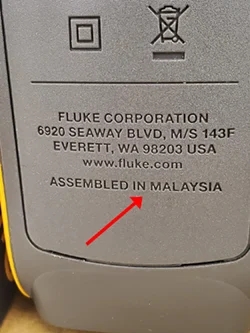 All related models shipped from Fluke after January 1, 2021 and whose serial numbers are not included in the above table will not be affected by this recall.
Safety Issue Description
It has been found that there may be manufacturing errors in the specific 902 FC Clamp Meter, such as the safety protection components may not work. Therefore, if a dangerous voltage is applied to the terminal when the rotary switch position does not correspond to the rated voltage, it may severely limit or even fail to provide protection against arc explosion, burns, or electric shock. These rotary switch positions include 902 FC's Ω (ohm), µA (microampere), temperature and capacitance rotary switch positions. In any function of these products, the application of power supply voltage to the terminals is regarded as a foreseeable misuse. The probability and degree of injury will increase with the increase of the voltage of the electrical device and the expected short-circuit current.
Product Repair
Please stop using the "affected product" immediately. Please send the "affected product" back to Fluke for repair, and Fluke will bear all costs.
After returning the "affected product" according to the following instructions, the "affected product" will be repaired.
What You Need To Do Now
1. Please register your "affected products".
2. Provide all contact information, including email address and shipping address.
3. The Fluke Service Center will contact you within 1 to 2 working days and guide you to return the "affected product". The repaired product will be sent back to you according to your delivery address.
Ensuring safety is Fluke's top priority, and we apologize for any inconvenience this issue may cause you.
Note
The yellow labels in the battery compartment and the device packaging box can be used to identify devices that are within the designated serial number range but the problem has been corrected:



Further more information, pls kindly check by following website:

https://www.fluke.com.cn/%E6%94%AF%E6%8C%81/%E5%AE%89%E5%85%A8%E9%80%9A%E5%91%8A/37xfc-902fc-recall